Games, speaking cards and role-play activities to help your EAL students improve their speaking skills
From survival English to taboo-style games, these resources will get EAL and EFL learners speaking in no time. Browse through our hand-picked collection of speaking lesson ideas and boost your pupils' confidence in English.
Role play
Practise basic vocabulary in everyday scenarios with beginners and elementary-level students.
Games
Check out this variety of games and make speaking practice fun.
Assessment
Use these speaking schemes to assess your students' level and identify areas of strength and weakness.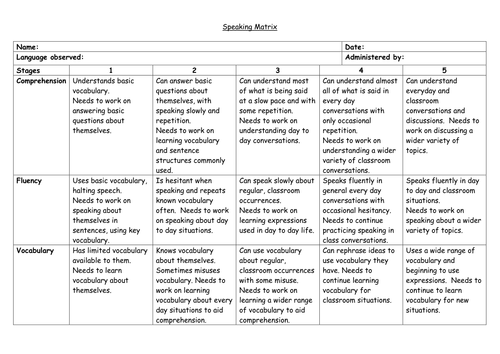 A matrix to help identify the strengths and needs of EAL children in a year 5 class who are preparing for Cambridge exams but could be useful in other situations too. Focussing on comprehension, fluency, vocabulary and grammar. Would ideally like to break down each point further but this was a helpful starting point.
By
catherine_38
You can use these assessment indicators to assess ESL (English as a second language) in SPEAKING.
Levels 1 - 8 attached.
By
Careerinteaching