Get to grips with geometry in both KS1 and KS2 lessons using these comprehensive resources
From shapes to angles and translation to circles, geometry is a vast topic for young learners to comprehend as they explore the many facts of shape and space. To help pupils explore these visual concepts, we've hand-picked some of the very best geometry resources that the Tes community have to offer. Why not pick up a new idea today?
Classroom activities
Whether you are looking for classic approaches or something a bit different, there are plenty of ways to tackle these topics with engaging independent tasks, designed to encourage students to practice newly acquired skills.
Six assessments for all Year 4 Geometry objectives. Includes:
G1: Compare and classify geometric shapes, including quadrilaterals and triangles, based on their properties and sizes
G2: Identify acute and obtuse angles and compare and order angles up to two right angles by size
G3: Identify lines of symmetry in 2-D shapes presented in different orientations
G4: Complete a simple symmetric figure with respect to a specific line of symmetry
G5: Describe positions on a 2-D grid as coordinates in the first quadrant
G6: Describe movements between positions as translations of a given unit to the left/right and up/down
G7: Plot specified points and draw sides to complete a given polygon
AND a mark scheme for all tests
Follow this link for all 42 assessments for all Year 4 maths objectives…
42 Year 4 Maths Mini-Assessments
More like this…
Year 4 Maths Assessments and Tracking
Year 4 Science Assessments
By
mrajlong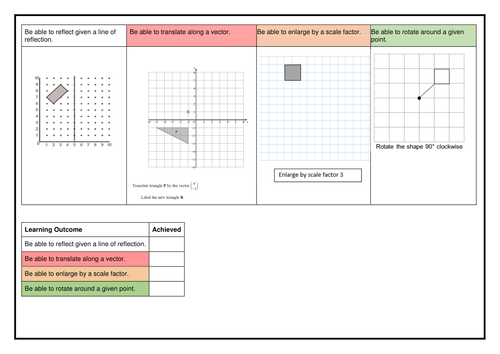 Differentiated booklet on all 4 transformations. (Reflection, Rotation, Enlargement and Translation)
Start of lesson assessment, end of lesson assessment.
By
dannypeaker
This coordinate activity pack contains two different sets of activities and is designed to help children master coordinates in a fun and engaging way.

One of the activities contains 8 differentiated (4 quadrant and 1 quadrant) worksheets where the children need to crack the code by finding the hidden animal name in the coordinates gird.

The second is an outdoor activity where the children must hide words that make up a secret message at the correct coordinates around your school. This activity was a real hit with my class and now they do it for fun! It is also great for improving map reading skills.

Contents

- 8 differentiated 'Hidden Animal' worksheets
- 2 differentiated worksheets for the outdoor activity with a 'How To Use' explanation sheet

------------------------
By
Saving The Teachers
Lesson ideas
Cover the basics with clear, visual and detailed explanations to make sure your pupils become confident when solving more complex geometry problems. Plus, these can be used to recap the essentials with your class.
Games 
Challenge your class to test themselves on the key concepts of geometry in a friendly yet competitive format. What more are you waiting for?