Primary maths: Times tables
Top times tables activities, lesson ideas and games to help every child conquer those dreaded sums
Times tables are my favourite thing, said no student ever. And, that isn't helped by the idea that repetition, repetition, repetition is the only way to get them to stick. However, there is no rule that learning and recapping times tables has to be dull. So, we've gathered some resources to help you mix things up. Go on, try something new today...
Classroom activities
Why not try some of these creative approaches that offer a variety of ways to tackle times tables this term? Comprehensive activity packs, matching tasks and even colouring exercises are all different ways of helping those key sums stick.
This times tables 4-piece puzzle is a fun way to test students knowledge of the two, five and ten times tables. Students match the times table question to the solution, array and collection of grouped objects.
It is designed to be easily cut with little wastage. So either the teacher or tutor can prepare the cards by cutting them before hand, or students can cut their own cards, giving them a chance to see the solutions before they attempt the puzzle.
Although this product is made in colour, it prints perfectly well in black and white. Each puzzle is the size of an sheet. To use less paper, select the pages per sheet option, and the puzzles will be smaller, but still high quality.
All other times tables are available as further packs, or you can buy the complete bundle.
Factors
Three's Six's and Nine's
Four's Eights and Eleven's
Seven's and Twelves
Bundle
By
LittleStreams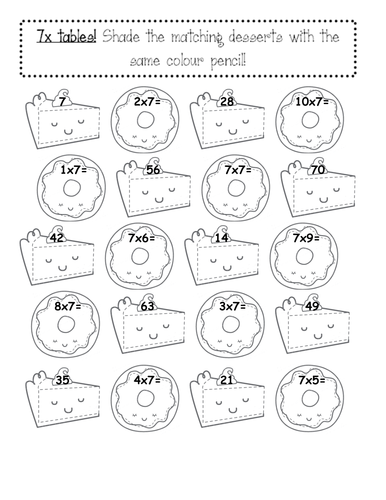 I made these for my class to practice their tables. They really work and they children had fun matching the question to the answer. You can type over the boxes with other questions (division maybe) Hope they're useful. xx :)
By
sairer
Times table activity that has been adapted from the mastery approaches used in Singapore. The activity is differentiated through conceptual and procedural variation.
These activities will challenge children at 'Expected' and at 'Greater Depth'
Covers the 2x, 3x, 4x, 5x, 6x, 7x, 8x, 9x, 10x, 11x & 12x - tables
View the free lessons in my shop to get a taste of my style: https://www.tes.com/teaching-resources/shop/ClassroomWarrior
By
ClassroomWarrior
Lesson ideas
Livening up lessons is a great way to engage young learners, while repeatedly reinforcing those essential times tables. Whether you need to recap the basics, introduce a memory story or get pupils out of their seats, try a new way of teaching with help from these activities.
Games
Finally, bring in an element of fun. Ranging from quick games to whole-class, whole-term challenges, this hand-picked selection is designed to fuel a competitive spirit in your classroom.