Raising awareness in Refugee Week
Encourage learners to better understand asylum and celebrate the contributions of refugees with these eye-opening resources
Every year in June, over 100 countries around the world host events that draw attention to the millions of refugees and internally displaced persons who are forced to flee their homes.
Whether it's as a result of war, conflict or persecution, it's important to encourage pupils to think carefully about the issues affecting refugees and consider the ways that they contribute to their host communities. We've brought together a selection of the top lesson ideas to help you to get the discussion started.
Whole-school resources
Exploring refugees through film
Investigate the hardships and resilience of refugees around the globe with this selection of feature films for primary and secondary students, including discussion points.
Refugee Week posters
Use these colourful posters, with simple definitions, to highlight the contributions of a number of famous refugees, such as Albert Einstein and the Dalai Lama.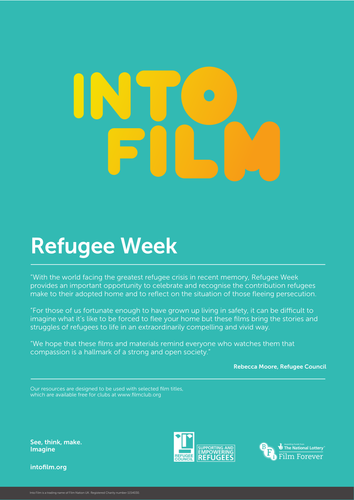 This resource, supported by The Refugee Council, contains guides and activities for a selection of feature films for students aged 5-19 to consider and investigate the hardships and resiliance of refugees around the globe, the contribution of refugees in the UK and why people have and continue to seek asylum.
To start your free Into Film Club find out more at www.intofilm.org
Did you find this resource useful? If so, please leave a star rating, this will help other teachers to find it.
By
IntoFilm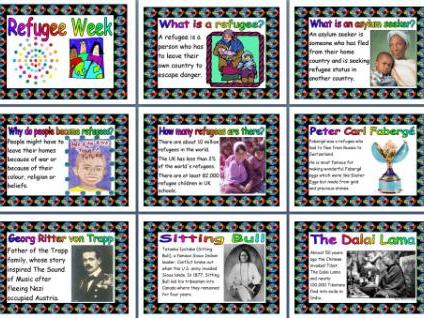 Set of posters for Refugee Week. Made for KS2 but might be useful for other age groups. Posters include: Title poster, What is a refugee? What is an asylum seeker? Why do people become refugees? How many refugees are there? and 6 posters which look at famous refugees including Anne Frank, Einstein, Sitting Bull, Faberge, Georg Von Trapp and The Dalai Lama.
By
Felt
Primary resources
Assembly presentation and notes
Encourage pupils to empathise with those whose lives have been torn apart by environmental disaster with this pictorial presentation, complete with script and follow-up activities for the classroom.
Children in conflict lesson
Pupils can compare and contrast their lives with those of children in Syria, a country affected by conflict, in this standalone lesson and writing activity.
This assembly uses case studies from Angloa, Bangladesh and Burma to explore some of the reasons that force people to become refugees. With an accompanying Powerpoint presentation it aims to help pupils empathise with the situation of people who have to leave their homes. Produced by Christian Aid.
By
ChristianAid
As the number of people fleeing Syria to escape the civil war reaches two million, this teaching resource encourages pupils to compare and contrast their lives with that of Israa, a 13-year-old Syrian refugee, living with her family in Zaatari Refugee Camp, northern Jordan. Pupils will find out what life was like for Israa before and after the civil war started and try to put themselves in her shoes by writing a newspaper article of blog post about her story. Suggested for KS2 Citizenship and English lessons. Also available to download is a classroom poster of Israa's story, in her own words.

Go to www.actionaid.org.uk/school-resources to sign up for our monthly schools resources email
By
ActionAidSchoolsTeam
Secondary resources
Refugee Week teaching pack
Help learners to empathise with refugees by thinking about shared interests, using these real-life case studies, films and creative writing opportunities.
Media representation of refugees unit
Examine the way that the Australian media represents refugees in this short, fully-resourced unit, including complete lesson plans.
These resources (for 7-14 year-olds) celebrate 20 years of Refugee Week helping learners to build empathy and understand the contributions, creativity and resilience of refugees. Through real-life case studies, films and creative writing, learners will increase empathy towards refugees and learn about shared interests, such as music.
We've created five activities designed to take approximately 30-45 minutes.
• Kick start your lesson by creating a safe space and exploring initial views towards refugees and asylum seekers.
• Develop learners' understanding of key terms and build empathy through real-life case studies.
• Consider how refugees can strengthen their resilience and cope with building a new life.
• Explore how creativity can bring people together to express their feelings and share experiences. This activity uses a short film of a refugee choir for discussion.
• Reflect and consider one simple act learners can do to contribute to Refugee Week 2018.
To find out more visit www.redcross.org.uk/education
By
BritishRedCross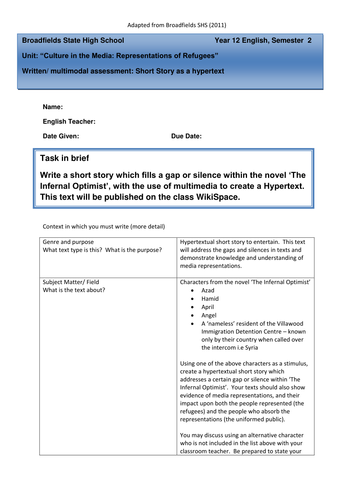 A unit plan with a selection of relevant resources, as well as an Assessment Task. This unit is a senior English program which focuses on media representations of refugees in Australia, builds on students critical literacy skills and culminates in a Hypertext Short Story.
By
misscalabrese