Recapping learning in primary maths
Make dull revision lessons a thing of the past with this bumper collection of imaginative resources
Regardless of whether your class are working towards formal examinations, internal tests or simply at the end of a unit of work, taking the time to go over previously taught topics is always a valuable exercise and a great way to deepen understanding. With revision being an alien concept for many young learners, it is especially important to make these sessions engaging and accessible, so that your whole class feel that they can achieve.
We've done the hard work for you by selecting a range of pupil-friendly revision resources, designed to captivate budding mathematicians. For even more inspiration, why not check out our collection of free, quality assured resources centred around the mastery approach to teaching primary maths?
Activities and challenges
Mathematical discussion is a key element of the
Mathematics Mastery programme
.
Talk Tasks are a brilliant way of enabling pupils to develop their mathematical language, thinking, understanding and confidence.
This activity explores the concept of 6, 7, 9, 25 and 1000
• Talk tasks are best completed in mixed attainment pairs, with pupils taking turns to listen and construct arguments
• Emphasis is on discussion rather than the solution, encouraging pupils to use key language and talk in full sentences
• Ask pupils to prove their answers in a variety of ways, using the
CPA approach
to support mathematical understanding and number sense
Like what you see?
Mathematics Mastery is a professional development programme for teachers with a mission to transform mathematics education in the UK.
This task is just a taster of the complete classroom resources we offer. We also provide in-depth development training, online CPD, specialist support and assessment tools.
We believe all elements of our programme are vital in creating lasting change – enabling every child to enjoy and succeed in mathematics.
Want to find out more? Check out our
free resources
and
blogs
or join an
information session
.
By
Mathematics Mastery
This is a revision booklet used to assess children's ability to answer mastery type questions. This is based on the White Rose Maths Hubs structure.

Number and Place Value
Addition and Subtraction
Multiplication and Division
Fractions and Decimals
By
tomgale001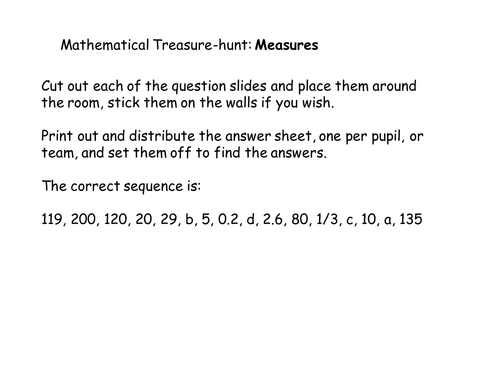 Put up these problems around the room. Pupils can work independently, in pairs or groups to follow the trail. This powerpoint includes the sheets for pupils, the challenge cards and the answers. I used this with my year 6 class but it would also be suitable for years 4 and 5. I apologise for the mistakes in this, the first time that I posted this. I have now corrected them.
By
victeach