Early years German resources: media and leisure
Keeping your class engaged with new and interesting classroom resources is vital in helping them reach their potential. With Tes Resources you'll never be short of teaching ideas. We have a range of tried and tested materials created by teachers for teachers, from early years through to A level.

Breathe new life into your lesson plans with our primary and secondary classroom resources. Whether you're looking for fun maths worksheets or brand new guided reading activities, we have thousands of free and premium resources for you to download. From early years to primary, you'll find phonics worksheets and numeracy games and all you need to revise for Sats. From secondary to post-16, we have everything from French lessons to algebra activities, as well as GCSE revision guides and more.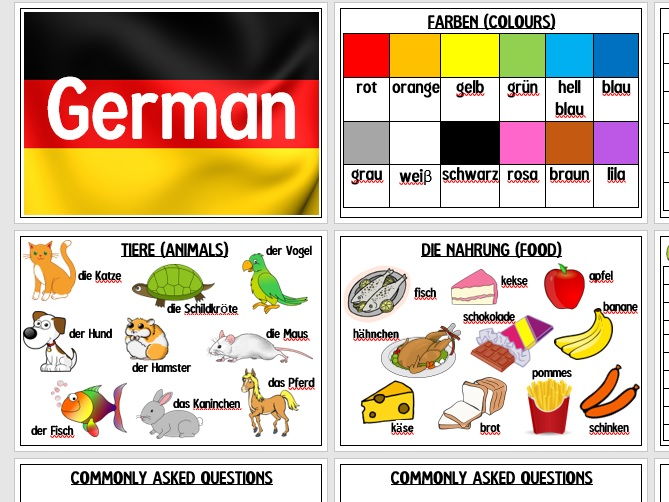 A 19 page set of A3 sheets, detailing colours, phrases, questions and answers in German.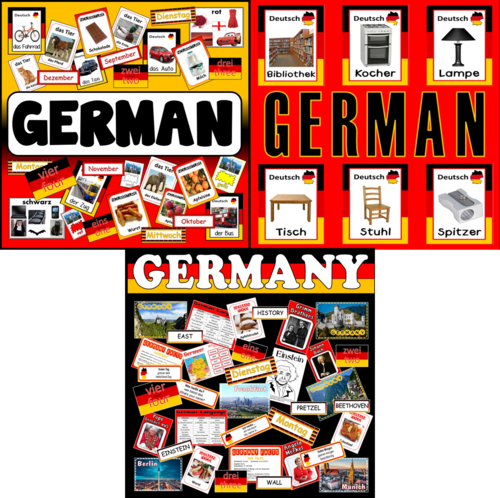 3 GREATS SETS OF RESOURCES BE SURE TO SEE THE DESCRIPTIONS AND PICTURE PREVIEWS FOR ALL PACKS
Are you are German NQT or are you getting a new class room next year? Here are my favourite displays and posters to decorate your new German teaching area!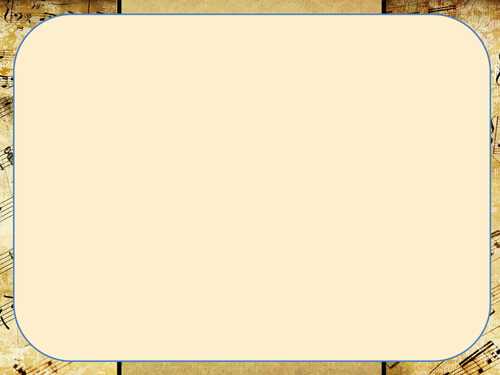 Do you use a lot of PowerPoint presentations and are bored with using the same design all the time? Here are 14 themed backgrounds to bring variety to your presentations. Most of them should also help students with dyslexia who find it easier to read from coloured backgrounds. The themes are mainly the ones covered in language lessons but can be used for a variety of subjects. TES doesn't allow the sharing of Office Themes, so these are saved as presentations. Either use them as they are and add your content or save them as a Office Theme if you want to use them in different presentations. Note: These presentations do not contain any content but are only backgrounds.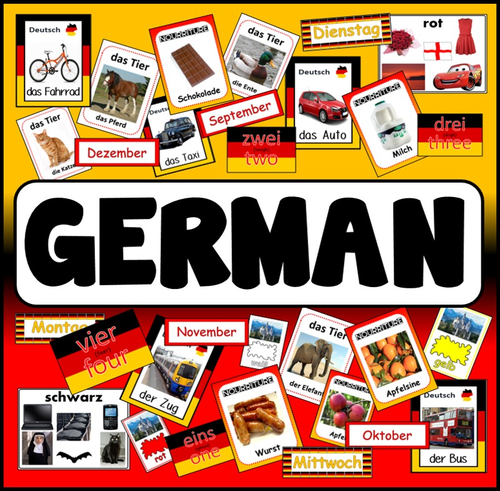 175 Posters and flashcards can be used for directly teaching children basic language skills or can be displayed around the classroom. Your children will have hours of fun with these colourful and bright resources. Resources included are as follows: 1.40 animal flashcards showing a picture of the animal with it's name in German 2.40 food flashcards showing a picture of the food with the word in German 3.11 A4 colour posters – showing the name of a colour and lots of different items in that colour 4.12 A5 size colour flashcards with a picture of German castle 5.Transport flashcards showing different transport such as car, taxi, bus etc in German 6.Days of the week flashcards – 1 set of German days and another set of English days each with colourful flag borders 7.Months of the year flashcards – 1 set of months in German and another set of English 8.Number 1-20 in English and German on large flags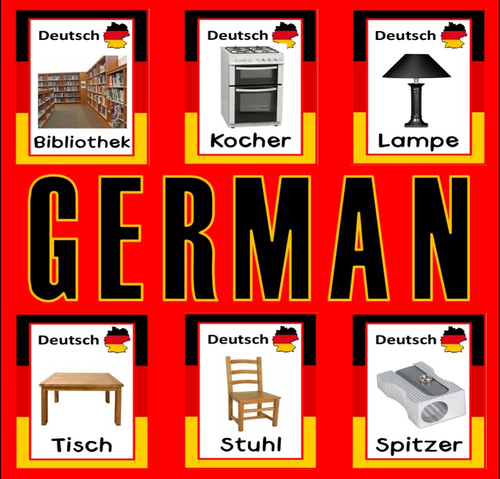 These great set of language flashcards for you to print as many times as you want. Each flashcard is A5 size, but your can print them as pocket size or photocopy them larger. They would make a great display, can be used as language activties or provide support for a multicultural classroom. Use at home with children new to the English language by looking at the picture and practise reading the word. Print the cards and match them together reading the German and English word each time. Each card has a colourful image that relates to the word, and the flag of the country and a map of the country is denoted on each card. Card topics include: Room in the house – bathroom, bedroom etc Items in each room such as bed, chair, table, TV etc Rooms in school – library, classroom, dining room etc Items found at school – pencil, pen, football etc Places to go – cinema, swimming, etc Common animals – cat, dog, etc Transport – bus, car, bike, plane, etc Emergency – police, fire, ambulance, doctor, hospital, etc Body parts – head, face, eye, leg, back etc Outside – tree, grass, flowers etc Colours – red, green, blue, etc Numbers – one to ten People – man, woman, children, baby etc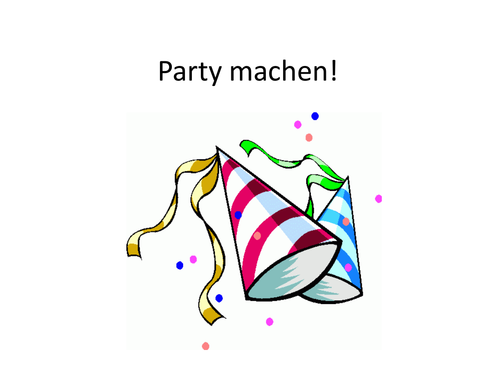 A PowerPoint to practise the use of modal verbs & infinitives in German in the context of planning a party.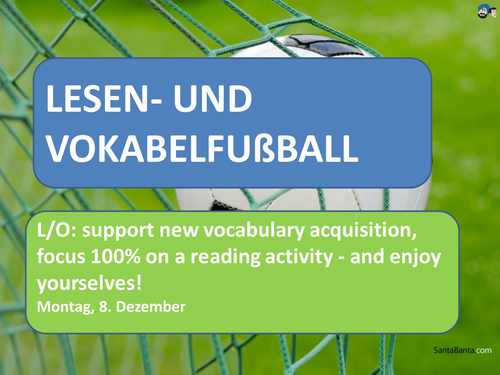 Fabulous reading / speaking fun!! Adapted from an excellent english resource (from a colleague, I don't know the original, I'm sorry...). This can be adapted for any MFL and ability. Create a text document / print a webpage etc of suitable reading, about three/four paras is good. Pupils have up to 20 mins free access to dictionaries / online dictionaries. Help with idioms or complex language as needed. Then once ready, teams of equal ability (max. 4). One student starts to read and can be 'tackled' after 10 words for the definition / spelling etc. All instructions are in German and English but is completely adaptable. Pupils must shout 'tackle' or 'goal' in TL. Extremely good fun, have a whistle ready as referee!!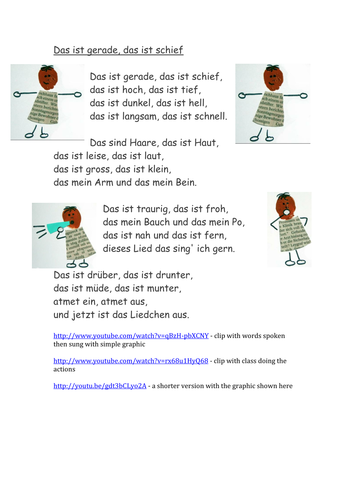 A simple German song about opposites with actions. Lyrics are in Word document as well as links to three Youtube videos to help you - one has the words written on screen with a simple graphic and spoken then sung by an adult and young child; there is a class doing the actions and singing the song, and another link to a shorter version with cute fingerprint man graphics!