Early years Italian resources: where i live
Keeping your class engaged with new and interesting classroom resources is vital in helping them reach their potential. With Tes Resources you'll never be short of teaching ideas. We have a range of tried and tested materials created by teachers for teachers, from early years through to A level.

Breathe new life into your lesson plans with our primary and secondary classroom resources. Whether you're looking for fun maths worksheets or brand new guided reading activities, we have thousands of free and premium resources for you to download. From early years to primary, you'll find phonics worksheets and numeracy games and all you need to revise for Sats. From secondary to post-16, we have everything from French lessons to algebra activities, as well as GCSE revision guides and more.
Read more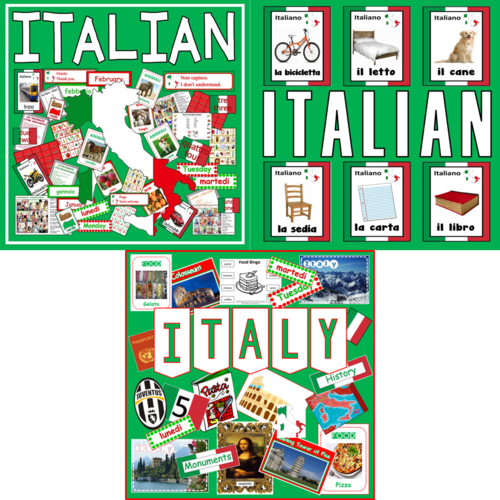 3 GREATS SETS OF RESOURCES BE SURE TO SEE THE DESCRIPTIONS AND PICTURE PREVIEWS FOR ALL PACKS
These great set of language flashcards for you to print as many times as you want. Each flashcard is A5 size, but your can print them as pocket size or photocopy them larger. They would make a great display, can be used for language activities or provide support for a multicultural classroom. Use at home with children new to the English language by looking at the picture and practise reading the word. Print the cards and match them together reading the Italian and English word each time. Each card has a colourful image that relates to the word, and the flag of the country and a map of the country is denoted on each card. Card topics include: Room in the house – bathroom, bedroom etc Items in each room such as bed, chair, table, TV etc Rooms in school – library, classroom, dining room etc Items found at school – pencil, pen, football etc Places to go – cinema, swimming, etc Common animals – cat, dog, etc Transport – bus, car, bike, plane, etc Emergency – police, fire, ambulance, doctor, hospital, etc Body parts – head, face, eye, leg, back etc Outside – tree, grass, flowers etc Colours – red, green, blue, etc Numbers – one to ten People – man, woman, children, baby etc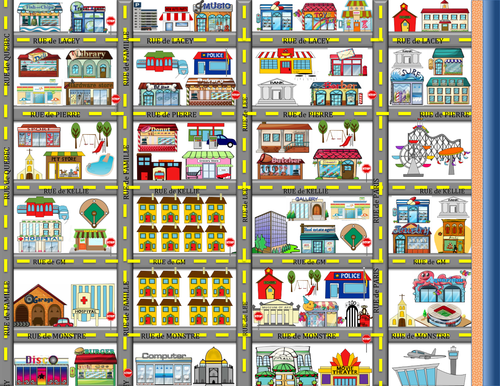 This map is great for students to practice directions. I suggest laminating a bunch and having your students use them to practice directions and prepositions. Mini dinky cars bought at Dollarama or Walmart will fit on the roads. Students love driving around on the streets. Use as a listening mark. - Can students arrive at your location? Use it as a speaking mark. - Can students explain directions from one place to another? Great for à + le/la/l'/les or prepositions and de + le/la/l'/les ~~~~~~~~~~~~~~~~~~~~~~~~~~~~~~~~~~~~~~~~~~~~~~ Some or all of the graphics in this resource came from Poppydreamz Digital Art. It is a violation of copyright laws to remove the graphics from this presentation for other uses. If you wish to use these graphics for yourself, you can find them by visiting Poppydreamz Digital Art at http://www.poppydreamzdigitalart.blogspot.com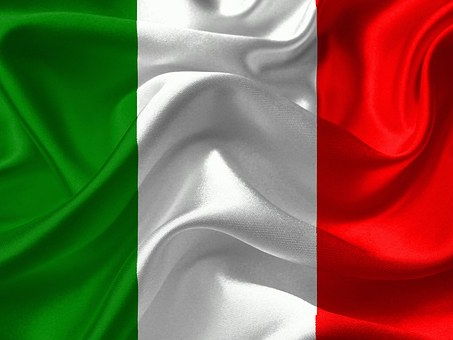 * Please note - these resources provide visual prompts, not specific language instruction. Are you learning Italian? Are you looking for a fun way to learn Italian? I have developed a way to learn different languages based on my experience as an ESL teacher. This pack has 57 different settings for students to talk about in Italian. The worksheets themselves are in English and the students do need to translate the places and objects they see into Italian. At the end of the session, the students can play a fun game of word bingo to show they have mastered that day's vocabulary. Try it, it is a lot of fun for everyone! Italian Bingo pack: This is a simple starter game for students. There are 114 different pictures to choose from. Select a single picture and project the image on the wall or share it with the class as a hand-out. Let's Talk in Italian!: This set of cards looks at 57 different settings. The teacher describes something in the top card. The students then use this to model a sentence using the bottom set of pictures. There are lots of things to see and describe in every picture. When the students have completed this task, they can repeat it by working in pairs to discuss each picture. Let's Write in Italian pack: There are lots of ways of using this teaching pack. It could be used as writing assessment for students learning Italian. The students could write about a topic in Italian before and then after a topic, using the second worksheet at the end of the topic.