BioInspired's Shop
FE Biology teacher sharing resources I have made for my own lessons.
43Uploads
24k+Views
18k+Downloads
FE Biology teacher sharing resources I have made for my own lessons.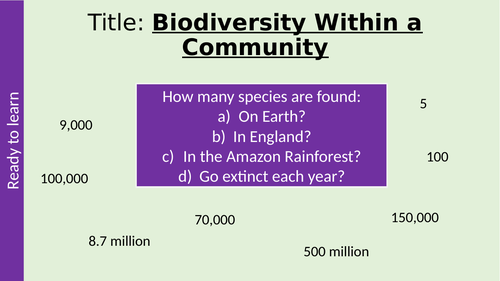 Complete PowerPoint presentation for a 2 hour lesson on biodiversity within communities for AQA A Level Biology. Includes calculating the index of diversity, impact of agriculture on biodiversity and conservation techniques. New content slides and accompanying activities in the 'learning loop' format. Covers specification points: Biodiversity can relate to a range of habitats, from a small local habitat to the Earth. Species richness is a measure of the number of different species in a community. An index of diversity describes the relationship between the number of species in a community and the number of individuals in each species. Calculation of an index of diversity (d) from the formula d = N (N − 1) /n (n − 1) where N = total number of organisms of all species and n = total number of organisms of each species. Farming techniques reduce biodiversity. The balance between conservation and farming.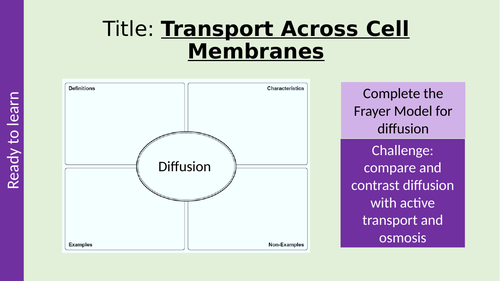 PowerPoint for a complete lesson on transport across membranes, focussing on simple and facilitated diffusion for AQA A Level Biology. 3.2.3 Transport across cell membranes Movement across membranes occurs by: • simple diffusion (involving limitations imposed by the nature of the phospholipid bilayer) • facilitated diffusion (involving the roles of carrier proteins and channel proteins)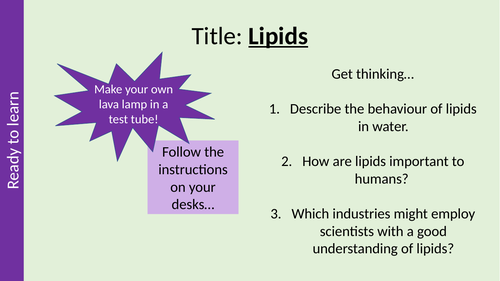 PowerPoint lesson on lipids for AQA A Level Biology Unit 1 - Biological Molecules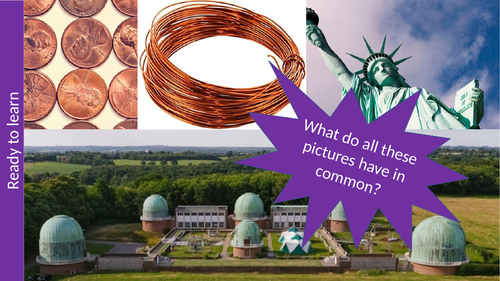 PowerPoint presentation about extracting copper for AQA GCSE Chemistry. Full lesson in learning loop format.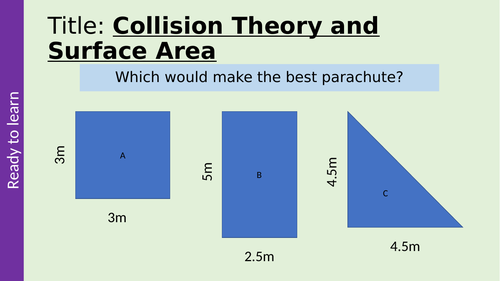 PowerPoint presentation on collision theory and surface area GCSE Chemistry - AQA Rate of Reactions Full lesson using the learning loop format.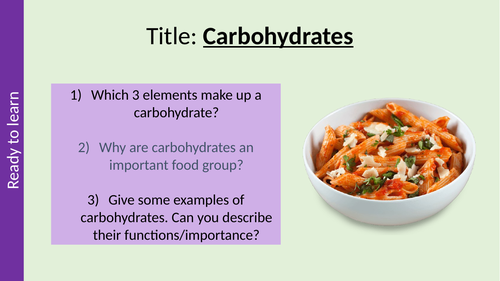 PowerPoint on carbohydrates for AQA A Level Biology - Unit 1 - Biological Molecules

Get hands on with science at home! Make your own skittle rainbow using resources you most likely already have at home, or you can easily purchase from a supermarket. A fun activity that most primary and secondary students can engage with (ideally suited to KS2/KS3). Includes a list of resources, easy to follow method, scientific description of how it works, things to think about and questions to answer. Please comment if you have any questions or feedback.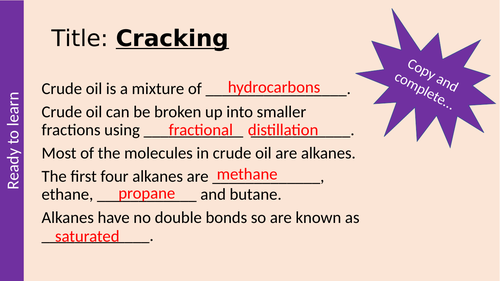 PowerPoint presentation on cracking for GCSE Chemistry - Organic Chemistry, AQA Full lesson using the learning loop format.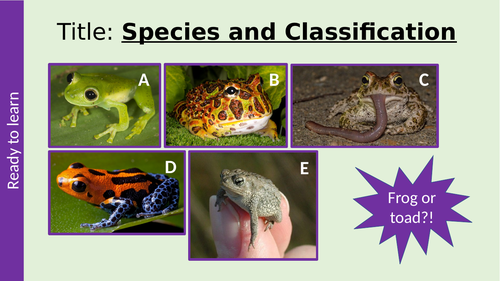 PowerPoint presentation on species, courtship behaviour and classification - used for AQA A Level Biology (2 hour lesson) but could be easily adapted. Topic 3.4.5 Specification points covered: Two organisms belong to the same species if they are able to produce fertile offspring. Courtship behaviour as a necessary precursor to successful mating. The role of courtship in species recognition. A phylogenetic classification system attempts to arrange species into groups based on their evolutionary origins and relationships. It uses a hierarchy in which smaller groups are placed within larger groups, with no overlap between groups. Each group is called a taxon (plural taxa). One hierarchy comprises the taxa: domain, kingdom, phylum, class, order, family, genus and species. Each species is universally identified by a binomial consisting of the name of its genus and species, eg, Homo sapiens.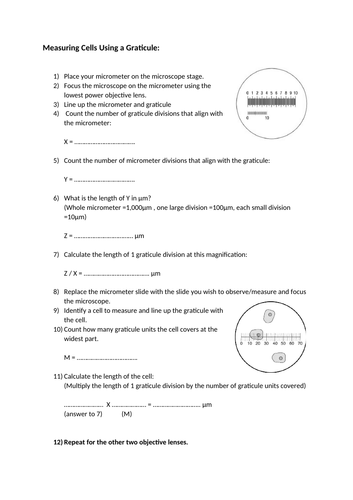 A worksheet I created to guide less confident students through calibrating and using a graticule to measure a cell. Suitable for GCSE and A Level Biology. I teach AQA but could be used for other specifications. AT d - use of light microscope at high power and low power, including use of a graticule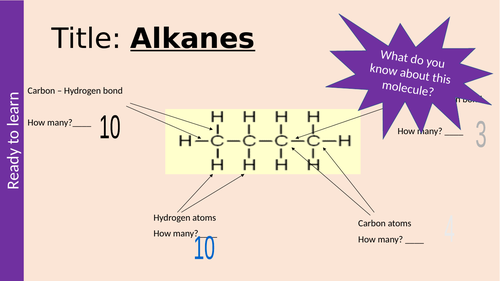 A PowerPoint presentation for teaching alkanes - GCSE Chemistry - Organic Chemistry, Alkanes Full lesson in the learning loop format.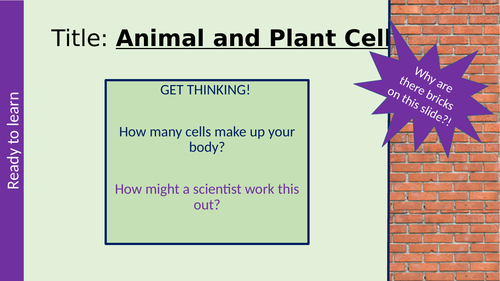 A complete lesson about plant and animal cells for AQA B1. Powerpoint Presentation with a series of activities and resources to print.

A science placemat to print in A3 and laminate. Stick a few down on tables or around the edge of the room so pupils can use them as a self-help resource. Includes naming common equipment, units, drawing graphs, designing experiment and other core skills for science at KS3/4. Placemat is in Word format so feel free to edit it in any way you wish to suit your classes needs. NOTE: check format before printing- format may be skewed if opening in different versions of word so check before printing, you may have to rearrange things slightly.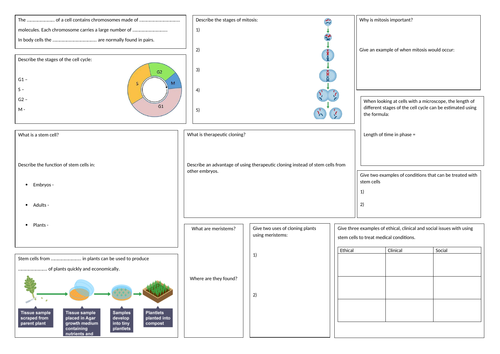 I created this broadsheet for students to revise the relevant areas of topic 1, cell biology (just the parts specified as making up the majority of exam content) - AQA 2022 Trilogy Higher It covers 4.1.2 Cell division - it covers the cell cycle, mitosis and stem cells. It can be used alongside BBC Bitesize revision pages if students have access to devices. https://www.bbc.co.uk/bitesize/guides/z2kmk2p/revision/1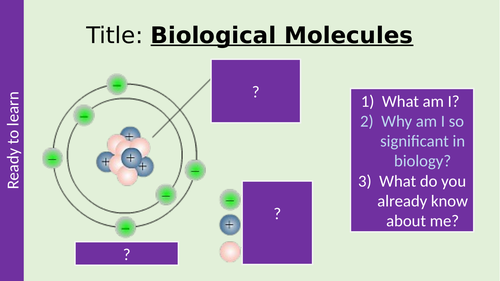 PowerPoint introducing monomers and polymers for AQA A Level Biology Unit 1 - Biological Molecules

A flow chart for pupils to use to decide if something is an element (atomic or molecular), compound or mixture. Useful to generate pupil discussion about what the difference is between elements, compounds and mixtures.

Worksheet for balancing chemical equations. Used as a starter after a lesson on balancing equations. Pupils balance the equations using m&m's- they place the sweets in the blue boxes beneath the equations to visually represent each atom. Used about 3 share bags of m&m's with a class working in pairs. Delivered to a year 8 class but suitable for KS4 too.

Created as a whole class activity for Biology Week (2018 but could easily be adapted). Students make giant organelles and assemble them into a giant cell. Very open activity, created for a nurture/SEN year 8 class but could be adapted for any KS3 science.

A collection of extracurricular competitions, books and events for A-level biology students. These opportunities could all be used to enhance students UCAS personal statements and explore their passion for biology outside of the classroom. Available as a powerpoint and pdf to share with students. Feel free to comment anything you think should be added!