17Uploads
73k+Views
20k+Downloads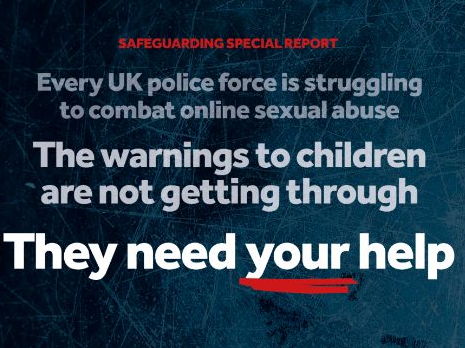 This downloadable PDF contains a wealth of safeguarding information from Tes magazine's online safety special, including: - An exclusive look into the work carried out by the Metropolitan Police's "paedophile unit", tasked with combating online sex crimes against children - An interview with Lorin LaFave, whose 14-year-old son was groomed online and murdered - A teacher's guide to the dark web - What to do when pornography is brought into schools - How pupils can help you fight online threats - The student who transformed tech into a way to beat cyberbullying - An approach to a classroom discussion on the ethics of pornography

Save £27.50! Get all five editions of the Tes research series for just £10 Included within the bundle: Volume One Being a research-informed professional How memory works Dyslexia Growth Mindset The use of play in education How we learn to read Autism Volume Two Spotting research myths Tackling literacy problems in secondary The role of genetics in education How to judge teacher and school effectiveness Why you're probably not making the most of your teaching assistants What every teacher needs to know about setting Gender stereotyping in schools – its damaging effects and how to prevent it Understanding race in education Volume Three Character Language development support Executive function Teacher talk EAL interventions Limits of research Direct instruction Volume Four What teachers need to know about the teenage brain Why phonics is crucial – even for those who won't 'get' it How to support autistic pupils Learning through play: what are the benefits? What every teacher needs to know about the impact of trauma The truth about screen time, tech and young people The truth about mental health in schools Volume Five The limitations of child-led learning, with Professor David Gear A joined-up approach to comprehension, with Professor Jane Oakhill Teaching the 'unteachable', with Dr Simon Edwards Why counting isn't as easy as 1, 2, 3, with Professor Daniel Ansari The pros and cons of peer influence, with Professor Brett Laursen Minding the gap in primary mental health, with Dr Wendy Sims-Schouten How premature birth can affect learning, with Professor Samantha Johnson

Grammar can be a little daunting for all of us, especially when faced with getting it right or wrong in front of a class of watchful students. Replete with practical examples, this light-hearted look at the ins and outs of grammar will help you to brush up on your knowledge, banish fears and discover how interesting, as well as essential, grammar is.

The Tes Research series: volume one - 60 pages of interviews with acclaimed academics - providing you with the information you need to know about: Being a research-informed professional: Dylan William, emeritus professor of educational assessment at UCL Institute of Education, talks about the usefulness of the research that's out there and how teachers are currently consuming it. - P. 6, published September 2017 How memory works: World-renowned memory researchers Professors Robert and Elizabeth Bjork explain how to match teaching to what we know about how memory works, and why linking learning to a student's interests and group work is key. - P. 15, published October 2017 Dyslexia: Professor Margaret Snowling, president of St John's College Oxford, is one of the world's leading dyslexia researchers. Here, she addresses myths around the condition and warns that education is still missing opportunities to help support students at an earlier stage. - P. 24, published November 2017 Growth Mindset: Carol Dweck, Lewis and Virginia Eaton professor of psychology at Stanford University, is the creator of the highly popular growth mindset theory. Here she embraces the intense scrutiny that the theory has been subjected to and delves headfirst into the questions behind its validity. - P. 30, published October 2017 The use of play in education: Dr Sara Baker is trying to change perceptions of play in the classroom with her work at Cambridge's Play in Education, Development and Learning (PEDAL) Centre. She conducts research into the use of play in schools and believes that we might have been getting it wrong. - P. 35, published October 2017 How we learn to read: Daniel Willingham, professor of psychology at the University of Virginia and one of the world's leading experts on research into reading, talks through the three processes children need to get right to become successful readers and why teachers need to overcome the fact that phonics resources tend to be 'boring'. - P. 42, published September 2017 Autism: Uta Frith is one of the world's leading experts on autism and emeritus professor of cognitive development at UCL. She began studying autism in 1966 when it was an emerging field of research, and says we're now a much more autistic-aware society, but that myths and misunderstandings still remain, particularly in schools. - P. 51, published November 2017

The Tes Research series: volume two will provide you with the information you need to know about: Spotting research myths: Dr Christian Bokhove, lecturer in mathematics education at the University of Southampton and a specialist in research methodologies, identifies some prime examples of where he feels research has been oversimplified or misconstrued by educators. - P. 4, published February 2018 Tackling literacy problems in secondary: Dr Jessie Ricketts, head of the Language and Reading Acquisition research lab at Royal Holloway, University of London, talks about the impact of vocabulary on early reading – and how to tackle literacy problems in secondary. - P. 12, published February 2018 The role of genetics in education: Leading genetics researcher Dr Kathryn Asbury argues that genes are hugely influential in learning and educational outcomes. She talks about Genome-wide Polygenic Scores (GPS) and their potential role in education. - P. 20, published February 2018 How to judge teacher and school effectiveness: Professor Daniel Muijs, Ofsted's new head of research, discusses his plans for research projects while at Ofsted, the ethics of education research and also the lack of evidence-based approaches to behaviour management. - P. 26, published March 2018 Why you're probably not making the most of your teaching assistants: Teaching assistants are under-utilised, under-appreciated and have the potential to be a hugely positive influence in schools. That's according to Rob Webster, one of the country's leading researchers into the role of TAs. - P. 32, published January 2018 What every teacher needs to know about setting: Professor Becky Francis, director of the UCL Institute of Education, sets out what every teacher needs to know about setting. Under what conditions is it beneficial for students, and what are the most common ways of getting setting wrong? -P. 37, published January 2018 Gender stereotyping in schools – its damaging effects and how to prevent it: Professor Vanita Sundaram thinks schools play a significant role in establishing and propagating gender norms, which can have a very negative impact on both genders. She explains how schools can begin to dismantle these gender stereotypes. - P. 42, published March 2018 Understanding race in education: University of Birmingham academic Kalwant Bhopal believes every teacher needs to take racism seriously and push for a more diverse and representative education system. - P. 47, published March 2018

The Tes Research series: volume five will provide you with the information you need to know about: The limitations of child-led learning, with Professor David Geary: Professor David C Geary explains his theory that children learn through primary and secondary knowledge. Primary knowledge will naturally evolve as long as children are in an environment that permits exploration, play and social interactions. But secondary knowledge requires working memory, attentional control and cognitive load – for children to learn these, the teaching environment has to organise their experiences. - P. 6, February 2019 A joined-up approach to comprehension, with Professor Jane Oakhill: Reading is often taught as a process of decoding words, with understanding of the text coming second. But Professor Jane Oakhill, leading expert on the teaching of comprehension and inference, doesn't believe this is the right approach. She thinks schools need to teach all elements of reading together. - P. 12, June 2019 Teaching the 'unteachable', with Dr Simon Edwards: Dr Simon Edwards has taught across the education spectrum, from mainstream to alternative provision. He is now a researcher working with children deemed too tough even for pupil referral units. Here he explains why there's no such thing as an "unteachable" child. - P. 20, July 2019 Why counting isn't as easy as 1, 2, 3, with Professor Daniel Ansari: Professor Daniel Ansari has focused on trying to unpick the origins of number and how we teach children to count. Here, he explains how a child's development is not linear or universal, and that we have "to be very careful about putting children into certain categories at an early age". - P. 25, 2019 The pros and cons of peer influence, with Professor Brett Laursen: Why are some children so much more easily influenced than others? Can you influence behaviour norms across an entire school? And can teachers be influenced by their pupils? Professor Brett Laursen discusses what the research says about the various ways peer influence plays out in schools. - P. 33, September 2019 Minding the gap in primary mental health, with Dr Wendy Sims-Schouten: Although understanding of mental health problems in young people, and what to do about them, is growing in secondary schools, primary teachers still lack the training and tools to identify the earliest warning signs of common childhood disorders, says Dr Wendy Sims-Schouten. She explains why primary teachers need more support. - P. 39, July 2018 How premature birth can affect learning, with Professor Samantha Johnson: We know much more than we once did about the potential impact of preterm birth on a child's education. Professor Samantha Johnson explains how children born prematurely may be missing out on vital support owing to schools' lack of knowledge about the challenges they might face. - P. 46, June 2019

The Tes Research series: volume four will provide you with the information you need to know about: What teachers need to know about the teenage brain: Sarah-Jayne Blakemore discusses teenage brain development and her latest research. At the time of the interview she was professor of cognitive neuroscience at the Institute of Cognitive Neuroscience, University College London. She has since been appointed Professor of Psychology in the Social Sciences at University of Cambridge. Her award-winning book 'Inventing Ourselves: the secret life of the teenage brain' received the Royal Society Insight Investment Science Book Prize 2018. - P. 6 Why phonics is crucial – even for those who won't 'get' it: Anne Castles explains when and why phonics is useful in early childhood development. Anne is a distinguished Professor in the Department of Cognitive Science at Macquarie University in Sydney, Australia. Her research focuses on reading development and dyslexia, with a particular interest in variability within the reading-impaired population and the causes of different types of dyslexia. - P. 12 How to support autistic pupils: Dr Luke Beardon is a senior lecturer working within The Autism Centre at Sheffield Hallam University. Here he explains why he believes autistic children have an unnecessarily challenging time in school and offers three practical processes that schools can abide by that ensure the autistic child's needs are met. - P. 20 Learning through play: what are the benefits?: Psychologist David Whitebread says play is one of the most misunderstood topics in education. He is emeritus professor at the University of Cambridge and a developmental cognitive psychologist and early years specialist. Here he explains how here are robust benefits in language and self-regulation to play based approaches. - P. 27 What every teacher needs to know about the impact of trauma: Essi Viding is professor of Developmental Psychopathology at University College London (UCL) and, together with Eamon McCrory, professor of developmental neuroscience and psychopathology at UCL, she studies the effects of trauma on a child's behaviour at the Developmental Risk and Resilience Unit. This podcast discusses what every teacher should know about the impact of trauma. - P. 34 The truth about screen time, tech and young people: Andrew Przybylski says much of the negative reputation of tech and screens is way ahead of the research, and schools need to recognise the reality. Andrew is associate professor in the department of psychology at the University of Oxford and director of research at the Oxford Internet Institute. - P. 40 The truth about mental health in schools: Professor Tamsin Ford explains what the data actually says about mental health in schools and reveals what impact schools can have on the mental health of young people and teachers. She is a professor of child and adolescent psychiatry at the University of Exeter. - P. 45

The Tes Research series: volume three will provide you with the information you need to know about: Character: All schools strive to instil or develop 'character' in their pupils. Professor Angela Duckworth explores whether character can actually be taught, and if so, just how that might be done in schools. - P. 6, published September 2018 Language development support: Developmental Language Disorder (DLD) impacts – on average – two children in every classroom. Professor Courtenay Norbury explains what we know about DLD and offers advice on how to support children who have a DLD diagnosis. - P. 12, published June 2018 Executive function: Executive functioning issues are weaknesses in a set of important mental skills that are key to learning. When kids struggle with executive skills, it impacts them in school and in everyday life. Professor Lucy Cragg explains how executive function skills underpin learning, and so need to be better understood in schools. - P. 19, published September 2018 Teacher talk: Professor Neil Mercer is emeritus professor of education at the University of Cambridge and director of Oracy Cambridge. He is a leading expert on the role of spoken language in the classroom. He discusses the evidence for, and practical strategies to implement, both teacher and pupil talk. - P. 26, published July 2018 EAL interventions: Victoria Murphy is professor of applied linguistics at the University of Oxford. She is an expert in EAL and bilingualism, and has conducted extensive research into both areas. She explains what the research can tell teachers about the best ways of supporting EAL learners. - P. 32, published May 2018 Limits of research: Professor Steve Higgins was one of the creators of the EEF Teaching and Learning Toolkit and is one of the leading education researchers in the UK. He discusses whether we will ever really know exactly what works in education. - P. 38, published April 2018 Direct instruction: Professor Paul Kirschner details what exactly direct instruction is and why the research suggests it is the best approach to teaching. - P. 45, published May 2018

10 lessons for new leaders will provide you with the information you need to know about: Team Dynamic: The interactions between staff can have a huge impact on performance, research suggests. Simon Creasey uncovers expert advice highlighting the importance of hiring people who will get along and of giving everyone a voice. Pg 4, published September 2019 Line management: Teachers need a line manager who will hold them to account – but they also want someone who they can collaborate with, writes principal Jo Facer. Effective line management, she says, is all about striking a balance between support and autonomy. Pg 7, published September 2020 Vision statements: Writing a vision statement for your school need not be a corporate box-ticking exercise, as long as you ensure that the process is meaningful and values the input of the whole community, writes middle leader Matt Payne. Pg 10, published February 2021 Risk assessments: Creating risk assessments is tricky – but, given the current situation, it is likely to be one of school leaders' most important duties next year. Headteacher Kulvarn Atwal outlines his four golden rules for drafting watertight risk assessments. Pg 12, published August 2020 Leading on behaviour: Stepping up to become the school's behaviour leader may bring you face to face with unclear policies, erratic sanctions and confused students. Director of behaviour, Amy Forrester explains how to get a grip of it all. Pg 14, published October 2020 Stretching budgets: Headteachers have always had to keep a tight hold on the school purse strings and, with funds drained further during the pandemic, difficult decisions affecting staff sometimes have to be made. But there are ways to add to the pot and stay in the black without taking drastic action, finds headteacher Ben Waldram. Pg 16, published February 2021 Curriculum change: With curriculum now firmly in Ofsted's sights, school leaders across the country are looking again at subject content and how to meet the inspectorate's standards. But how easy is it to lead curriculum change? Matthew Lane says that the most important thing is to get your staff on board and give them proper support. Pg 18, published February 2020 Data: Schools invest a lot of time and energy collecting information to establish which approaches work. But when such data is applied without due care, it's about as useful for improving outcomes as crossing your fingers or wearing lucky pants, finds senior leader Jo Clemmet. Pg 20, published January 2021 Work-life balance: If leaders want to promote the wellbeing of their teachers, they need to practise what they preach and achieve a better work-life balance themselves, writes assistant principal Sarah Arney. Modelling a more healthy relationship with work will encourage your staff to follow suit. Pg 23, published April 2020

10 interviews to boost your teaching will provide you with the information you need to know about: Child-led learning: David C Geary, curators professor in the Department of Psychological Sciences at the University of Missouri explains his theory of primary and secondary knowledge and how it affects the way you should teach. Pg 3, published April 2020 Revision: John Dunlosky, professor of psychology and the director of experimental training at Kent State University, shares his insight into what the research says works – and what doesn't – when it comes to revision. Pg 6, published February 2019 Early intervention: Dorothy Bishop, professor of developmental neuropsychology at the University of Oxford, says that how we teach and assess young pupils runs contrary to developmental psychology research. Pg 9, published February 2020 Project-based learning: Pam Grossman, dean of the Graduate School of Education at the University of Pennsylvania, thinks that many teachers have the wrong impression about project-based learning, and explains how to do it well. Pg 12, published September 2019 Teenage brain: Sarah-Jayne Blackmore, a professor at the Institute of Cognitive Neuroscience at University College London, explores cognitive neuroscience research into the teenage brain – and the impact on teaching and learning. Pg 15, published April 2020 Peer influence: Brett Laursen, professor of psychology at Florida Atlantic University, US, discusses just how complex peer influence can be in schools, and the challenge of influencing behaviour norms across a school. Pg 18, published September 2019 Research myths: Christian Bokhove, associate professor at University of Southampton, shares how to be an effective consumer of education research and why beliefs around theories of teaching can be over-simplifications. Pg 21, published January 2018 Trauma: Essi Viding, professor of Developmental Psychopathology and Eamon McCrory, professor of developmental neuroscience and psychopathology, both at the University College London, explain how traumatic events impact behaviour. Pg 24, published April 2020 Research in the classroom: Steve Higgins, professor of education at Durham University, says that translating research into the 'messy' world of the classroom is very complicated. Pg 27, September 2018 Executive function: Lucy Cragg, associate professor at University of Nottingham, explains what executive function, otherwise known as cognitive control, is and why it's crucial to teaching and learning. Pg 30, Published July 2018

If children don't encounter a rich diet of literature at school, they are being denied key knowledge about themselves and the world. Children's literature expert Karen Sands-O'Connor has compiled a book list to get you started on diversifying your school library. Stick this colourful poster up in your classroom or school library to share her list with pupils and colleagues.

Schools are not just places of academic learning - they are environments in which children learn valuable life lessons and where they encounter things that shape them as adults. Teachers and parents alike have strong views about what these lessons should be, but what do children themselves value? TES surveyed 2,500 pupils under the age of 11 to find out what experiences they think every child should have before they leave primary school.

Progress 8 is heralded as the measure that will ensure the attainment of all students is prioritised at GCSE, not just those on the C/D borderline. But how exactly does the new system work? This quick guide from Tes explains all.

TES asked primary school teachers to vote for which 100 fiction books they thought the children in their class should read before leaving. The answers ranged from some classic children's books - such as Beatrix Potter's 'The Tale of Peter Rabbit' - to some more modern reads, such as Diary of a Wimpy Kid by Jeff Kinney. Download our poster to see the full list.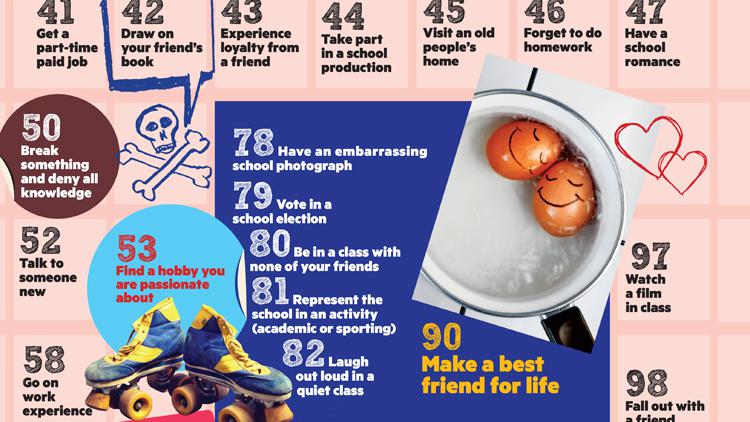 When TES asked teenagers to suggest experiences they thought every student should have had at school before the age of 16, many of the answers were as you might expect - a mix of rebellion and frivolity. But one trend that emerges was a surprise: our current crop of secondary students place a high value on schools teaching them lessons for life. Here are the 100 things that every 11- to 16-year-old should have done before they leave school - according to the pupils themselves.

One English teacher threw away her class sets of reading books and came up with a revolutionary new canon to inspire reluctant readers. Working with her school librarian, she sought out teachable, modern books that were connected to the curriculum but were also exciting to read and relevant to students' lives. These seventy-two books are her suggestions for transforming English lessons and getting students reading for pleasure. But don't take her word for it that this approach works. Try it yourself. Use this poster as a starting point to create a new canon of your own.

This is TES' top 100 books to read before you leave secondary school, as voted by teachers. From The Time Machine to 1984, download this resource to take a journey through the top 100 books teachers have recommended for students at key stages 3 and 4...