49Uploads
65k+Views
17k+Downloads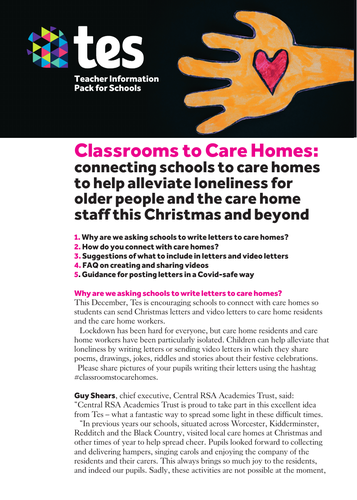 All the information you need to take part in the letter writing campaign run by Tes. Make connections between your school and local care homes, and help bring joy to those in care homes.

A PDF e-booklet containing 13 useful recent articles from Tes magazine giving guidance on how to approach the following as a result of the Coronavirus lockdown: Closure Checklist for school leaders 5 lessons from a school in lockdown How to create home-learning booklets 8 tips for setting up lessons via video A guide to tech to help you cope with school closures 11 tips for using Google classroom 9 key safeguarding areas for school closures How to support children in EYFS How to support children in primary education 4 tips to support SEND students remotely 5 wellbeing tips to for teachers working from home 5 staff wellbeing tips for closed schools 10 tips for acing a remote job interview

A PDF e-booklet containing 12 useful recent articles from Tes magazine giving guidance on how to approach the following as a result of the Coronavirus lockdown: Closure Checklist for school leaders 5 lessons from a school in lockdown How to create home-learning booklets 8 tips for setting up lessons via video A guide to tech to help you cope with school closures 11 tips for using Google classroom 9 key safeguarding areas for school closures How to support secondary school students 4 tips to support SEND students remotely 5 wellbeing tips to for teachers working from home 5 staff wellbeing tips for closed schools 10 tips for acing a remote job interview

The Tes Research series: volume three will provide you with the information you need to know about: Character: All schools strive to instil or develop 'character' in their pupils. Professor Angela Duckworth explores whether character can actually be taught, and if so, just how that might be done in schools. Language development support: Developmental Language Disorder (DLD) impacts – on average – two children in every classroom. Professor Courtenay Norbury explains what we know about DLD and offers advice on how to support children who have a DLD diagnosis. Executive function: Executive functioning issues are weaknesses in a set of important mental skills that are key to learning. When kids struggle with executive skills, it impacts them in school and in everyday life. Professor Lucy Cragg explains how executive function skills underpin learning, and so need to be better understood in schools. Teacher talk: Professor Neil Mercer is emeritus professor of education at the University of Cambridge and director of Oracy Cambridge. He is a leading expert on the role of spoken language in the classroom. He discusses the evidence for, and practical strategies to implement, both teacher and pupil talk. **EAL interventions: ** Victoria Murphy is professor of applied linguistics at the University of Oxford. She is an expert in EAL and bilingualism, and has conducted extensive research into both areas. She explains what the research can tell teachers about the best ways of supporting EAL learners. Limits of research: Professor Steve Higgins was one of the creators of the EEF Teaching and Learning Toolkit and is one of the leading education researchers in the UK. He discusses whether we will ever really know exactly what works in education. Direct instruction: Professor Paul Kirschner details what exactly direct instruction is and why the research suggests it is the best approach to teaching

The Tes Research series: volume two will provide you with the information you need to know about: Spotting research myths Tackling literacy problems in secondary The role of genetics in education How to judge teacher and school effectiveness Why you're probably not making the most of your teaching assistants What every teacher needs to know about setting Gender stereotyping in schools – its damaging effects and how to prevent it Understanding race in education

The Tes Guide to Your First Year In Teaching is the definitive handbook to your NQT year. It will equip you with all you need to know for your first year on the job, with informative articles planned and written by experienced teachers – just for you! The guide will help you thrive in those exciting first 12 months, with all the answers, research and tips you need to be the best teacher you can be. What's inside? What to expect in your NQT year and how to deal with common problems – by school leader Mark Roberts A fail safe way to learn 30 names in 5 minutes – by Jo Baker How to make your planning more efficient – by Department head Rebecca Foster Pedagogy – get the right balance between research and your natural style – by research lead Megan Dixon Retrieval practice – why you should think of it as your handbag – by headteacher Clare Sealey The psychology behind good behaviour management – by executive headteacher Jarlath O'Brien What I wish I had known about research and marking – by research lead Mark Enser A brief guide to dealing with parents – by Tes columnist Nancy Gedge How to use your Sendco wisely – by Tes columnist Gemma Corby The art of a good explanation – by head of department Emily Seeber How to use research to help you improve and find answers – by research lead Megan Mansworth

The Tes Research series: volume one - 60 pages of interviews with acclaimed academics - providing you with the information you need to know about: Being a research-informed professional: Dylan William, emeritus professor of educational assessment at UCL Institute of Education, talks about the usefulness of the research that's out there and how teachers are currently consuming it. How memory works: World-renowned memory researchers Professors Robert and Elizabeth Bjork explain how to match teaching to what we know about how memory works, and why linking learning to a student's interests and group work is key. Dyslexia: Professor Margaret Snowling, president of St John's College Oxford, is one of the world's leading dyslexia researchers. Here, she addresses myths around the condition and warns that education is still missing opportunities to help support students at an earlier stage. Growth Mindset: Carol Dweck, Lewis and Virginia Eaton professor of psychology at Stanford University, is the creator of the highly popular growth mindset theory. Here she embraces the intense scrutiny that the theory has been subjected to and delves headfirst into the questions behind its validity. The use of play in education: Dr Sara Baker is trying to change perceptions of play in the classroom with her work at Cambridge's Play in Education, Development and Learning (PEDAL) Centre. She conducts research into the use of play in schools and believes that we might have been getting it wrong. How we learn to read: Daniel Willingham, professor of psychology at the University of Virginia and one of the world's leading experts on research into reading, talks through the three processes children need to get right to become successful readers and why teachers need to overcome the fact that phonics resources tend to be 'boring'. Autism: Uta Frith is one of the world's leading experts on autism and emeritus professor of cognitive development at UCL. She began studying autism in 1966 when it was an emerging field of research, and says we're now a much more autistic-aware society, but that myths and misunderstandings still remain, particularly in schools.

Packed with everything you need to know about becoming a parent from the practicalities to the legal obligations that you have as a teacher or as a school leader who has staff preparing for parenthood. What's in the Becoming a Parent special issue? The planning stage: from deciding it's the right time, to IVF, adoption, parental leave and the tricky moment you tell your class, we've got it covered – whether your single, married, civil partners, unmarried or in a same-sex couple. Pregnancy: we talk you through being a teacher and being pregnant (clue: it's tough), coping with pregnancy-related illness, and the unavoidable topic of miscarriage. The arrival: get insight into how being a parent can change you, and what it's like to be the parent-in-waiting who's not carrying the child. Parental leave: we cover the ups and downs of maternity leave, adoption leave, balancing being a new dad with a full-time job and making the most of KIT days. **Returning to work: **Looking forward to getting back or loving it at home, discover your options from extending maternity leave, phased return and going part-time to finding the right childcare. Plus we've got some top tips for your return. As part of the download you will also get the Tes Early Years supplement. A detail guide to developing language and literacy in preschool children.

Are you and your school struggling to engage some students with Stem subjects? The Tes Guide to Stem is packed with hints, tips and schemes to help you boost Stem awareness and participation, including: Intergalactic inspiration to get girls into Stem from Star Wars actress Kelly Marie Tran How to making teaching Stem more practical How to build cross-curricular links between Stem subjects Lessons to be learned from the Maker Movement in the US How to use your local university technical college as a resource for Stem How to build partnerships with business and give students a taste of real science Plus there's advice on how you can upskill as a teacher and much more.

Are you thinking about taking the next step in your career by getting into leadership, or moving up the leadership ladder? Then the Tes guide to getting into leadership can provide you with the information you need to achieve your goal. Divided into three sections, the guide provides insight and advice for those aspiring to be middle leaders, senior leaders and headteachers, including 'what I wish I'd known' sections written by leaders who've been where you are now. It also contains sections on moving on from middle leadership, senior leadership and headship, because, we know, your career continues beyond your next role.

Are you searching for your first teaching job? Or looking for some great tips to help you ace that interview and take the next step in your career? Our complete guide will take you through the recruitment process step-by-step, from job-hunting and completing application forms to interview lessons and starting at your new school. With advice from recruitment experts and experienced senior leaders, the Tes Guide to First Jobs will bring you one step closer to landing your dream position in a school that's right for you.

All the information you need to plan an exciting, productive and safe trip for your students. Whether it's a local day out or a long excursion abroad, this 52-page book walks you through: Planning the trip Risk assessments Legalities Inclusion Behaviour management How to get the best out of it Post-trip analysis With input from experienced teachers and leaders, it will maximise the impact of any trip you have planned.

The NQT guide to classroom practice. Whether you are new to teaching or have new teachers beginning at your school this new term. What's inside? New teachers share their NQT highs and lows Making ends meet on a teacher's salary Getting to grips with your school's culture How to be successful without being perfect Plus guides to building relationships, dealing with challenging behaviour, mentor relationships, workload hacks and much, much more.

Bundle of three e-books to help support new teachers s in their first year of teaching and beyond. Preparing for observations - This 14 page e-book includes tips for planning ahead, lesson components and during the observation. Making the most of teaching mistakes - This 11 page e-book will help you discover how to embrace mistakes, assess yourself and help students to learn from mistakes. The habits of outstanding teaching - This 13 page e-book covers helpful tips for planning, in the classroom and supporting key skills.

Grammar can be a little daunting for all of us, especially when faced with getting it right or wrong in front of a class of watchful students. Replete with practical examples, this light-hearted look at the ins and outs of grammar will help you to brush up on your knowledge, banish fears and discover how interesting, as well as essential, grammar is.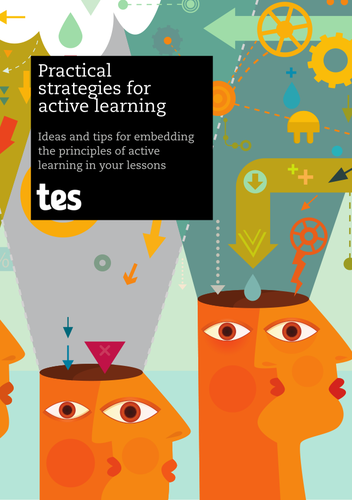 Over 22 pages, Practical strategies for active learning will help you to embed the principles of active learning into your lessons, covering: Embedding active learning from encouraging mistakes to incorporating prediction, evaluation, problem-solving and justification into your lessons. Speaking tasks and group work using contrived speaking and listening, role play, debate, snowballing and jigsawing. Active activities from making and writing to acting and debating. Teaching techniques focusing on what you can do to facilitate students taking a more active approach in their work.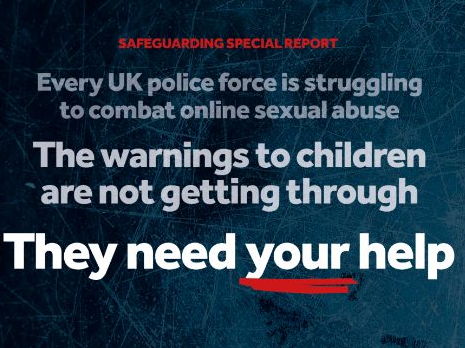 This downloadable PDF contains a wealth of safeguarding information from Tes magazine's online safety special, including: - An exclusive look into the work carried out by the Metropolitan Police's "paedophile unit", tasked with combating online sex crimes against children - An interview with Lorin LaFave, whose 14-year-old son was groomed online and murdered - A teacher's guide to the dark web - What to do when pornography is brought into schools - How pupils can help you fight online threats - The student who transformed tech into a way to beat cyberbullying - An approach to a classroom discussion on the ethics of pornography

Over 20 pages, Getting the most out of gifted students will help you to adapt your lesson plans to stretch your most-able students, covering: Building in challenge – from setting high expectations to introducing challenge through ambiguity and complex language, providing more information and less context and setting time limits Extension work – from extension questions and evaluation to peer teaching, translating from one format to another and critical commentary Higher-level thinking – from banishing cop-out answers and insisting on balanced responses to playing devil's advocate and making use of ethical dilemmas and riddles Expanding horizons – from wider reading and independent research to going off-curriculum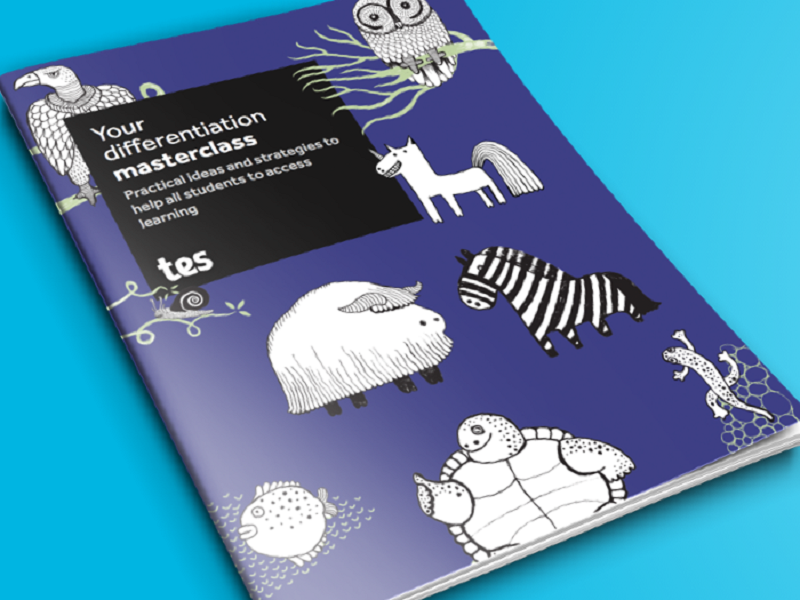 Over 20 tip-packed pages! Your differentiation masterclass e-book will give you the practical ideas and strategies to help all your students access learning, covering: Basic differentiation – from seating plans and planning your groups to confidence indicators, examples and modelling Supporting less-able students – from sentence starters and writing frames to creating opportunities for success and setting quickly achievable targets Supporting more-able students – from classroom and intellectual responsibility to socratic and hypothetical questioning and embracing failure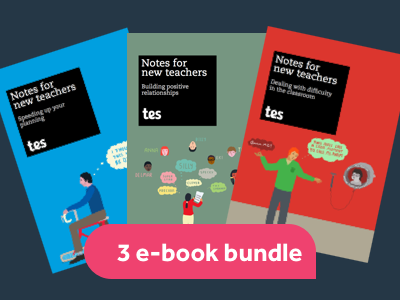 Bundle of three e-books to help support NQTs in their first couple of months of teaching. Speeding up planning - This 11 page e-book focuses on three sections; parts of a lesson, supporting materials and questions to ask yourself. Building positive relationships - This 13 page e-book focuses on the groundwork, communication and teaching skills for building positive relationships. Dealing with difficulty in the classroom - This 12 page e-book focuses on three sections; in the heat of the moment, next steps and finding a positive outcome.