49Uploads
65k+Views
17k+Downloads

If children don't encounter a rich diet of literature at school, they are being denied key knowledge about themselves and the world. Children's literature expert Karen Sands-O'Connor has compiled a book list to get you started on diversifying your school library. Stick this colourful poster up in your classroom or school library to share her list with pupils and colleagues.

A PDF e-booklet containing 12 useful recent articles from Tes magazine giving guidance on how to approach the following as a result of the Coronavirus lockdown: Closure Checklist for school leaders 5 lessons from a school in lockdown How to create home-learning booklets 8 tips for setting up lessons via video A guide to tech to help you cope with school closures 11 tips for using Google classroom 9 key safeguarding areas for school closures How to support secondary school students 4 tips to support SEND students remotely 5 wellbeing tips to for teachers working from home 5 staff wellbeing tips for closed schools 10 tips for acing a remote job interview

Progress 8 is heralded as the measure that will ensure the attainment of all students is prioritised at GCSE, not just those on the C/D borderline. But how exactly does the new system work? This quick guide from Tes explains all.

If a student in your class is disengaged, try to find out why. This can be as simple as having a chat about why they are not taking part. Approach this conversation in a non-confrontational, positive way. This 11 page e-book looks at reasons for disengagement, behaviour strategies and lesson elements.

Bundle of three e-books to help support new teachers s in their first year of teaching and beyond. Preparing for observations - This 14 page e-book includes tips for planning ahead, lesson components and during the observation. Making the most of teaching mistakes - This 11 page e-book will help you discover how to embrace mistakes, assess yourself and help students to learn from mistakes. The habits of outstanding teaching - This 13 page e-book covers helpful tips for planning, in the classroom and supporting key skills.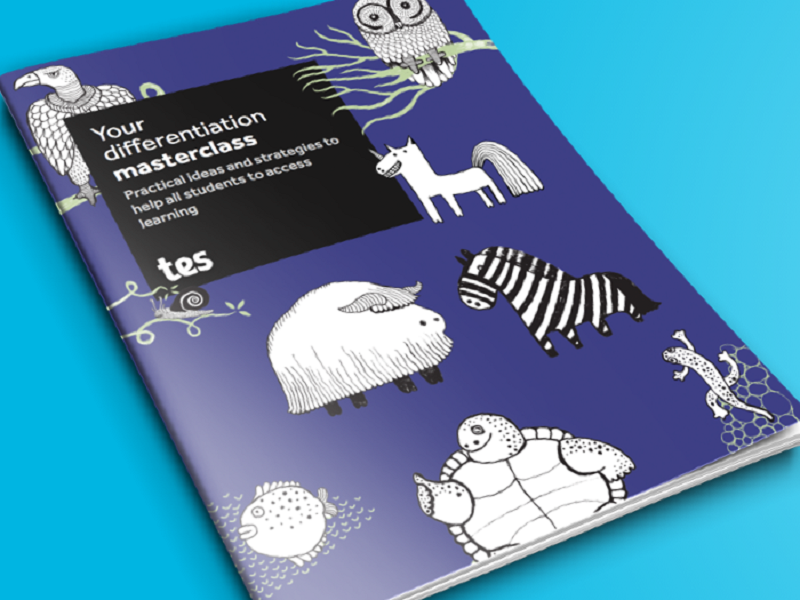 Over 20 tip-packed pages! Your differentiation masterclass e-book will give you the practical ideas and strategies to help all your students access learning, covering: Basic differentiation – from seating plans and planning your groups to confidence indicators, examples and modelling Supporting less-able students – from sentence starters and writing frames to creating opportunities for success and setting quickly achievable targets Supporting more-able students – from classroom and intellectual responsibility to socratic and hypothetical questioning and embracing failure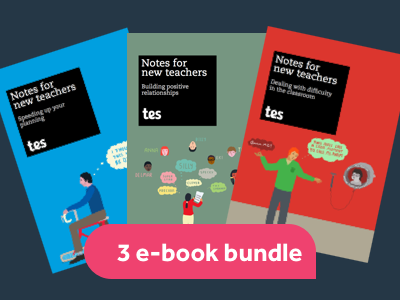 Bundle of three e-books to help support NQTs in their first couple of months of teaching. Speeding up planning - This 11 page e-book focuses on three sections; parts of a lesson, supporting materials and questions to ask yourself. Building positive relationships - This 13 page e-book focuses on the groundwork, communication and teaching skills for building positive relationships. Dealing with difficulty in the classroom - This 12 page e-book focuses on three sections; in the heat of the moment, next steps and finding a positive outcome.

Over 20 pages, Getting the most out of gifted students will help you to adapt your lesson plans to stretch your most-able students, covering: Building in challenge – from setting high expectations to introducing challenge through ambiguity and complex language, providing more information and less context and setting time limits Extension work – from extension questions and evaluation to peer teaching, translating from one format to another and critical commentary Higher-level thinking – from banishing cop-out answers and insisting on balanced responses to playing devil's advocate and making use of ethical dilemmas and riddles Expanding horizons – from wider reading and independent research to going off-curriculum

Are you looking for ways to help all your students succeed? Our strategy-packed e-book Raising achievement in your classroom has the answers! Our 22-page e-book will help you to equip students with the tools and opportunity to reach their potential. From managing behaviour and raising expectations to building strong rapports, you can improve the quality of your teaching and cultivate a learning environment where everyone can achieve.

How can teachers get to grips with new GCSEs and the changing curriculum at both primary and secondary levels? TES spoke to subject associations and advisory groups to find out what teachers of different subjects can do to prepare for new GCSE grades, Progress 8, new Sats tests and changing A-level specifications. This guide covers the subjects of art and design, citizenship, computing, design and technology, English, geography, history, inclusion, maths, MFL, music, PE, PSHE, RE and science.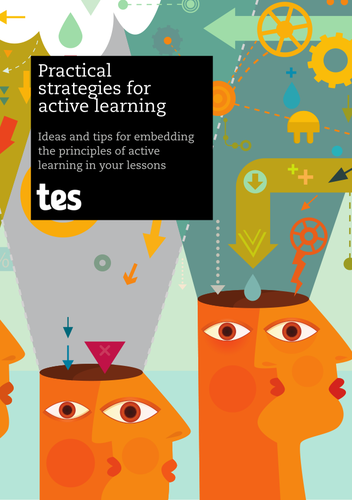 Over 22 pages, Practical strategies for active learning will help you to embed the principles of active learning into your lessons, covering: Embedding active learning from encouraging mistakes to incorporating prediction, evaluation, problem-solving and justification into your lessons. Speaking tasks and group work using contrived speaking and listening, role play, debate, snowballing and jigsawing. Active activities from making and writing to acting and debating. Teaching techniques focusing on what you can do to facilitate students taking a more active approach in their work.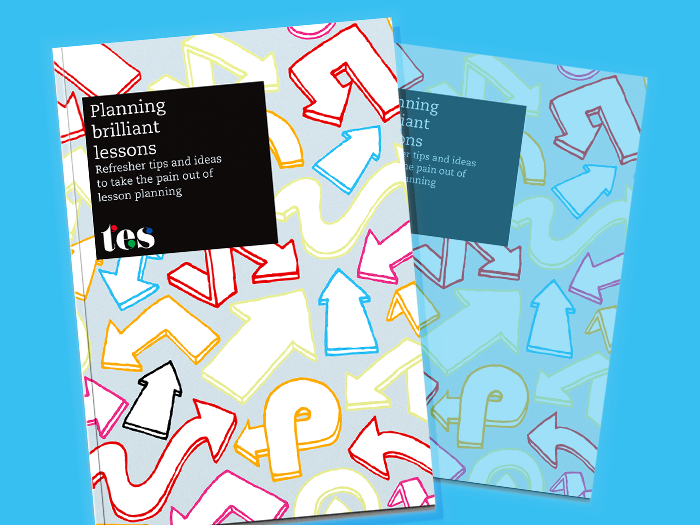 Do you ever get that sinking feeling when you think your students are making good progress in lessons then, at marking time, their books suggest otherwise? Don't worry, our e-book Planning brilliant lessons can help! Planning brilliant lessons has 15 tip-packed pages to help you improve your lessons and achieve better outcomes for all your students. From stopping transitions disrupting learning and giving students maximum time to think and practice, to creating meaning, purpose, engagement and enthusiasm, and even taking a risk or two! Planning brilliant lessons develops ideas and concepts to help you deliver lessons that lead to high quality outcomes, exploring: – Lesson elements: from focusing the lesson on your students to showing progress – Planning practicalities: from titles and objectives to extension tasks – The student's perspective: from creating meaning to engaging students in learning – Hints, tips and tricks: from taking risks to being flexible and getting student feedback

Not looking forward to another nail-biting exam season? Don't worry, our e-book 'Helping students to revise' can help. It's packed with games and activities to enable you and your students to get the most out of those precious revision lessons. This 22-page e-book will take the tedium out of revision, helping your students to succeed in Sats, GCSEs, A levels or other end of year exams. It will also support you in teaching the essential skills that form the foundation of effective revision, from time-management and prioritisation to making notes.

Are you and your school struggling to engage some students with Stem subjects? The Tes Guide to Stem is packed with hints, tips and schemes to help you boost Stem awareness and participation, including: Intergalactic inspiration to get girls into Stem from Star Wars actress Kelly Marie Tran How to making teaching Stem more practical How to build cross-curricular links between Stem subjects Lessons to be learned from the Maker Movement in the US How to use your local university technical college as a resource for Stem How to build partnerships with business and give students a taste of real science Plus there's advice on how you can upskill as a teacher and much more.

The NQT guide to classroom practice. Whether you are new to teaching or have new teachers beginning at your school this new term. What's inside? New teachers share their NQT highs and lows Making ends meet on a teacher's salary Getting to grips with your school's culture How to be successful without being perfect Plus guides to building relationships, dealing with challenging behaviour, mentor relationships, workload hacks and much, much more.

Are you thinking about taking the next step in your career by getting into leadership, or moving up the leadership ladder? Then the Tes guide to getting into leadership can provide you with the information you need to achieve your goal. Divided into three sections, the guide provides insight and advice for those aspiring to be middle leaders, senior leaders and headteachers, including 'what I wish I'd known' sections written by leaders who've been where you are now. It also contains sections on moving on from middle leadership, senior leadership and headship, because, we know, your career continues beyond your next role.

All the information you need to plan an exciting, productive and safe trip for your students. Whether it's a local day out or a long excursion abroad, this 52-page book walks you through: Planning the trip Risk assessments Legalities Inclusion Behaviour management How to get the best out of it Post-trip analysis With input from experienced teachers and leaders, it will maximise the impact of any trip you have planned.

Packed with everything you need to know about becoming a parent from the practicalities to the legal obligations that you have as a teacher or as a school leader who has staff preparing for parenthood. What's in the Becoming a Parent special issue? The planning stage: from deciding it's the right time, to IVF, adoption, parental leave and the tricky moment you tell your class, we've got it covered – whether your single, married, civil partners, unmarried or in a same-sex couple. Pregnancy: we talk you through being a teacher and being pregnant (clue: it's tough), coping with pregnancy-related illness, and the unavoidable topic of miscarriage. The arrival: get insight into how being a parent can change you, and what it's like to be the parent-in-waiting who's not carrying the child. Parental leave: we cover the ups and downs of maternity leave, adoption leave, balancing being a new dad with a full-time job and making the most of KIT days. **Returning to work: **Looking forward to getting back or loving it at home, discover your options from extending maternity leave, phased return and going part-time to finding the right childcare. Plus we've got some top tips for your return. As part of the download you will also get the Tes Early Years supplement. A detail guide to developing language and literacy in preschool children.

Are you searching for your first teaching job? Or looking for some great tips to help you ace that interview and take the next step in your career? Our complete guide will take you through the recruitment process step-by-step, from job-hunting and completing application forms to interview lessons and starting at your new school. With advice from recruitment experts and experienced senior leaders, the Tes Guide to First Jobs will bring you one step closer to landing your dream position in a school that's right for you.

Put students in control of their learning Being able to think independently remains one of the most important skills that a student can learn. That's why Tes has published an exclusive e-book, How to develop independent learners, that gives you real-world tips and ideas to teach in a way that allows room for independence — without sacrificing those all-important results. This 18-page e-book is packed with inspiration for the classroom, including teaching tips and activities. It'll give you accessible, immediate ways to nurture a more independent learning environment and a more open mindset — for students and teachers alike.