Teach Trends Shop
High Quality Educational Resources - Geography - Physical Education - Display Boards & Posters
80Uploads
25k+Views
6k+Downloads
High Quality Educational Resources - Geography - Physical Education - Display Boards & Posters

These P.E themed exit cards are an ideal way to end a lesson. With three different designs to choose from, the exit cards are perfect for laminating and then writing a question on the back with a whiteboard pen. That way the cards can be used again and again.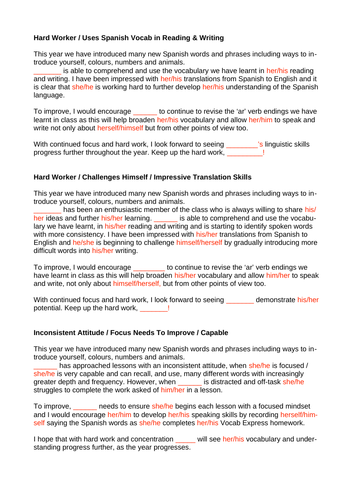 A selection of different report writing examples and templates to assist you with writing a generalised report for students in form or tutor groups as well as several subject-specific report writing examples for the following subjects: Geography, Spanish, History and Religious Studies These resources are best used when writing reports which are to include an overview of students' subject reports as well as their other commitments in school, for example, art, sport or music activities. The report examples in this resource range from capable/high achieving students to students with poor focus and concentration. 7 Different Spanish Report Templates (Aimed at Year 6/7 Beginners) 13 Different Year 5 End-of-Term reports Included 6 Religious Studies Report Comments/Templates 6 Geography Report Comments / Templates 4 Brief History Comment Banks (Focus on 'Stuart' Period and English Civil War) Each report includes highlighted possessive pronouns (he/she/him/her) and well as blank lines to easily identify relevant changes to be made. Reports range from approx. 200 - 400 words in length Available for download on Pages and as a Word document.

Enhance your pupils' geographical skills with a series of interpretation and analysis sheets and questions. This resource includes 8 PowerPoint slides with corresponding questions all focused on a different data presentation method. Ideal for preparing your pupils for exams and revising analysis skills. The high quality slides include annotation, examples and five scaled-ability questions. The data presentation skills included in this resource are: Climate Graphs Population Pyramids Chloropleth Maps Scatter Graphs Pie Charts Demographic Transition Model Proportional Symbols Map Divided / Stacked Bar Charts Resource downloaded in PDF and PowerPoint Format. Any feedback would be greatly appreciated.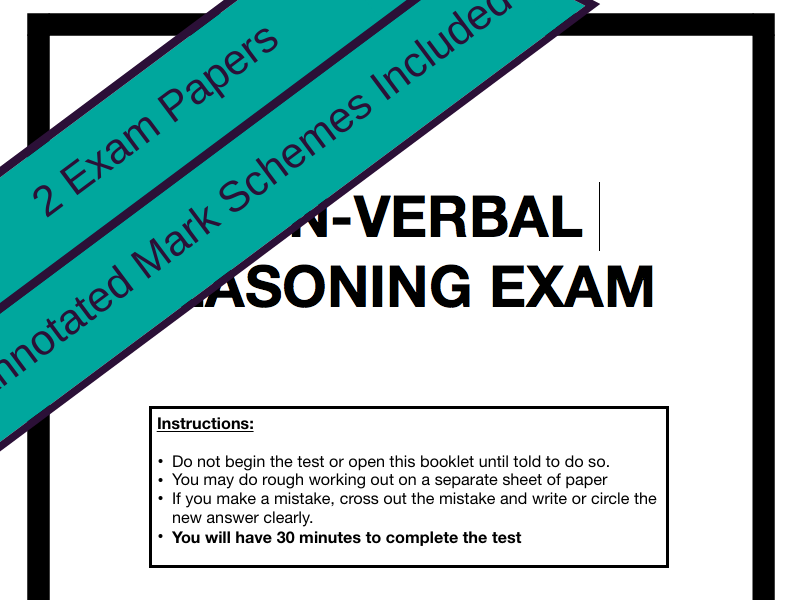 Verbal & Non-Verbal Reasoning is becoming increasingly important for entrance into many independent secondary schools at the 11+ age group. Included in this resource is: 1 x Verbal Reasoning Exam Paper (Compound Words / Coded Questions / Synonyms etc.) 1 x Non-Verbal Reasoning Exam Paper (Odd One Out / 3D Net Shapes / Pattern Identification etc.) Annotated Mark Schemes for both papers The exam papers are aimed at the Year 6 age group (11 years old) and each paper is 30 minutes in duration. Resources are provided in PDF and Microsoft Word Format

This resources includes 3 PowerPoint Presentations with a focus on Non-Verbal Reasoning Questions. Each PowerPoint focuses on a different type of Non-Verbal Reasoning question regularly seen in 11+ Entrance Exams and CEM Tests. The PowerPoints each include tips and strategies on how to approach the questions and are ideal to go through before pupils attempt worksheets or a set of questions. The 3 topics/PowerPoint included in this resources are: Identifying and Applying Changes to Shapes 3D Cubes and Nets Coded Shapes (trying to work out what element of the shape the letter stands for).

Geography Topic Theme Posters - Great for use on display boards in classrooms and around the school - Eye catching and professional designs Topics Include: + Global Locations + Mapping Skills + Weather & Climate + Industry & Transport

This resource provides 4 separate lesson outlines for an introductory 'Reasoning' Scheme of Work. The resource outlines the themes and lesson objectives and provides suggested activities, the worksheet referred to in unit plan are taken from the CGP Verbal and Non-Verbal Reasoning books. The unit plan focuses on a verbal reasoning task in the first week before rotating to a non-verbal reasoning task the following week and so on. Each week includes some potential questioning to pose to the class as a plenary activity. This resource is an ideal introductory plan to prepare pupils in Years 3-5 for possible 11+ Entrance Exams. Links closely to several literacy and numeracy national targets.

Save time and hassle creating your own birthday display chart with this resource. Choose from two designs (balloons or cupcakes), simply print, laminate and personalise according to the birthdays in your class. This high-quality resource also comes with number candles to write the names of your pupil's birthdays before adding to the respective cupcakes.

This Halloween-themed booklet provides twenty pages of fun activities ideal for form or transition times in the classroom. Some of the types of activities included in this booklet: Mazes Word Searches Colouring In Sudoku Design a Comic Strip Design a Halloween Costume Save yourself time and download this pdf booklet this Halloween season. Print, staple and let the pupils decide where they start or save the activities and spread them out over a few weeks.

As the Christmas season draws closer, create a festive atmosphere in your classroom with a selection of different activities that are sure to keep your pupils entertained during those extended Form times. This resource is a 20-page pdf booklet of Christmas-themed activities including: Mazes Word Searches Drawing Tasks Colouring-In Pages And many more…

Improve your pupils' multiplication and division skills with this fact family worksheet. Edit and personalise the equations to suit the level of ability of your class.

Save time and help your pupils become organised and independent with these morning bulletin slides. This resource comes in PowerPoint (.pptx) format and each slide can be fully editable to suit you and your class. The template includes five different themed slides: Back to School Sports Day Halloween Christmas Summer Easter Exam Week This resource is ideal for primary-aged classes and can be shown on in interactive whiteboard/screen as children enter the classroom each morning.

Encourage the children in your class to continue their reading over the half-term with a Halloween-themed book bingo sheet. Children can work towards completing a horizontal, vertical or diagonal line or go for the full house!

Save yourself time by completing a whole-class feedback sheet tailored to a Geography exam. Plenty of space to give individual feedback at the bottom of the sheet to make it personalised. Please let me know what you think by reviewing this download.

This resource includes a variety of different images and text to be displayed around your whiteboard or classroom to act as prompts for your pupils or to encourage them to become independent in finding the answer to a question they may have, such as "What lesson do we have next?" Included in this resource are the following cue cards: 5 x Sense Concentration Cues (Mind Ready, Quiet Hands, Ears Listening etc.) 5 x Noise Level Cards (Partner, Whisper, Presentation etc.) 1 x "Have you got your glasses on?" 5 Days of the weeks 12 Months of the year 31 Dates/Numbers Timetable Cue Cards (Science Lesson, Art Lesson, Lunch Time, Music Lesson, etc. This resource is ideal for laminating and placing around your whiteboard or interactive touch screen.

Decorate your classroom with these eye-catching bunting flags with respective alphabets. Languages, flags and alphabets included: Spanish French German Italian Each flag has a capital letter, phonetic pronunciation and the country's flag in the background. Special Characters included: Ñ, ß, Ä, Ö, Ü Resource includes a total of 104 individual bunting flags.

PE Lesson Lanyards are ideal for those pupils in your class who aren't physically participating in your lesson due to injury, illness or otherwise. Pupils pick out a lanyard at the start of the lesson and they are required to assume the role they have chosen. Lanyard Roles include: - Warm Up Coach - Fitness Coach - Referee / Umpire - Performance Analyser - Tactics Coach Each card provides the people with their activity for the lesson and when attached to a lanyard can be worn throughout the duration of the lesson, great for demonstrating inclusive practice. Lanyards can be laminated for continued use in subsequent lessons.

Literacy Posters and Worksheets A total of 7 resources are included in this pack and are primarily focused on developing literacy skills. Many of the resources can be used as posters to be displayed around your classroom or laminated and used on desks and tables to serve as a reminder or form of scaffolding for those children who may need additional materials. The resources come in pdf format for ease when printing and are easy to read and use for teachers and pupils alike. Resources Included: 1 x Diamond 9 Template Worksheet (Least and Most Important) 1 x Reading Log 1 x Storyboard Planning Template Worksheet 1 x Story Mountain Planning Template Poster 1 x Connectives Poster 1 x Opinion Sentence Starters Poster 1 x Book Review Worksheet

This resource includes 5 high-quality Geography Revision Crib Sheets for use at the end of a topic or when revising for an exam. Aimed at the GCSE and Common Entrance Geography curriculums, the sheets include the main points of information as well as some exam-style questions to practise. The five revision sheets included are: Rivers - focusing on erosion/weathering, formation of river features, upper, middle and lower course of a river. Population & Settlement - focusing on birth and death rate, push and pull factors and settlement types and hierarchy. Weather & Climate - focusing on difference between weather and climate, factors influencing microclimates, types of rainfall and the 'Water Cycle.' Coastal Landforms - focusing on the erosion and deposition processes that cause landforms such as headlands, bays, spits etc. The crib sheet also focuses on the management techniques in order to protect coastlines. Earthquakes & Volcanoes - focusing on the layers of the Earth, types of plate boundaries and ways to predict and prepare for an earthquake or volcano.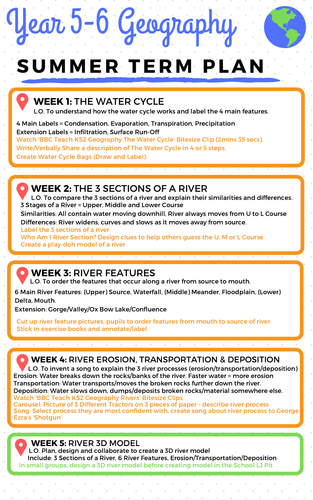 This scheme of work is suitable for KS2 Year 5-6 Geography and includes an 11-week plan and resources. Week 1-5: Unit based on 'Rivers' focusing on the water cycle, three sections of a river, river features and river processes (erosion, transportation and deposition). The unit culminates in a small assessment piece which requires the children to build a "foil river" using the Learning Power Approach, followed by a written task. All assessment rubrics are included. Week 6-11: Unit based on 'Mapping Skills' including lessons on grid references, compass points, contour lines and location knowledge. The plan also includes a detailed plan and resource for a Compass Fitness lesson outside which is ideal in the Summer Term.