Lvex's Shop
Resources for STEM subjects highlighting transferable skills and concepts.
79Uploads
14k+Views
1k+Downloads
Resources for STEM subjects highlighting transferable skills and concepts.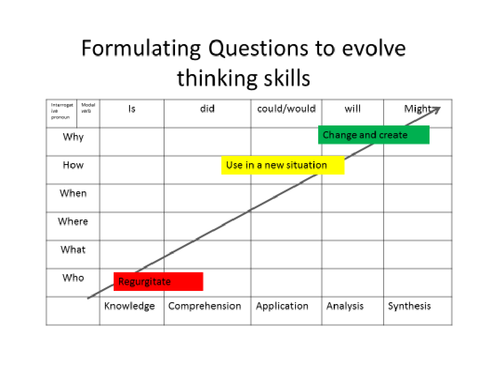 The framework will help you to construct rich questions. Question_answer strategies have many teaching and learning roles to play in the classroom; To support effective feedback questioning should move away from the factual regurgitation of knowledge or simple observations in favor of question that progressively demand higher levels of thinking . A good question that support learning is one that is open, requires the learner to link or apply ideas, and gives the learner an opportunity to practise the language of science that he/she has picked up from practical work, research or didactic lessons. Good questions ans good learning is supported by rigorous presentation of key terms.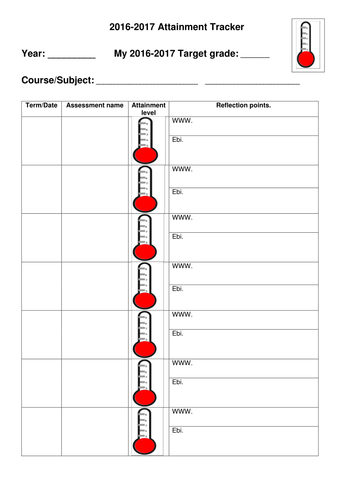 Ask students to glue the sheet to their exercise book, for a quick and visual report on progress and a list of tasks or skills where improvement is necessary to make further progress.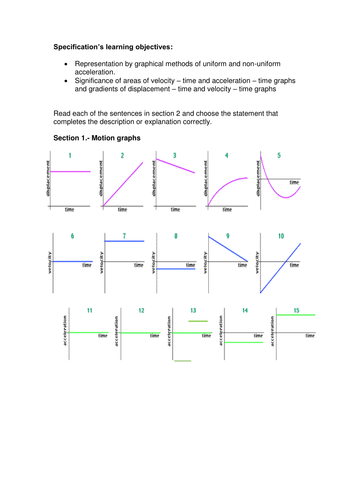 10 MC unusually phrased questions that require students to compare two types of graph: d-t,v-t and a-t graph. Challenge students to reflect on their understanding of these graphs. As a starter activity allow 10 minutes for individual students to answer the 10 questions. As and AFL activity this delivers peer assessment when you ask students to check and discuss each other's answers. As a 'talk to learn' strategy allow students 5-10 minutes to argue for or against their answer. Detect general misconceptions or identify students with fundamental problems in this unit and plan an intervention lesson, or work with them while other students work on exam practise questions. Buy 'AS motion challenge' resource for additional differentiation. Raise your T+L impact in your class for £2.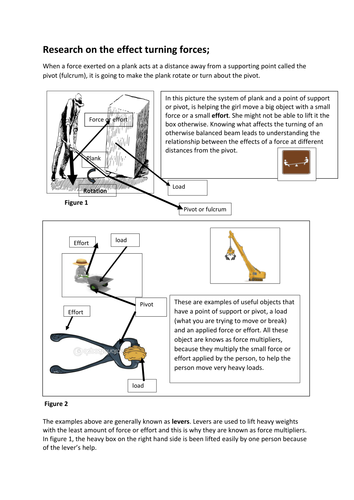 Use this document to kick start research into levers and their context in every day life. Find ideas for practical work and facts about levers that will help students make a hypothesis and investigate properties of class one levers. Focus on progress and feedback and leave the resources to me. Thank you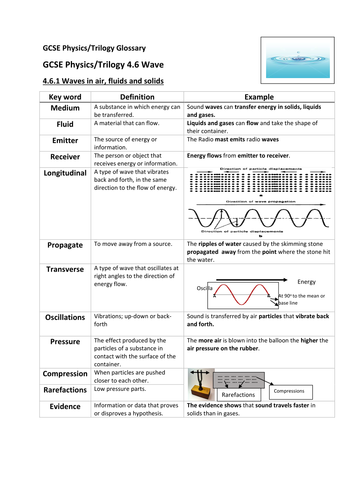 For £2 this resource covers all the key terms in the Trilogy and Physics Waves topics of the AQA GCSE Physics course: 4.6.1 ( 3 subsections), 4.6.2 ( 2 subsections) and 4.6.3. ( 3hrs). Each sub-glossary is in a single detachable section. Cut them , photocopy them in A5 and ask students to glue them to their exercise books. Alternatively copy them on A5, in colour and display around the class room and the corridors adjacent to the classroom , and the School's magazine literacy section. Includes key terms (over 50) , definitions and a sentences to exemplify the use of the key term. The examples will help students understand the context in which the key term can be used. The examples are level 5-6 literacy to support boys whom struggle with vocabulary and complex sentence construction. You can use this comprehensive resource to plan Science literacy quizzes and other engaging activities: 'new word' discussion, 'Key term spotter', 'dictionary champion', 'Science literacy' bingo etc. Used as the platform for higher Teaching and Learning resources to optimise the impact of your teaching.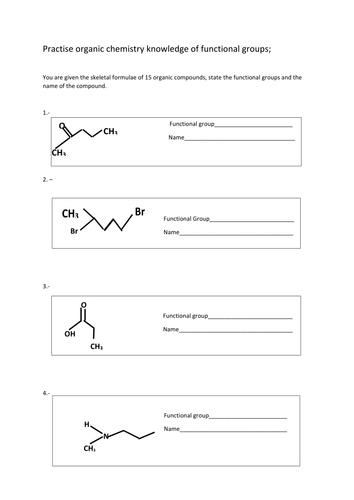 A2 Chemistry ' identify and name organic compounds'. This resource can be used as an independent tasks or as a group activity . It has 15 cards, each with the structural formula of an organic compound , examples of all the functional groups required at A level have been given. Students can see the difference between esters, ethers, aldehydes, ketones and carboxylic acids. The resource also provides a good revision resource for organic chemistry nomenclature. Answers are provided.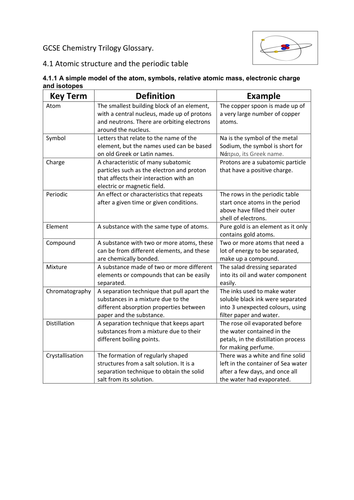 7 glossaries to match 4.1.1,4.1.2,4.1.3,4.2.1,4.2.2,4.2.3 and 4.2.4 topics in the New GCSE Chemistry SOW for AQA. Print and cut them, and hand them to students at the start of each section to support them with the literacy of these topics. Key terms for spelling, definition and example sentences using the key term. Support Literacy in Science and whole school literacy. A short plenary or summary lesson starter based on traffic lights is included.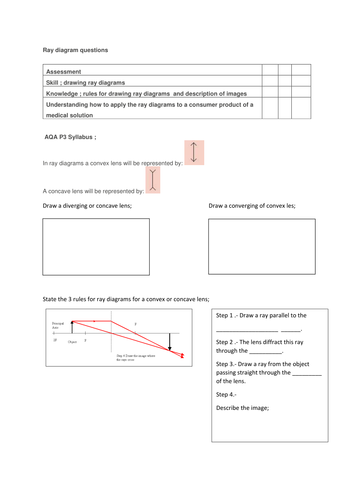 This work sheet is to revise ray diagram skills or use as a summary for lenses lessons.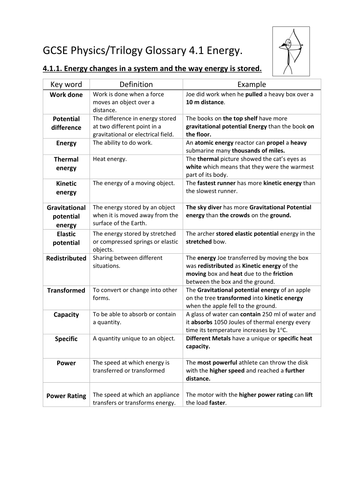 Support literacy in Physics/Energy. The resource cover the main key term to ensure that students understand all the key terms and can use them with growing confidence in written and verbal communication tasks. Print the tables and ask students to glue them to their exercise books at the start of a topic. The definition and example columns offers differentiation. Use this resources to support students progress during short literacy based engagement or lesson consolidation activities. Have high expectations, do insulate students from the importance of language in Science. High impact !!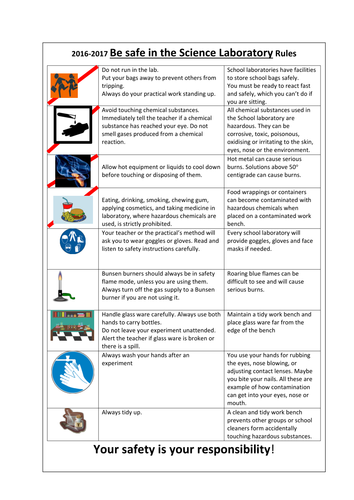 The basic Science laboratory safety rules mainly apply to Chemistry practical work, but they are universal and must be stuck in students' exercise books at the start of the year, for reference. The PPP is looking to diagnose students' ideas, myths or sound knowledge of safety. The groups of questions, UK/New GCSE level: 2,4,6 (B old GCSE ), 8 +( A* Old GCSE) will help the teacher and students identify the inconsistencies in their knowledge and understanding, and through pair work and whole class discussions of the answers, students will be 'talking the talk ' of health and safety,and learning to risk assess. Ideal for paired work. Slides with teacher notes and levels have been hidden so that you allow student to choose the set of questions that they believe they can answer, print them out and display them around the lab. Thus encouraging all students to have a go independent of the ability category they believe themselves to be in. This is an ideal and rigorous introductory lesson for KS3 and KS4 with differentiation . It will help NQTs understand the process formulating scaffolded and differentiated question.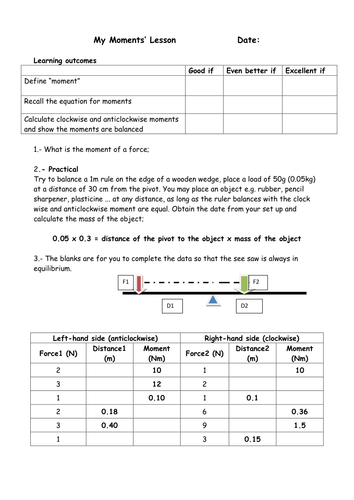 The resource is written with Blooms taxonomy progression terms for differentiation. Students can work and make progress on each section of the work sheet. There is a very simple practical for students to experience the conditions for equilibrium, in contrast, the last set of questions challenges students to consider the conditions of equilibrium as an abstract numerical concept. Let the students work at their pace while you walk, observe, feedback and challenge.High impact.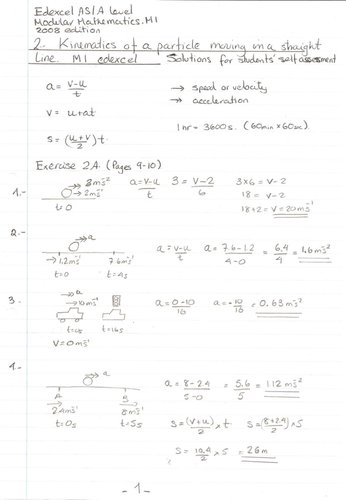 Unlike the number and unit answer given at the back of the book; "Edexcel AS and A level Modular Mathematics M1", this resource gives a full method and a diagram to help students interpret the question in the context of the equations of motion under uniform acceleration. Buy it, and copy it to give to students for self assessment and reflection. Ideal for teacher cover work or independent study periods. keep checking the shop for similar resources for all other Exercises in the text book. Some answers differ in the significant figures given.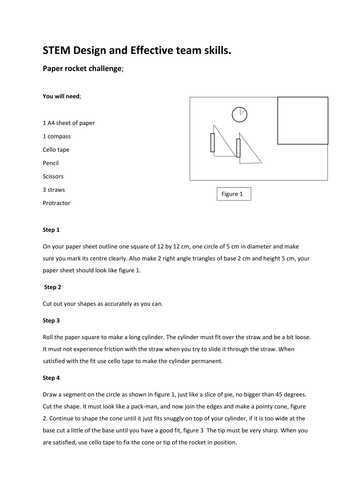 PDF/ Team work, literacy, Engineering, Science and Technology. Make the rocket, change the design, test, measure, talk, think and have fun. Use as part of the Forces unit at KS4 ( iGCSE, AQA and OCR) to investigate resultant forces, air resistance and momentum. For KS5 use to investigate projectile motion and contextualize the equations of motion. Use the activity to nurture team roles: leadership and dependability. Promote talk to learn, engage boys and introduce girls to STEM careers.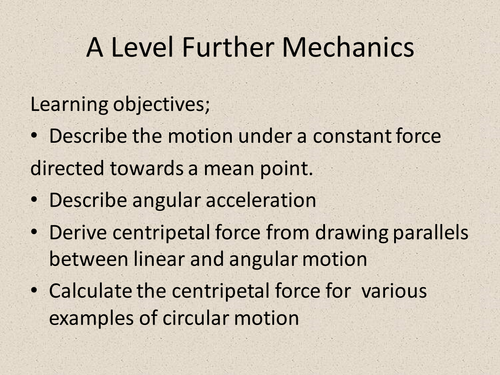 OCR and AQA Further Mechanics A level work, for exams in June 2018. Please refer to the 2015 Specifications. This unit of work covers A2 circular motion, it is suitable for 1.5 to 2 hours teaching, but must be supported by teacher demonstrations and Practical work ( please refer to the exam board's list of practicals). The explanations and solutions of the vertical circle and the engineering context of this topic have not been covered, to leave room for the teacher to drive it in his/her direction of choice. AFL in the form of Multiple choice questions is included. Please up load this resource to your VLE to support your students. Find additional support in IOP and refer to your Exam board specifications for past paper practise.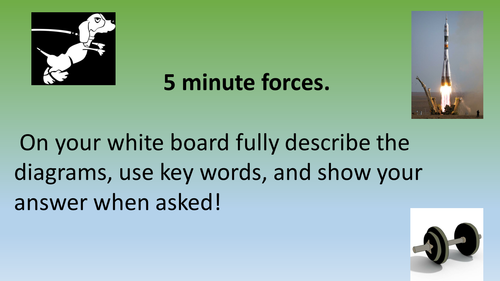 10 minute activity to support quality of written communication level 4 to 6+. Ask students to describe the pair of contact forces and their effect in every slide. Students work on mini white boards with dry wipe pens, and share their written definitions , teacher picks the top 3 definitions to be read aloud ( promotes self assessment/ high impact feedback). You will also find a dominoes game with a variety of forces statement to use as a plenary or a revision activity and 2 engagement activities to use at the start of the lesson . High impact learning strategy! Promotes talk to learn, peer and self assessment. What price do you put on your time? Save them for other groups or to support revision in 2018.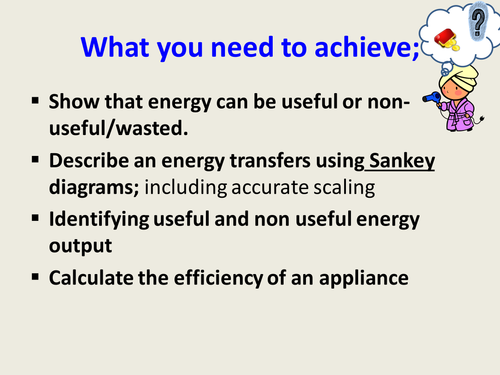 Use this resource with a circus of energy; various electrical or mechanical appliances. Students identify the energy transformations using key terms. For challenge students can design their own sankey of an appliance of their choice, on graph paper and make questions up for other students.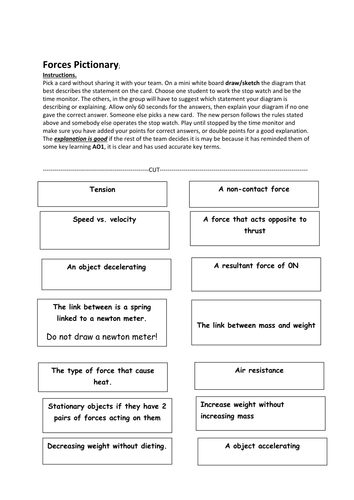 Model the game, and let the class have fun. Walk around identifying inconsistencies and problems in student understanding or communicating. Engaging activity with an element of competition. Provides a fun way of peer and self assessment. Everyone is involved. High impact.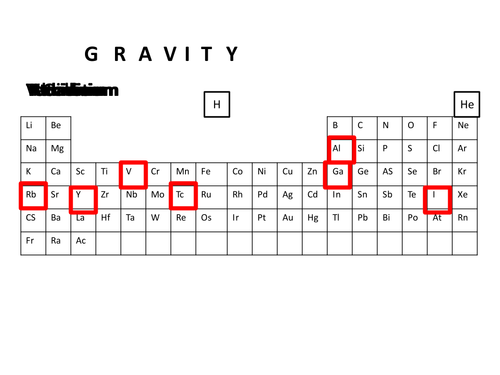 This quick and fun starter activity will help students gain familiarity with the layout and meaning of the symbols in the periodic table. Use as an engagement activity in lessons from the AQA GCSE Chemistry 4.1.2/ Periodic table. Only do 2 films at a time, save more for next lesson. Most school diaries have a periodic table, and students must use if to find out the title of the film. Otherwise give student a copy of the periodic table. This resources also gives you an opportunity to talk a briefly about the F block elements, mostly found in the late 20th century, and the most infamous or important being Uranium and Plutonium. Slide 2 is an example for you to run with the class Slide 3 Mama mia Slide 4 Frozen Slide 5 Sky fall Slide 6 The Hobbit Slide 7 Zootropolis Slide 8 the Martian