Margarita Georgiou's Shop
144Uploads
72k+Views
4k+Downloads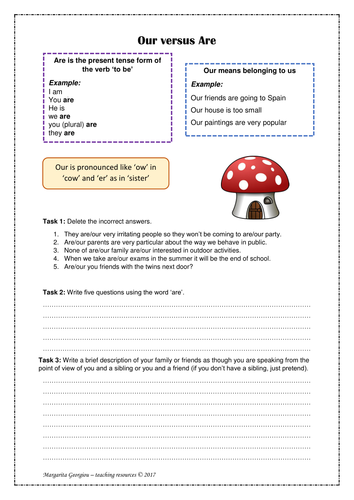 A handy worksheet for student s to clarify the differences between 'our' and 'are'. Includes explanations of each word with examples and three separate tasks. Good as a starter or extension activity.
A set of worksheets including a range of tasks on tone, language, structure , themes and the poet to help students understand the text. Includes differentiated learning objectives, extension tasks and an exam style essay question.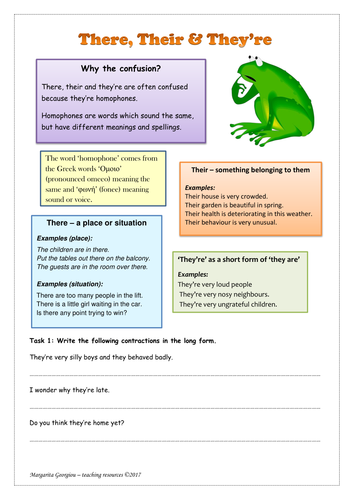 A colourful, clear and easy to follow worksheet with three tasks for students to complete. Includes examples of each form of the word and an explanation of the term 'homophone'.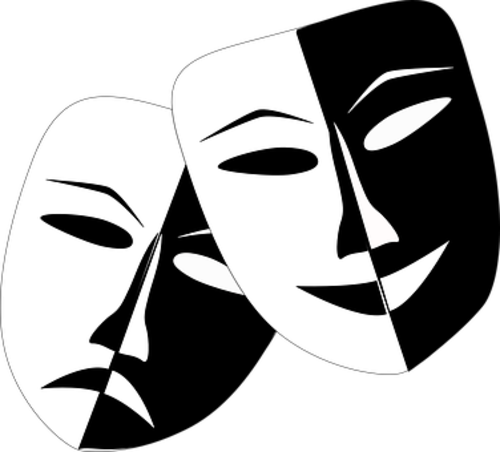 Presentation, worksheets, assessment plan, extension activities and homework with teacher answers - everything you need to give an introduction to the play.
A comprehensive workbook to aid the teaching of the play ' Othello'. Includes differentiated objectives and tasks on each main scene. There are tasks which focus on language. key quotation analysis, characters and themes as well as extension tasks throughout. There is also a detailed assessment plan to analyse the character of Iago.
A set of worksheets with a variety of tasks to help students analyse the poem. Includes differentiated objectives, research tasks, quotation analysis, discussion topics and a frame to aid the linking of poems. Several lessons worth or some tasks can be set for homework. Print and teach, easy to set for cover.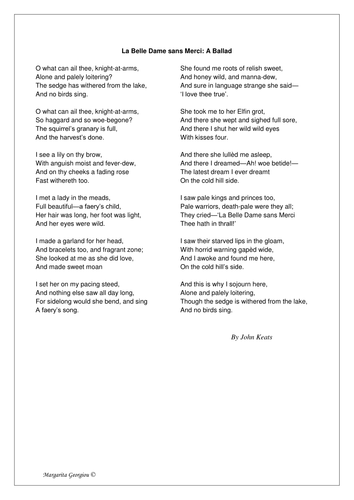 The poem and a summary of the content are provided, as well as some brief notes on the form and structure. Teacher answers to questions are added on a separate word document to display and have students mark if required. Tasks include an image based quotation search, questions of increasing difficulty about the content of the poem to encourage close reading and various activities related to form, structure and tone. Learning objectives are included and there is also a glossary and extension tasks at the end.
Consists of the poem and four worksheets including: a summary of the poem in simple language, a glossary, a picture/quotation matching task (starter),differentiated questions, an essay question with a planning structure and PEEL grid. Differentiated objectives are included on the worksheet and answers to questions are provided separately. So easy to follow/use, it can be set for cover or homework.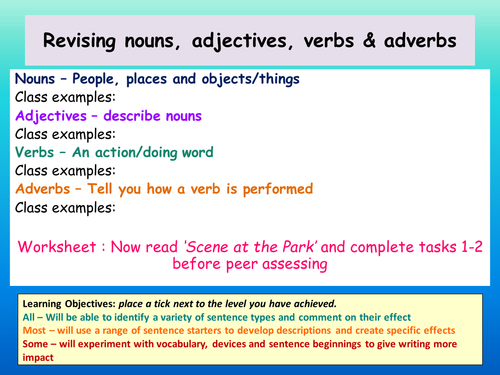 Useful for improving writing. Looks specifically at structure of sentences and how they create impact. PPT serves as a visual aid and activities to combine with the worksheet. Clear explanations with examples. Differentiated objectives and peer assessment included.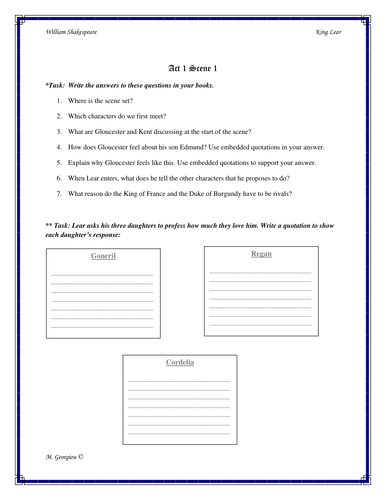 A ready to print workbook, which is differentiated by tasks of increasing complexity. This is handy to use as students study the play in class. Alternatively, it is an easy resource to use for homework or as a revision booklet.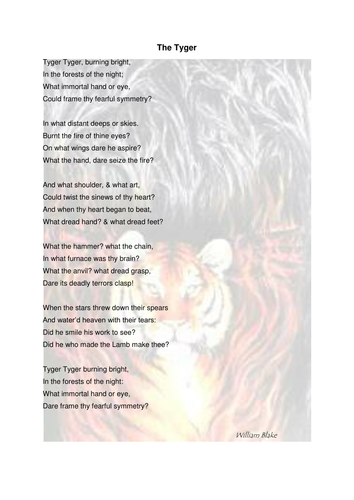 A comprehensive set of tasks for students to understand and analyse the poem. All tasks are differentiated using stars (*-All, **- Most, ***-Some) and extension tasks are provided for more able students/early finishers. Alternatively, they could be set for homework. A handy copy of the poem is provided, as well as answers to the questions, which could be displayed for self/peer assessment.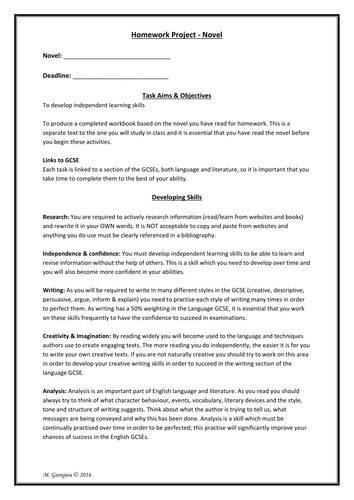 A project based on the reading of a novel over an extended period of time; ideal for holiday homework. Specific links are outlined for GCSEs, but the project can also be used for KS2 and 3. This is excellent preparation for year 9 over the summer as a transition from KS3 to KS4 and/or to develop the reading and language skills of year 10 groups. The project includes a range of tasks which support the skills needed to succeed in English Language and Literature GCSEs/IGCSEs. The tasks are categorised into the following sections: research, writing, analytical and creative, to appeal to different learners and cover a range of skills. There are specific guidelines included for presentation and emphasis is placed on the development of independent learning i.e. students must learn to manage their work and time effectively in order to meet the teacher's deadline.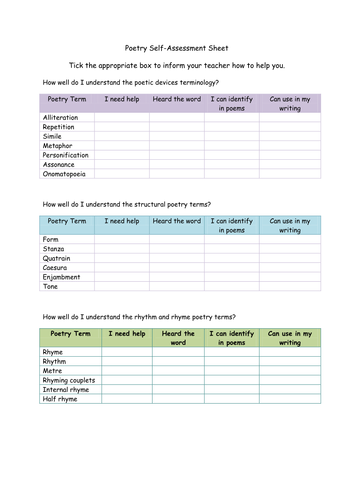 This is a handy resource to assess existing knowledge at the start of a unit. The assessment grids are divided into three sections: poetic devices, structural terms and rhythm/rhyme terms. These can therefore be given individually depending on what is being taught, or all at once.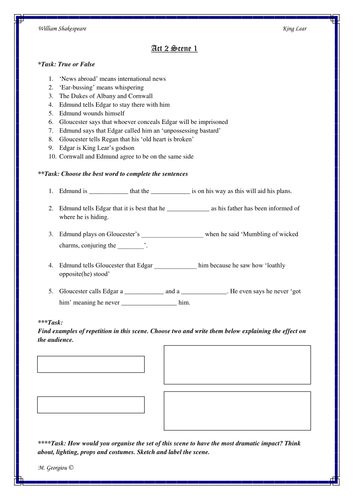 A ready to print workbook, which is differentiated by tasks of increasing complexity. This is handy to use as students study the play in class. Alternatively, it is an easy resource to use for homework or as a revision booklet.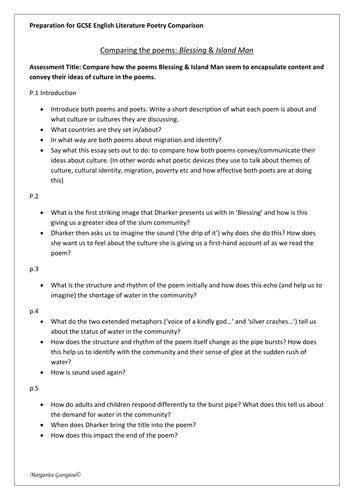 A detailed essay plan/writing frame for writing a comparison essay about the poems 'Blessing' & 'Island Man'.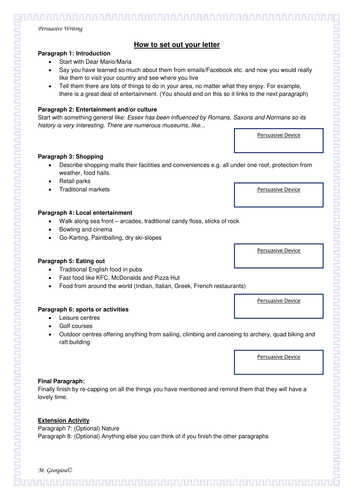 This task is highly differentiated as students are provided with a planning sheet, which reminds them to use persuasive devices and outlines ideas for each paragraph. There is a sample introductory paragraph, reminders, word-bank and sentence starters for less able students, as well as extension tasks for the more able. There is a matching task for a lesson starter with an 'add your own example' column and extension for more able or early finishers. Teacher answers are also included and can be displayed. The answers are colour-coded for students to self-mark. A PowerPoint presentation outlines all tasks and includes a peer assessment task for the end and also includes differentiated objectives.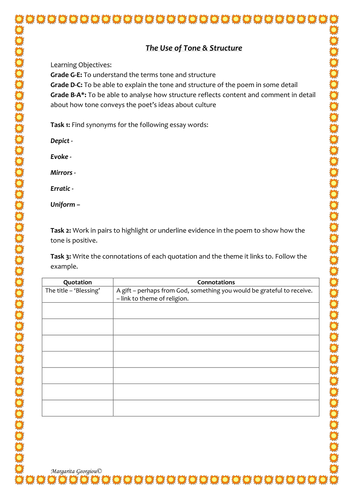 Good for practising the unseen or general poetry analysis in preparation for the GCSE and IGCSE Various tasks to help students understand the impact of tone, structure and connotations in the poem. Differentiated objectives and extension task are included. Answer sheet provided for students to self-mark.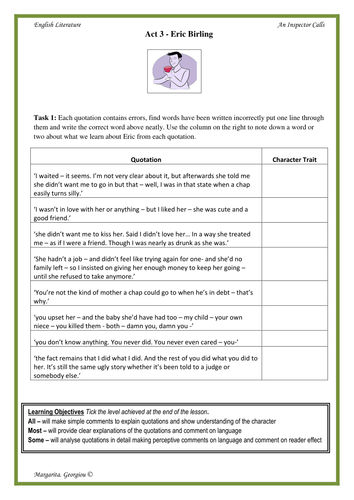 The tasks are divided into four parts (i.e. starter, main etc)and focuses on analysis of quotations linked to the character of Eric Birling. Differentiated objectives are included and there is also a homework sheet to consolidate learning.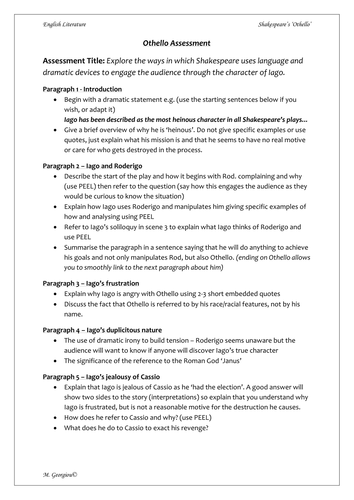 Detailed paragraph plan for students to follow and write an essay on the character of Iago. Includes a word bank to help students develop more sophisticated vocabulary.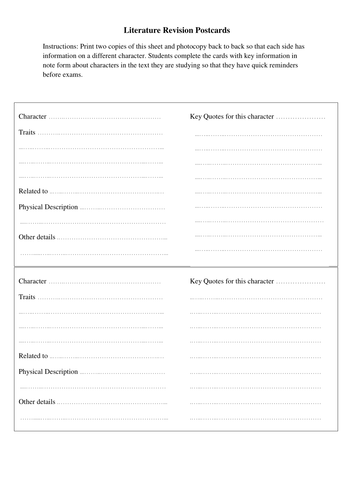 Character revision postcards with subheadings and blank revision cards ready to print and cut out. Eight cards are given in four different colours to separate topics, themes, characters etc.