43Uploads
223k+Views
124k+Downloads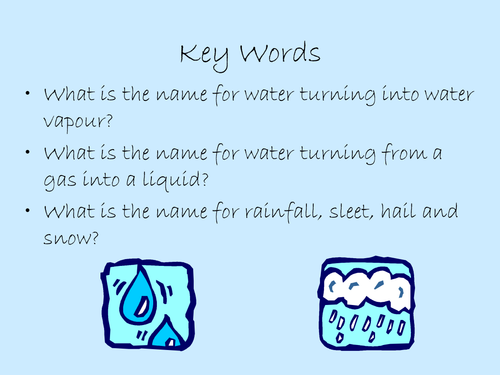 The objectives of the Powerpoint, animation, video and various worksheets are to identify the three different types of rainfall (frontal, convectional and relief). To investigate and understand the mechanisms behind the different types of rainfall, and to identify and explain the link between areas of high altitude and relief rainfall.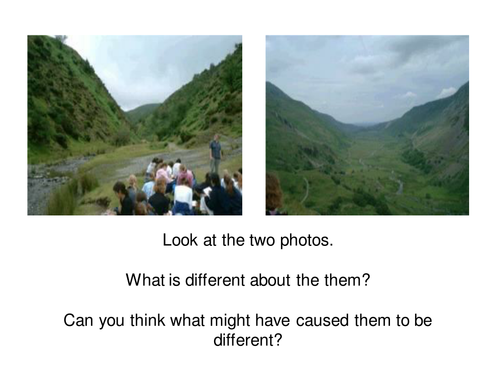 A worksheet and complimentary powerpoint introducing KS3 pupils to Glaciation and how Ice shapes the land.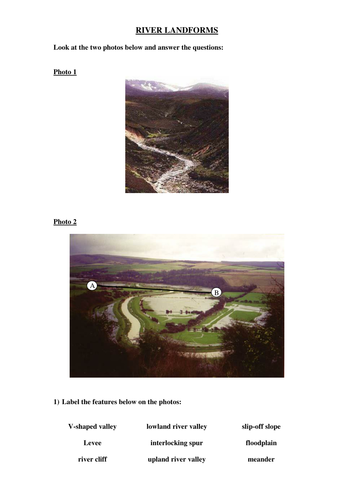 Pupils will annotate a photo and draw a valley cross section. pupils will answer questions on river landforms and write a balanced extended answer to the potential development of landforlms (such as waterfalls) for the tourist industry. useful for an end of unit test.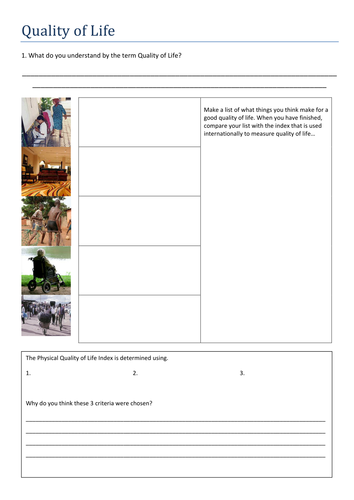 Learning objectives: To explore the idea of quality of life To understand the ways that the international community tries to define quality of life To compare the lifestyles of people with differing qualities of life. Powerpoint and accompanying worksheet exploring Quality of Life, development, sustainable communities.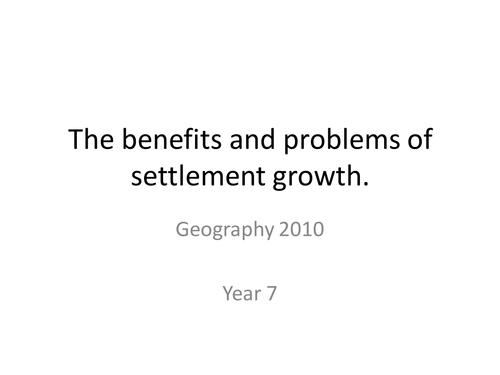 A clear easy to follow powerpoint with activities included. some slides can be printed off individually and given to pupils as handouts. Lesson objectives: To know how changes in the growth of settlements benefit some people more than others. To recognise there are both good (positive) and bad (negative) points of settlement growth.

A planning matrix of 10 lessons investigating the coastal environment, specifically designed for SEN pupils in KS3.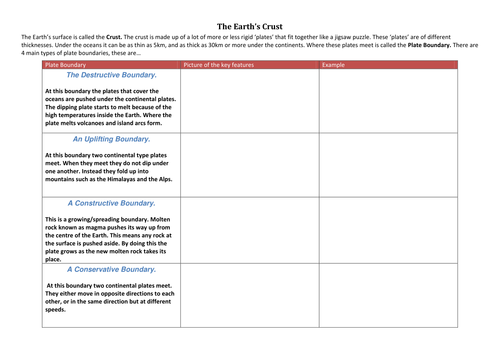 There are a number of different types of plate boundaries. For each plate boundary you will need to be able to describe (i) the movement (ii) processes which occur and (iii) an example A differentiated set of worksheets for pupils to complete that achieves the above objective.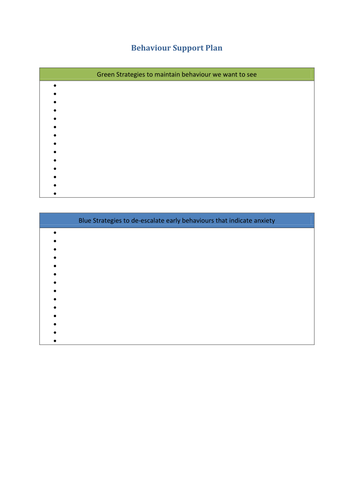 A Behaviour Indicator chart, that corresponds to a matching support plan and Excel Spreadsheet. Very useful for writing behaviour plans and strategies to address challenging behaviour. The indicator chart is good for describing what certain behaviours look like and how they are likely to escalate. For use with pupils with challenging behaviours including Special Educational Needs, including Autism (ASD) and associated social interaction and communication difficulties. The Excel spreadsheet can track behaviour over time (also colour coded) and it produces a graph for later analysis.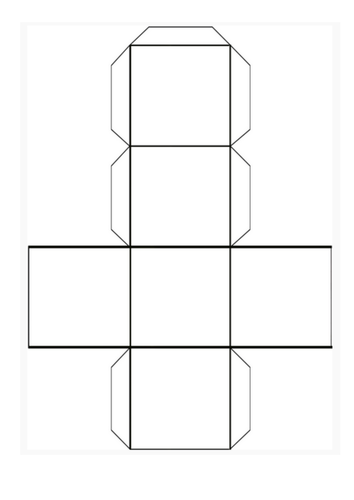 A Geography display that shows the different types of plate boundaries/margins. (destructive, constructive, collision and conservative) The aim is for pupils to draw 4 labelled diagrams on the blank template of the four types of plate margins. Pupils then cut out the cube template, fold and stick together and they can then be hung up as a display using string.... The more colourful the better! They are also good for revision aids! *Please be sure to instruct your pupils to draw their diagrams the correct way round so the diagrams can be read when the cube is glued together!

An A3 Summary sheet following up on Urban Fieldwork to City Centre Useful for Geographical enquiry Questions such as How far does Peterborough meet the criteria for sustainability (Egan's Wheel). Useful if you print in colour , as the sections are colour coded to match the Enquiry Process.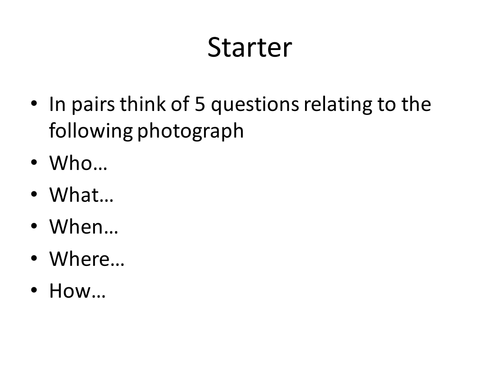 A PowerPoint, newspaper article, card sort and data capture sheet (Facts, Causes, Effects and Responses) on The Chilean Earthquake of 2015. Learning Objective: to understand that Hazard resistant design and preparation procedures (& evacuation) are key factors in reducing the effects i.e deaths of high magnitude earthquakes. Students work towards answering the question: why did only 13 people die in an 8.7 magnitude earthquake? Higher level students can read the newspaper article and classify the statements in to facts, causes, effects, responses, or you could use the card sort.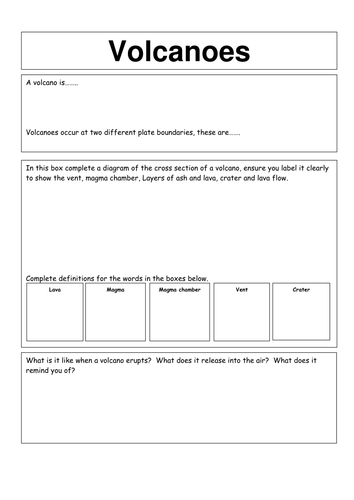 Three data capture sheets for research on Volcanoes, Avalanches and Earthquakes, useful for both KS3 and KS4; the worksheets can be used as a writing frame for video notes, Internet research or Library research.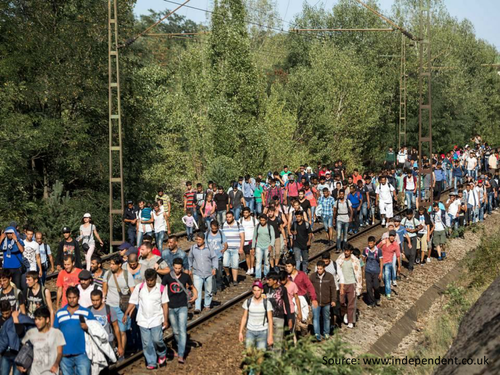 An assembly providing an unbiased and brief overview of the Syrian Crisis, mainly looking at the differences between migrants, asylum seekers and refugees (who is the distinction important to?) the desired outcome is to promote discussion about a controversial topic and promote positivity in the face of human tragedy and conflict. Visit http://www.bbc.co.uk/news/world-europe-33843918 for a selection of short video clips to enhance the assembly.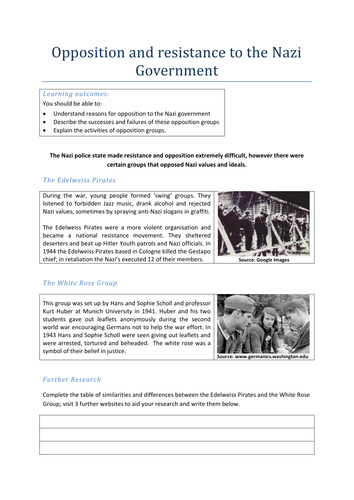 Pupils should be able to: • Understand reasons for opposition to the Nazi government • Describe the successes and failures of these opposition groups • Explain the activities of opposition groups.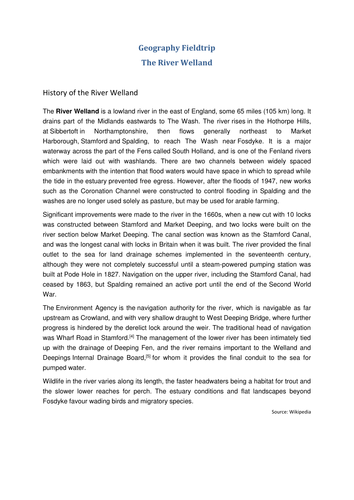 A Geography Fieldwork Booklet that can be used for GCSE / A-Level Geography Controlled Assessments. The structure can be applied to other Fieldwork Locations however this one focuses on the River Welland between the counties of Lincolnshire and Cambridgeshire. Teacher's can be selective over how much support to offer students. The 28 page booklet includes site locations, aerial photos, recording sheets, risk assessments, river processes theory,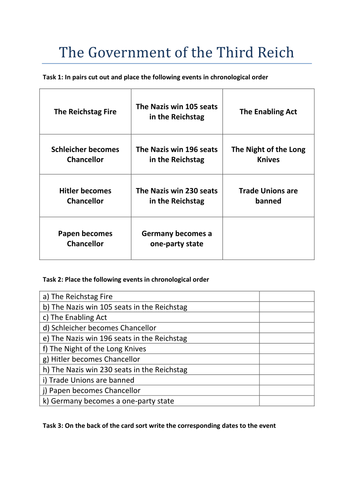 3 activities useful for revision or plenary activities. A card sort of events leading to Hitler's rise to power, the use of terror and persuasion in the Third Reich and an activity relating to opposition groups in the Third Reich.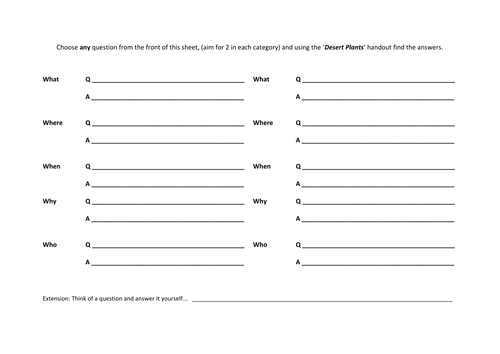 Pupils will be able to enquire and ask / research a series of questions, using a data capture sheet. Pupils will know what the definition of a desert is and name an example of at least one and know how desert plants are adapted to their environment. The resources are differentiated so that higher ability pupils can ask further / higher level questions and the structure of the enquiry sheet can suggest/prompt lower ability pupils for answers. the plenery is a fun idea and it works well with year 8 pupils... surprising how much they can recall.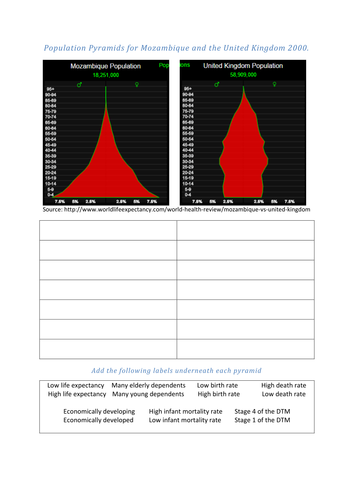 Individual / pair or group activity: Label 2 different population pyramids with high/low birth rate, high/low death rate, many/few elderly dependents, high/low life expectancy, corresponding stage in the demographic transition model. The learning outcomes can be achieved via the labeling activity or card sort, there are follow up questions and extension activities relating to Japan's ageing population.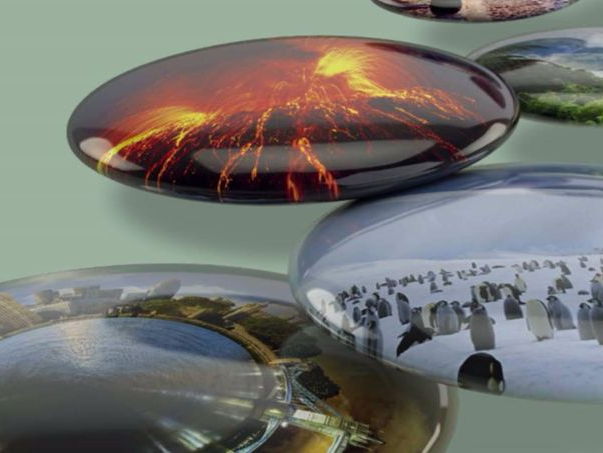 OCR Geography B (Enquiring Minds) Topic 1 Global Hazards 1.1 How can weather be hazardous? 47 slide PowerPoint activities, films and resources covering: The Global Circulation system Climatic zones Extremes of weather in contrasting countries Distribution and frequency of tropical storms El Nino ans La Nina Drought and desertification case study Use of GIS and Geographical Skills