Media Ms (english sideline)
Currently teaching English and Media Studies with the occasional foray into Humanities.
149Uploads
32k+Views
12k+Downloads
Currently teaching English and Media Studies with the occasional foray into Humanities.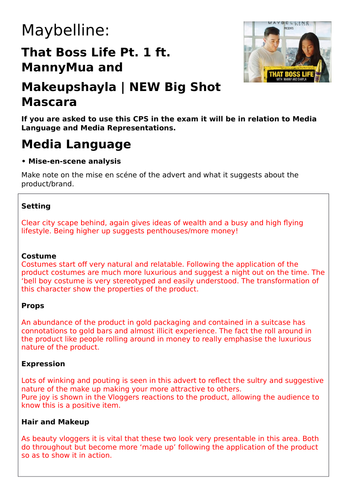 Booklet guiding students through the Maybelline CSP with teacher booklet for indicative content. 9 workbooks and teacher notes for all 9 set products on the AS Spec. For TV Drama, The Missing is the option selected.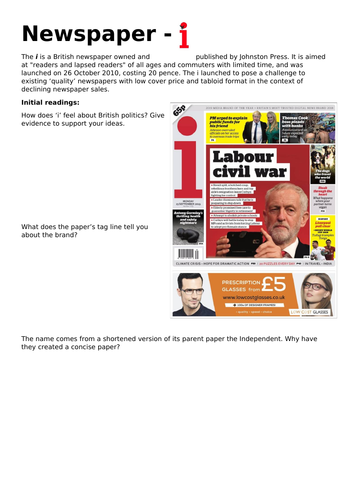 Booklet to help guide students through the 'i' CSP from AQA. Teacher notes included as a guide/reference.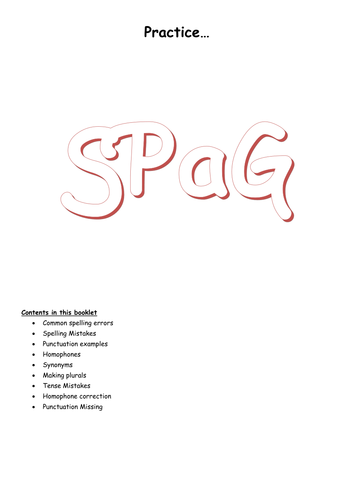 A workbook including activities on: • Common spelling errors • Correcting Spelling Mistakes • Punctuation examples • Homophones • Synonyms • Making plurals • Tense Mistakes • Homophone correction • Punctuation Missing Could be broken up for starters or used as a longer homework project,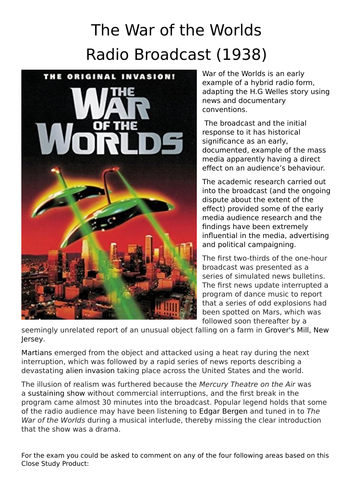 Study booklet covering required content for this set CSP. Teacher guidance also provided to help facilitate lesson.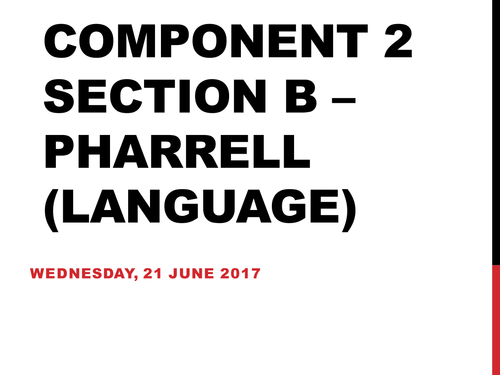 Four lessons studying Freedom by Pharrell Williams. Areas covered: Language Audience Industries Representations and context Exam style questions based on (but not the same as) SAMs provided. A series of 11 hours of lessons allowing students to explore the set music texts from the three specified artists. Exam style (not SAMs) questions included as regulary plenaries.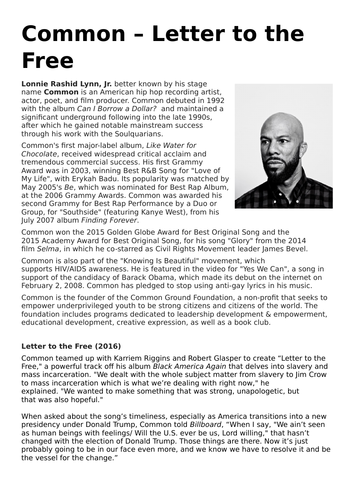 Booklet exploring Letter to the Free as a set product for AS Media Studies. Designed to lead students through the product into applying media theory. Teacher booklet with some suggested answers included.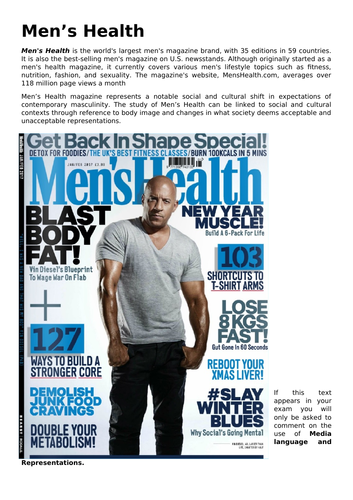 Booklet exploring the Men's Health CSP. Teacher copy including guidance notes included.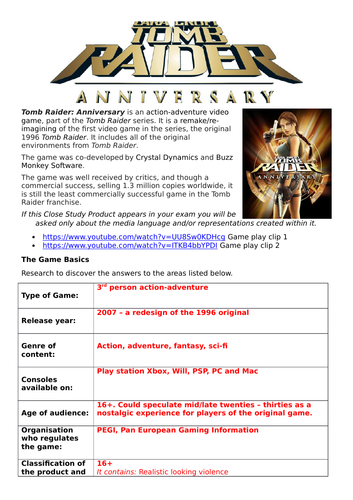 Booklet leading studets through the key areas required for study of this CSP from the AS AQA Spec. Teacher notes also provided to help facilitate lesson.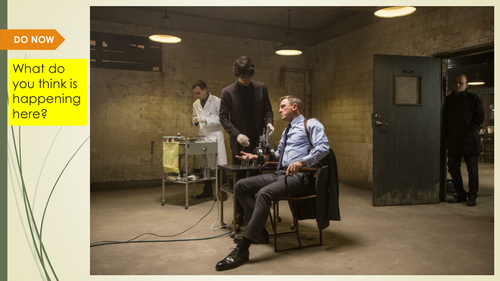 2-3 hours of lessons (dependent on group) in order to prepare for Spectre as a set product in Component 1 Section B. Learning Intentions: To study the media industries behind Spectre. To explore the box office success of the film To consider how Spectre is regulated. To explore product placement in the film To explore the website for Spectre. To respond to exam style questions.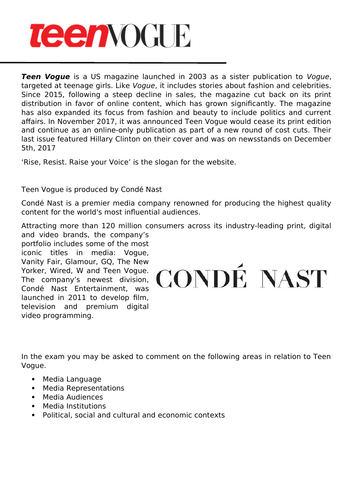 Booklet addressing key areas of the Teen Vogue CSP. Teacher notes provided for reference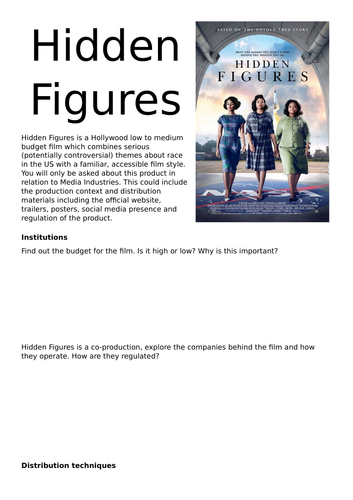 Booklet guiding students through this set CSP from AQA. Teach guidance also provided.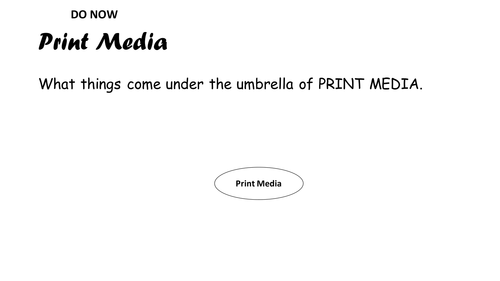 Lesson introducing the key terminology of newspapers to students and exploring and comparing political bias.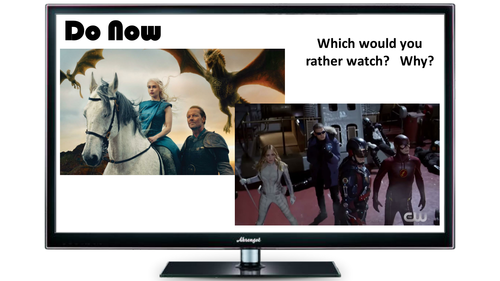 3 lessons worth of content. Learning Intentions: Define different TV Genres and their codes and conventions. Define Hybrid Genres Understand the audience appeal of different TV Genres Create a guide to TV Genres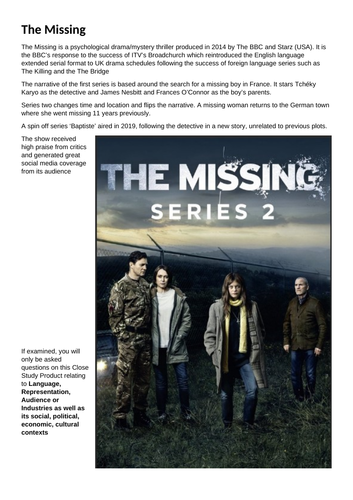 Student workbook for The Missing. Teacher notes provided.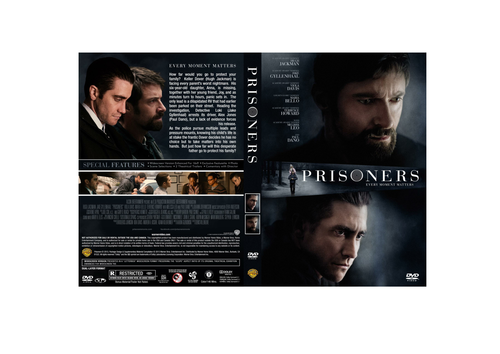 A workbook that introduces students to component 3 of the GCSE Media Studies course. Using a SAMs examples students are led through research, statement of aims and practical production before giving their own feedback and receiving it from staff. Designed to take upwards of 8 hours lesson time to provide an authentic experience of what is expected from this part of the course. *All you need to create is a PSD template for the DVD case as this file type is unsupported.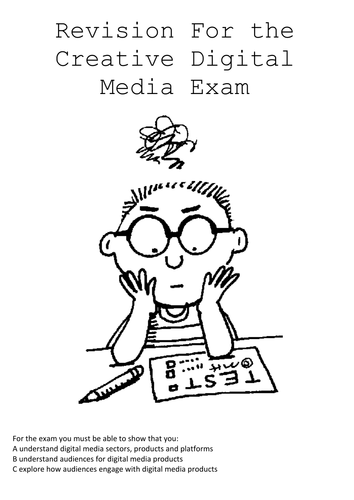 A 12 page work booklet that I set as holiday homework for my BTEC Level 2 Students. Revising key terms and theory for the exam.