Little Learning Corner
Printable resources that keep learning fun!
17Uploads
14k+Views
920Downloads
Printable resources that keep learning fun!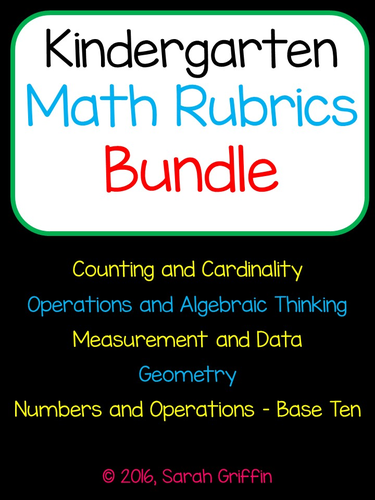 Kindergarten rubrics for all 5 common core math domains. Just print and go! Great for student records, assessments, portfolios, RTI, data collection, parent conferences, progress reports, anecdotal records, and report cards. CONTENTS 1 rubric for Number and Operations - Base Ten 2 rubrics for Operations and Algebraic Thinking 3 rubrics for Counting and Cardinality 2 rubrics for Measurement and Data 2 rubrics for Geometry Record the students skill abilities ranging from "No Attempt Made" to "Mastered: No support needed".
These 20 colorful Consonant Digraph task cards can be used in many ways, such as Scoot, Write the Room, Intervention, Phonics Center, Early Finisher Activity, Whole Class, and as an Assessment. The students become actively engaged in the activity while building phonics skills, such as initial phoneme segmentation. Students look at the picture, and partial word, on the task card. Then, write the word or digraph on the recording sheet. Ch, Sh, Th, and Wh are printed at the top of the recording sheet for reference. CONTENTS Directions 20 Digraph Task Cards 1 Title Card 1 Student Recording Sheet 1 Teacher Answer Sheet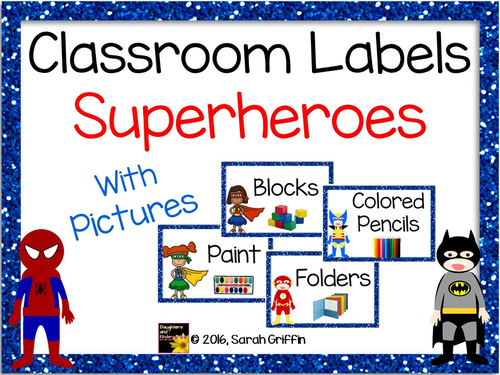 Organize your storage containers and supplies with these bright and colorful Superhero Classroom Labels with pictures Perfect when preparing for back to school, setting up classroom décor, and helping parents and students know where to place the supplies. Labels are in alphabetical order to make it easier finding the ones you need to print. Supply labels measure 2.5"H X 3.5"W. They include: Art Shirts Bags Binders Birthdays Blocks Books Brain Breaks Calendar Colored Paper Colored Pencils Construction Paper Counting Jar Crafts Crayons Cubbies Cups Dry-Erase Boards Dry-Erase Markers Erasers Folders Glue Glue Sticks Hand Sanitizer Headphones Holidays Homework Journals Markers Magazines Name Sticks Napkins Paint Paintbrushes Paper Paper Plates Pencils Pipe cleaners Scissors Stickers Seasonal: Autumn Seasonal: Winter Seasonal: Spring Seasonal: Summer Tissues Trash Treasure Box Writing Journals Zip-loc Baggies Lunchbox (This label is 4"H x 8"W to fit on a larger size container) Blank labels in both sizes are included to print and write your own labels if needed.
Your emergent readers will love these 5 Thanksgiving poems, including Turkey Dinner, Turkey Turkey, Funny Bird, 5 Little Turkeys, and handprint poem to send home to families. Use as poem of the week, poetry centers, poetry notebooks, readers theater, guided reading, and integrate with your math number word lessons. You can view these poems on my blogpost: 5 Thanksgiving Poems for Kids You Will Get: * Turkey, Turkey * Turkey Dinner * Funny Bird * 5 Little Turkeys * Handprint poem All poems are black and white, blackline master, printables.
Polar Express activities for centers, daily 5 word work, writing, homework, morning work, class activities, and exploration. A kindergarten -1st grade printable thematic unit for The Polar Express. Reading, writing, and math lessons include: YOU WILL GET: * 8 BUILD A WORD worksheets. A no-prep word work center. Students read, build, write, and illustrate vocabulary from the story. (train, conductor, ticket, Santa, bell, elves, reindeer, and hot cocoa) * 1 Patterning Worksheets - cut and paste to extend patterns * 2 Story Response Sheets - students respond, write, and draw * 1 Measuring Train: Students use train to measure objects around the room. * 1 Recording Sheet for Longer/Shorter measurement activity * 1 Counting Sets up to 10 worksheet * 9 full-color illustrated word cards * Directions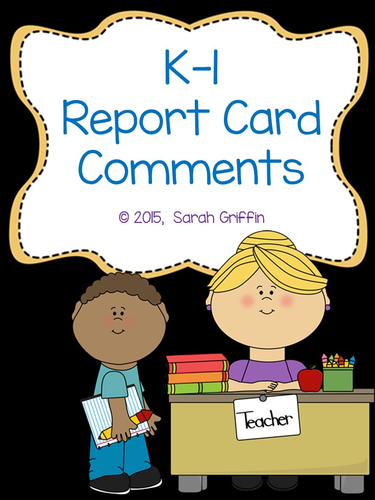 Report card comments are sometimes the only part parents bother reading. For that sake, they need to be well-written and specific! For your sake, this is the resource you need to make that happen. Building relationships, participating in class discussions, difficulties/ strengths with expressing thoughts and ideas, tardies and absences, homework, basic skills, writing habits, great helper, organization habits, letter recognition, counting skills, staying on task, disruptive habits to the learning environment, fine-motor skills, problem-solving skills, great effort but struggles to meet standards, encouraging home support, ....you name it; it's there. Now updated with easy-to-find comments, you can choose from 3 categories (Positive, Needs Improvement, and Suggestions for Home), or complete paragraph comments. You will have more than 25 paragraph-length kindergarten - 1st grade comments to choose from, or mix and match the bulleted comments to best fit your students. Simply copy, paste, and insert a name. Save HOURS of time doing report cards!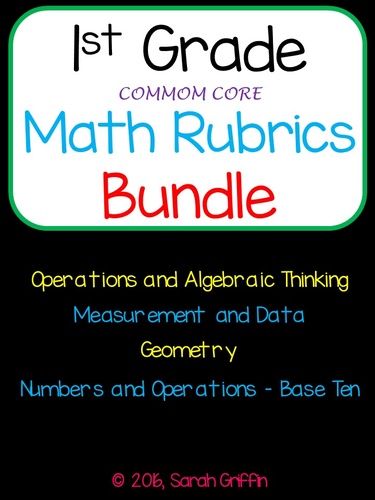 BUNDLE PACKET of 1st grade rubrics for the Common Core Math Standards. Record your students ability range for all domains and clusters for skills in Operations and Algebraic Thinking, Number and Operations in Base Ten, Measurement and data, and Geometry. Printable and ready to be copied for student records, assessments, RTI meetings, data collection, report card documentation, portfolios, or parent conferences/communication. CONTENTS 4 Rubrics for Operations and Algebraic Thinking 3 Rubrics for Measurement and Data 3 Rubrics for Number and Operations in Base Ten 1 Rubric for Geometry
Numbers to 20 Math Task Cards and Recording Sheet bright, colorful, and excellent for building Counting and Cardinality. Great for Kindergarten and 1st grade SCOOT, math centers, read and write the room, morning work, early finishers, home-school activity bags, and assessments. Students count the objects on the card, then write their answer on the recording sheet. A large number line is on the recording sheet to as a visual intervention to those who need it. Answer sheet included! CONTENTS Directions 15 Counting task cards. (Full color) 1 Title Card for labeling when storing or putting on a binder ring. 1 Student recording sheet (blackline master) 1 Teacher answer key
Superheroes Black and White Double Digit Addition WITHOUT Regrouping Task Cards and Recording Sheet makes a perfect math center, excellent for building fluency in math facts: Operations and Algebraic Thinking. Great for 1st and 2nd grade SCOOT activities, math centers, count the room, morning work, early finishers, home-school activity bags, and assessments. Can also be used for an intervention in third grade. Students solve the addition equation on each card, then write their answer on the recording sheet. Answer sheet included to save you time when checking over their work! CONTENTS Directions 24 Black and White Double Digit Addition Superhero task cards. 1 Title Card for labeling when storing or putting on a binder ring. 1 Student recording sheet (blackline master) 1 Teacher answer sheet Keep up with flash freebies, giveaways, and more on <a href="https://www.facebook.com/daughtersandkindergarten">FACEBOOK</a>
An interactive pocket chart center to build the poem, Funny Bird is a catchy, repetitive Thanksgiving poem for kids. This is the type of center kids WANT to go back to over and over. After you display the poem, and recite it a couple times, they become eager to build the poem using the word cards. Poem A turkey is a funny bird. His head goes wobble, wobble. All it knows is just one word, "gobble, gobble, gobble." Every word is printed on a separate card, with a gold glittered border, and a turkey clip art icon ~ great for organizing, sorting, and to keep students from misplacing them with other pocket chart activities. INCLUDED: * Directions * Funny Bird Poem Poster (Full Color) * Word cards (measurements: 2.5" x 5") * Title card
CVC Words "Clip It" game includes 27 picture clip cards! Students clip the CVC word that matches the picture. Word choices on each card are spelled with different middle sounds; forcing them to focus on vowel sounds and accuracy. Great for PreK, Kindergarten, and 1st grade. Use in centers, guided reading groups, as morning work, an activity for early finishers, in a home-school activity bags, for tutor activities, and/or assessments. ***** If you would rather have the students WRITE the answer on a recording sheet, rather than CLIP it, then check out my CVC Middle Sound TASK CARDS resource. CONTENTS Directions 27 Beginning Sounds Clip Cards. (Full color) 4 on a page. 1 Title Card for labeling when storing Directions
No Prep Language Arts Center, based on The Mitten, by Jan Brett. Just print and go. Printable worksheets for building sentences: reinforces emergent reading and writing skills, such as concepts of print, sight word recognition, punctuation, and illustrating to represent sentences. Great practice for retelling, running records, and leveled readers. Use as a supplemental to your science informational text unit. Students use word tiles to build sentences about the story events: one character on each page. When done, they draw an illustration to match the sentence. At Level worksheets include the sentence at the top of the page. Above Level worksheets do not have the sentences printed. The students identify the word tiles, and put the words in order to make a sentence on their own. Create a class book when all pages are complete. Packet includes: Cover Page Directions A full-color Mitten Character Reference Poster 10 building sentence worksheet pages - At level 10 building sentence worksheet pages- Above level Great for whole class, small groups, language arts centers, word work, daily 5, guided reading, poetry notebooks, or homework.
CVC _at Word Family Packet focuses on early reading strategies, such as decoding word patterns, onsets and rimes, phonemic awareness, fluency, blending and segmenting sounds, and writing sounds to build words. These printable worksheets, center activities, anchor chart, and assessments, are for kindergarten or 1st grade - to be used in whole group instruction, centers, small group/guided reading, morning work, and/or homework. CONTENTS: 1.) Directions for each activity. 2.) Colored Illustrated Word Card Poster: hang on a focus wall as you introduce the word family. 3.) My Family Word Book - a B/W 7pg. emergent reader. 4.) Picture Card and Word Match Activity - Colored cards for center: match picture cards to word cards. Color coded for self-checking. 5.) My _at Family Word House - B/W worksheet for students to record list of words, take home for weekly review, or keep in a CVC growing folder at school for reference. 6.) Build a Word - B/W worksheet. Cut and paste letter tiles to build 3 word family words. Draw a picture of one word family words, and a peer/teacher guesses the word. 7.) Sound Boxes - B/W worksheet to say the picture word, tap the sounds, and write/stamp the letters. 8.) Sound Boxes Intervention - B/W worksheet to say and tap out the sounds. Students TRACE the letters to make word. 9.) Write the Word - B/W worksheet: students write words to match the pictures given. 10.) Write and Illustrate - B/W worksheet for those who may need an extra challenge. Writing a word, use it in a sentence, and illustrate to match the sentence. 11.) Writing Assessment - B/W assessment for students to write the words independently to match the words. Score at bottom, and space for notes. 12.) Reading Assessment - B/W assessment for students to read the word in the box independently. Score at bottom, and space for notes. 13.) Word Family Match-Up - B/W worksheet - students read the _at word, then draw a line to match it with the same word on the right.
Fall themed One More / One Less: Numbers to 20 Math Task Cards and Recording Sheet for Numbers to 20. Students love these cards for the colorful graphics, and the challenge to complete their recording sheet independently. They become so engaged in the activity, that they don't realize they are working on the math standards for Counting and Cardinality, and Numbers and Operations in Base Ten. Great for Kindergarten, 1st, and 2nd grade SCOOT, math centers, read and write the room, early finishers, home-school activity bags, tutoring groups, and assessments. Students count the objects on the card, complete the task (one more, or one less) printed at the top, then write their answer on the recording sheet. A large number line is on the recording sheet to as a visual intervention to those who need it. Answer sheet included! CONTENTS Directions 15 One More/ One Less Fall themed task cards. 1 Title Card for labeling when storing or putting on a binder ring. 1 Student recording sheet (blackline master) 1 Teacher answer sheet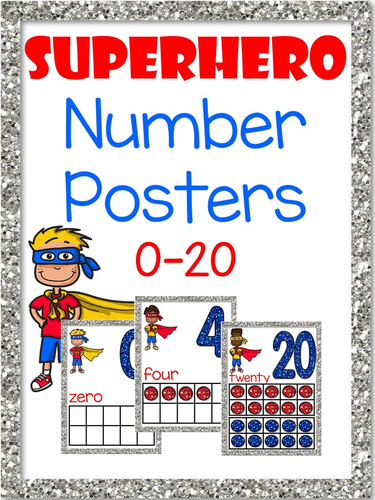 Superhero Number Posters, Numbers 0-20, with Tens Frames and number words. Perfect for back to school classroom décor and superhero themes. 8.5"x11" printable classroom posters have bright, sparkly, borders, numbers and tens frame counters - sure to catch the students eyes. Number words are in large print below the superhero clipart, which is patterned as boy, girl when all posters are hung. Included are: 0-20 Superhero Number Posters
Summer Theme Double Digit Addition WITHOUT Regrouping Task Cards and Recording Sheet makes a perfect math center, excellent for building fluency in math facts: Operations and Algebraic Thinking. Great for 1st and 2nd grade SCOOT activities, math centers, count the room, morning work, early finishers, home-school activity bags, and assessments. Can also be used for an intervention in third grade. Students solve the addition equation on each card, then write their answer on the recording sheet. Answer sheet included to save you time when checking over their work! CONTENTS Directions 24 Double Digit Addition Summer Black and White Theme task cards. 1 Title Card for labeling when storing or putting on a binder ring. 1 Student recording sheet (blackline master) 1 Teacher answer sheet
One More / One Less Math Task Cards and Recording Sheet for Numbers to 10. These Ocean Themed cards are bright, colorful, and excellent for building Counting and Cardinality, and Numbers and Operations in Base Ten. Great for Kindergarten and 1st grade SCOOT, math centers, read and write the room, early finishers, home-school activity bags, and assessments. Students count the objects on the card, complete the task (one more, or one less) printed at the top, then write their answer on the recording sheet. A large number line is on the recording sheet to as a visual intervention to those who need it. Answer sheet included! CONTENTS Directions 10 One More/ One Less task cards. 1 Title Card for labeling when storing or putting on a binder ring. 1 Student recording sheet (blackline master) 1 Teacher answer sheet