The Little Shop of Horrors...
191Uploads
377k+Views
796k+Downloads
14 or so lessons (though as you'll see they can be expanded/contracted as meets your need) surrounding the teaching of Phillip Pullman's Northern Lights (a quite awesome book) to a Key Stage 3 class. I taught this unit to a top and bottom set and got a lot out of it in terms of enjoyment and successful creative writing. I will be using it this year as a starting point for a reading assignment with very little modification. May your daemon guide you well.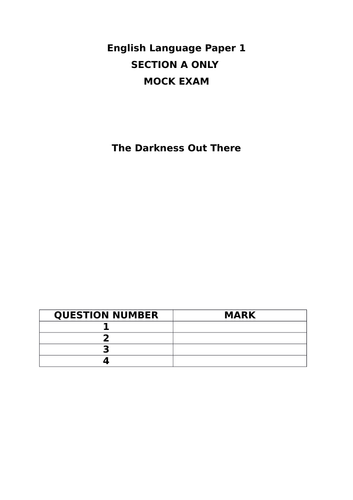 I've found another use for all that knowledge we have about the old AQA English Lit anthology (The Sunlight on The Grass anthology). I have started to turn them into English Language Paper 1 Section A Mock Exams! This is one of them. There is no mark scheme, but if you use the Paper 1 mark scheme from the AQA website you should be fine. This one uses the start of The Darkness Out There. The focus here is very much on the use of setting.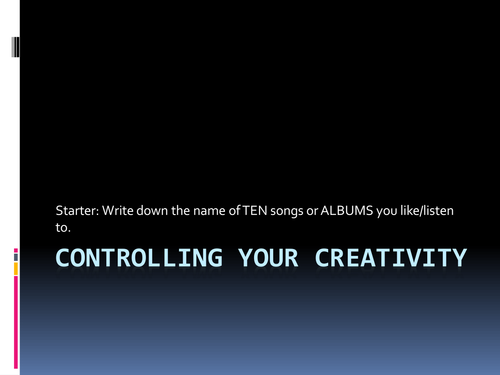 A collection of resources I have used to introduce KS3 (specifically year 7) students to poetry with a view to them writing their own anthology, and exploring an unseen poem.
A bare bones SoW that focuses on introducing the Literature aspect of study at KS3, but assesses the students on a piece of creative writing. The lessons assume you have a copy of the text for students to follow. Look at this as a starting point. Designed with a bottom set in mind.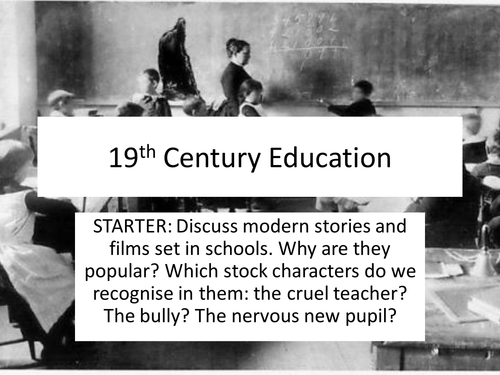 A bank of lessons and extracts that introduce Key Stage 3 to a variety of different 19th Century Literature texts. Designed with a top set year 8 class in mind. Draws heavily from the AQA material - look at this as either a time-saver or a starting point.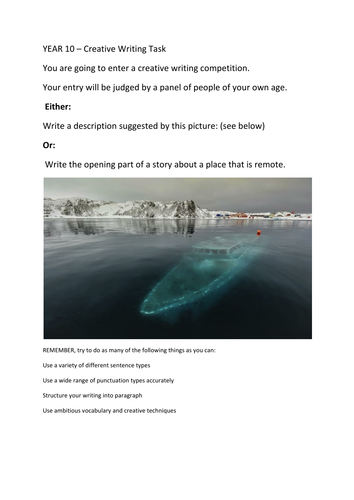 Three quick and easy tasks with supporting images. Ideal for quick and easy filler lesson, or as building into a larger scheme.
First things first, let me just say that the mind that created the Escape from Kraznir SoW was not mine - wish it was though... You are not buying the SoW (though I do include it as part of the pack so you have a frame of reference), that is available freely elsewhere. What you are buying is the 7 lessons that I created from this SoW and taught to my students. Let me say this - I have never had such a reaction creatively. My gast was well and truly flabbered as to their engagement and the effort they put in. I've created a single power point that contains all of the other lessons too - just for those who like continuity. NOTE: I used some of the sound effects from Warcraft 2, but I couldn't put this up here (Blizzard may have something to say about that). However, you can use your own sound effects and music as and where you see fit (I liked using the Death of Optimus Prime Music from the Transformers Movie (not the Bay versions, the original cartoon version with Unicron) over the top of the farewell aspect in Lesson 2). This is a lot of fun. I promise. Seriously...
Material I generated for the old AQA style creative writing controlled assessments - it still resonates with the new AQA Paper 1 Section B style questions (inspired by images). You'll need a copy of the film and you'll need to alter the Learning Outcomes (they are all set against the old AQA English Language Coursework criteria).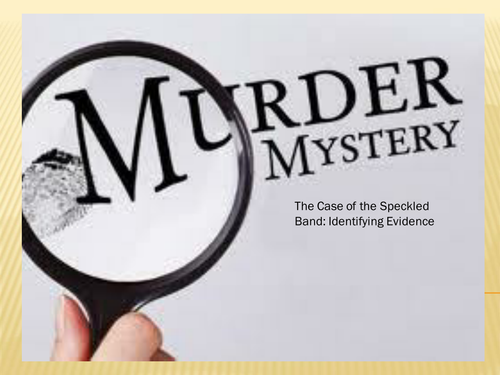 Lessons are designed to be read alongside Sherlock Holmes: The Speckled Band. Had some good success with this scheme as a way of getting students to improve their inferential skills.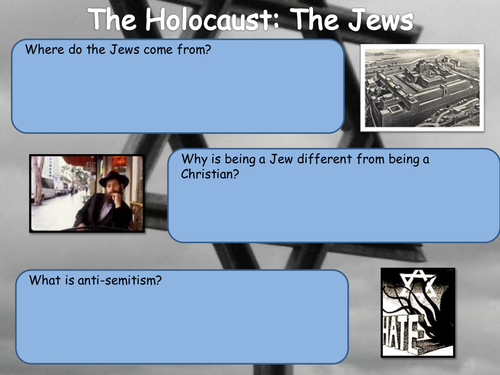 Designed for EBD children. Dyslexic friendly. These resources work well with showing extracts from "The Pianist". A selection of worksheets that establishes and develops knowledge of the Jews, Hitler and the Holocaust.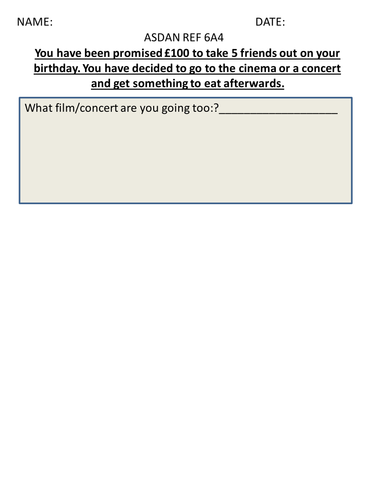 These are worksheets i used in an EBD's ASDAN lessons. The worksheets are geared around the 2008/09 ASDAN worksheet but can easily be changed to meet current ASDAN and COPE standards.
All my Othello lessons (so far). I will keep adding to this as I go.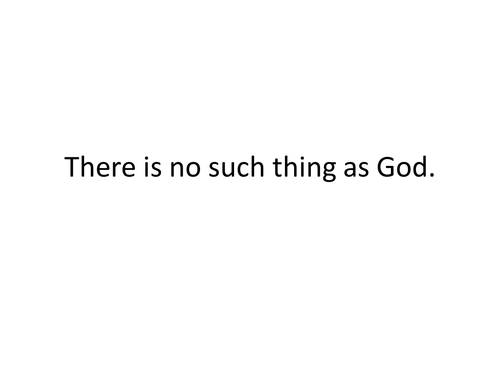 This is quite possibly, the coolest thing I've ever tried out. The premise is as follows: a debate between two students (or teams) where four referees observe. The referees score what they see and a winner is announced at the end. Now add in entrance music a la pro-wrestlers (think the Rocky Theme, We Will Rock You etc.) and run it on an open evening and I promise you this - you will have EVERY parent in at some point to see what is going on. I've run this at SIX parents evenings now and the same thing happens every time - all of the kids rock up to watch. I set it last time round where the Deputy Head took on the winner of the students (a year 9 girl). They packed the place out to see who won . The debate topic "Batman vs Superman" (serious stuff this). Needless to say, she wiped the floor with him (in a totally professional way). You'll need to be the promoter/commentator/ring side referee - this can be exhilarating and exhausting! Try it.
An introductory unit suitable for Year 7 students - I taught it to top and bottom set (with differentiation) classes. It is designed to get kids using the basic PEE style structure to create a reading assessment-worthy response. I don't include all of the extracts I used - I photocopied straight from the texts in all honesty - but this is more than enough to get going. Hope you find this useful.
Attached is a spreadsheet that does an awful lot of work for you. To summarise, it does the following: Allows for easy collation of GCSE Literature marks on a paper by paper basis AND as a whole examination Allows for easy identification of various student demagraphics - EAL, PP and so on Allows you to measure progress against students best, average and last marks across both papers Works out "how many marks" until you hit target grades for individual students Colour codes grades and marks to allow for at a glance progress checks Once you buy this spreadsheet, you will not need to get another LITERATURE spreadsheet. The document contains instructions as to how to update the spreadsheet. Oh, and if you do get this, I suggest you LOCK the individual spreadsheets ASAP: the document is set up to allow you to do this and still enter the data, you just won't be able to accidentally delete any of the coding, thus removing any brain overloads that might ensue. Happy spread-sheeting!
There doesn't seem to be much out there for DNA, which is a shame really as it's a great text to study. Attached are ALL of the DNA resources I have created; hopefully this will give you a few different ideas and starting points. This is a mish-mash of resources from three years of teaching this text across two schools. Some organising and sifting-through is needed here.
So, this unseen poetry section is quite scary isn't it? This was my way of attacking it with my KS4 students. I used song lyrics to start with, but also looked at some trickier poetic forms . The songs and poems you'll need to independently download are embedded in the lessons .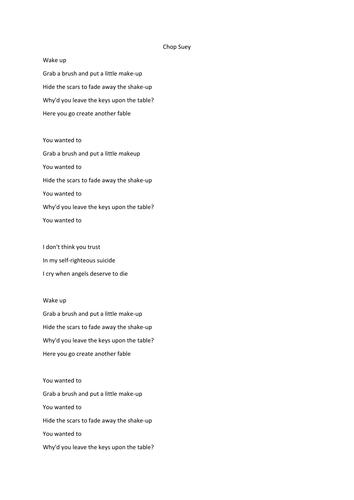 Lessons designed to engage and interest my year 10s as they step into GCSE-land for the first time. They enjoyed the analysis of the song lyrics a lot. I found that my previous classes found it very hard to engage with the poetry element. These lessons (combined with a couple of others that don't belong to me) worked well.
A series of resources that make up a curriculum that can be taught to year 7.
Two powerpoints (both alike in dignity...); the larger of the two covers the deconstruction of an English Language Paper 2 Section A mock exam - we go through common mistakes, areas of concern and identify how to improve on what we've done. I've provided the sources too, so you could use this as the basis of a Section A walking-talking mock; the smaller powerpoint covers speech writing, an areas my lot particularly struggled with. Happy hunting...