The Little Shop of Horrors...
202Uploads
387k+Views
838k+Downloads
14 or so lessons (though as you'll see they can be expanded/contracted as meets your need) surrounding the teaching of Phillip Pullman's Northern Lights (a quite awesome book) to a Key Stage 3 class. I taught this unit to a top and bottom set and got a lot out of it in terms of enjoyment and successful creative writing. I will be using it this year as a starting point for a reading assignment with very little modification. May your daemon guide you well.
A summer spent playing word games with my kids lead me to this idea. The idea is that the students are supplied with a grid of letters. They use these letters to build words which cause damage to a cartoon monster. The bigger the word, the more damage done to the monster. I've made it more and more difficult as the monsters develop - you have to use certain letter types for example. I plan to give each child one grid per week to complete and have their peers mark it. So you are completely aware, I have left all of the grids blank apart from on a few. You will need to fill these in yourself. Also, I have left the challenge component blank too. This will allow you to create challenges that reflect the specific types of spellings you are looking at - double damage awarded for homophones for example. There's massive scope for differentiation in here too. I've included a whole class version of the spelling levels, as well as a photocopy friendly version too. I have long believed that making school a little more like computer games can be helpful - this is my first attempt at exploring Gamer Theory as I have dubbed it. Watch this space for more. Have to figure out how to do something similar with the other components of SPAG and Reading now… ADDITION: I've included some completed versions of the pack to give you an idea of what they could look like. Pay attention to the NOTES section of the power points too. These grids have been designed to be used in tandem with the Escape From Kraznir scheme of work.
Material I generated for the old AQA style creative writing controlled assessments - it still resonates with the new AQA Paper 1 Section B style questions (inspired by images). You'll need a copy of the film and you'll need to alter the Learning Outcomes (they are all set against the old AQA English Language Coursework criteria).
A unit of work I put together whilst working inside a secondary school's behavioural unit. The idea was that these lessons would develop the students ability to apply a vocabulary to emotions that they may struggle to recognise, feel, express or talk about in themselves and others. By helping them with this vocabulary, the theory was that they would be better able to reintegrate into the school environment and stay there. It had mixed results, some students showed improvements, others less so. Either way, someone out there will hopefully find this useful. The materials cover the following topics: Feeling Afraid Feeling Angry Feeling Ashamed Feeling Bored Feeling Happy Feeling Helpless Feeling Lonely Feeling Loved Feeling Sad Each "feeling" has an associated wordsearch and accompanying answer sheet. Most of these also have a whole lesson attached to them - there are some anomalies. You'll need a copy of the AQA Sunlight on the Grass anthology story "Compass and Torch" too. Some feedback would be useful folks. I've moved away from this type of work but would like to return to it - be nice to know if my ideas have worked elsewhere.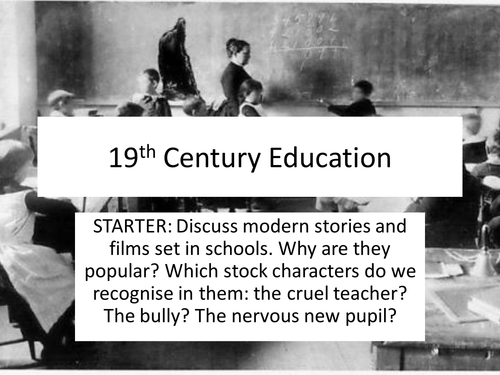 A bank of lessons and extracts that introduce Key Stage 3 to a variety of different 19th Century Literature texts. Designed with a top set year 8 class in mind. Draws heavily from the AQA material - look at this as either a time-saver or a starting point.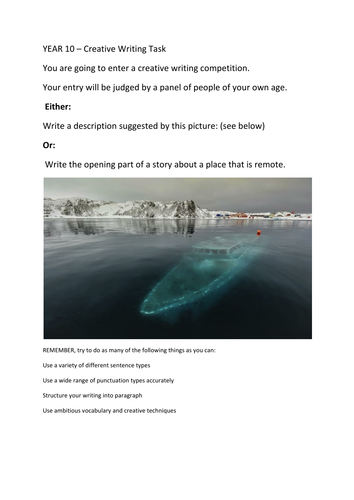 Three quick and easy tasks with supporting images. Ideal for quick and easy filler lesson, or as building into a larger scheme.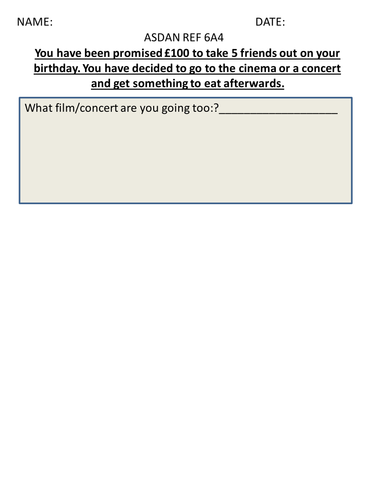 These are worksheets i used in an EBD's ASDAN lessons. The worksheets are geared around the 2008/09 ASDAN worksheet but can easily be changed to meet current ASDAN and COPE standards.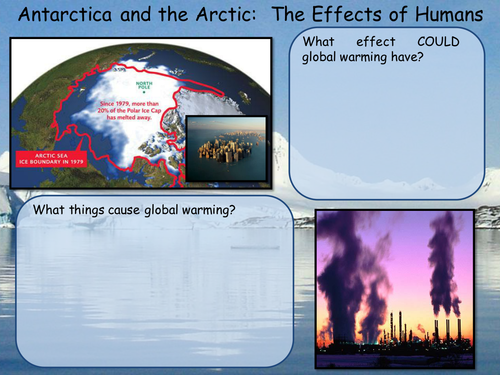 Three colourful worksheets looking at enviroments, adaption and man's role. One looking at the environments, one looking at the adaption of polar bears and penguims to the environments and another looking at the human impact on the environment.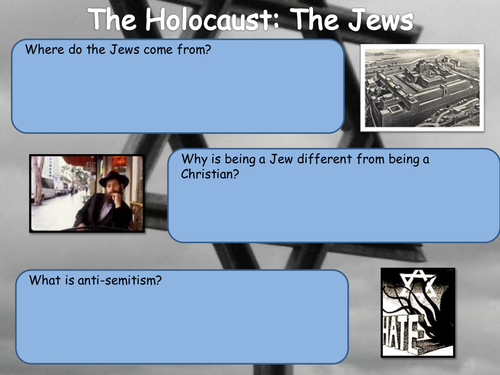 Designed for EBD children. Dyslexic friendly. These resources work well with showing extracts from "The Pianist". A selection of worksheets that establishes and develops knowledge of the Jews, Hitler and the Holocaust.
I am very pleased with this. We have a problem with retention of English students at A-Level at our place - the English GCSE is just VERY boring. So, part of the plan to address this is to make the sorts of lessons that kids will remember in Key Stage 3; make them fall in love with the subject so to speak. This is my best efforts at doing just that. The first lesson covers the basics of Dystopian Fiction - you will need some Dystopian Fiction extracts for this. I picked from the following texts: The Hunger Games Maze Runner Do Androids Dream of Electric Sheep The Handmaid's Tale Ready Player One 1984 Battle Royale I cannot sell the resource if I put the extracts up on here, but finding your own examples shouldn't be too tough. But, I did find a free version of the Hunger Games Chapter 1 at the following link: http://www.scholastic.com/thehungergames/media/hungergames-chapter1.pdf The second lesson (lessons really) focuses purely on the first chapter of The Hunger Games. Here, we analyse and explore the text before giving the students the chance to write creatively. The last lessons in the largest power point are a lot of fun. Essentially, the lessons require the students to write a series of mission logs as they flee from a devastated earth, only to be forced to return. There are two versions: one with no music and one with LOADS of atmospheric music attached. Both powerpoints have a load of set-up animations which run automatically. I advise you go through the powerpoint several times before putting it in front of the kids. And when you do, make sure you have the volume up. This is one of those lessons they won't forget in a hurry, I promise. ADDITION: So I tried this with my Year 10s. They loved it too… ANOTHER ADDITION: I've chucked a debate boxing lesson on the end - it assumes a lot of knowledge of The Hunger Games (shouldn't be a problem with the films).
All my Othello lessons (so far). I will keep adding to this as I go.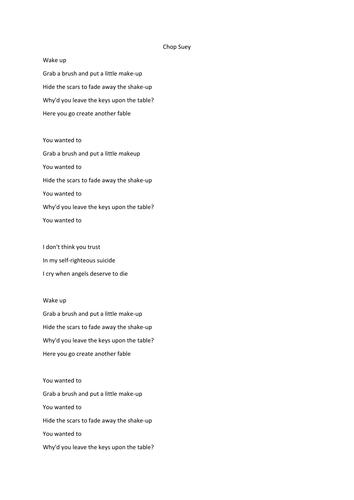 Lessons designed to engage and interest my year 10s as they step into GCSE-land for the first time. They enjoyed the analysis of the song lyrics a lot. I found that my previous classes found it very hard to engage with the poetry element. These lessons (combined with a couple of others that don't belong to me) worked well.
First things first, let me just say that the mind that created the Escape from Kraznir SoW was not mine - wish it was though... You are not buying the SoW (though I do include it as part of the pack so you have a frame of reference), that is available freely elsewhere. What you are buying is the 7 lessons that I created from this SoW and taught to my students. Let me say this - I have never had such a reaction creatively. My gast was well and truly flabbered as to their engagement and the effort they put in. I've created a single power point that contains all of the other lessons too - just for those who like continuity. NOTE: I used some of the sound effects from Warcraft 2, but I couldn't put this up here (Blizzard may have something to say about that). However, you can use your own sound effects and music as and where you see fit (I liked using the Death of Optimus Prime Music from the Transformers Movie (not the Bay versions, the original cartoon version with Unicron) over the top of the farewell aspect in Lesson 2). This is a lot of fun. I promise. Seriously...
Attached is a spreadsheet that does an awful lot of work for you. To summarise, it does the following: Allows for easy collation of GCSE Literature marks on a paper by paper basis AND as a whole examination Allows for easy identification of various student demagraphics - EAL, PP and so on Allows you to measure progress against students best, average and last marks across both papers Works out "how many marks" until you hit target grades for individual students Colour codes grades and marks to allow for at a glance progress checks Once you buy this spreadsheet, you will not need to get another LITERATURE spreadsheet. The document contains instructions as to how to update the spreadsheet. Oh, and if you do get this, I suggest you LOCK the individual spreadsheets ASAP: the document is set up to allow you to do this and still enter the data, you just won't be able to accidentally delete any of the coding, thus removing any brain overloads that might ensue. Happy spread-sheeting!
A series of resources that constitute a year 9 curriculum.
A text I taught to year 7 (second set) which we all absolutely loved! There are so few lessons here in comparison to my other resource bundles because we often spent large amounts of time just reading the book. The video is pretty awesome - I take no credit for creating it, I downloaded it from youtube and converted it to a format I could use. May the crows find you willing and able.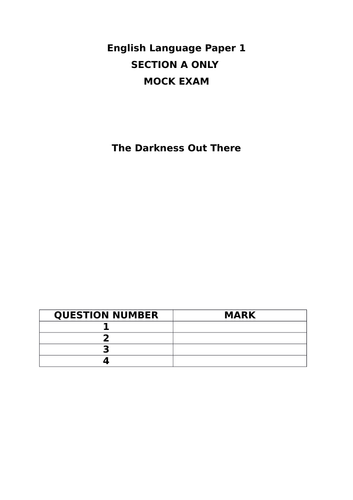 I've found another use for all that knowledge we have about the old AQA English Lit anthology (The Sunlight on The Grass anthology). I have started to turn them into English Language Paper 1 Section A Mock Exams! This is one of them. There is no mark scheme, but if you use the Paper 1 mark scheme from the AQA website you should be fine. This one uses the start of The Darkness Out There. The focus here is very much on the use of setting.
A mass of lessons I used to teach my year 9 classes when we wanted to prepare them for the old AQA English Language GCSE. Now, I intend to use them as preparatory lessons with my current year 9s to familiarise them with the necessary analytical techniques for GCSE. And to get rid of the 4 million copies of Sunlight on the Grass Anthologies we have horded in various rooms, cupboards and hidey-holes...
One power point per poem and some associated skills. I teach the poems in the order in which they appear in the anthology (except Tissue; I put that one at the end). I follow a pattern with the lessons and source the contextual information from the BBC Bitesize website (and a couple of other places when I get bored of them) - it makes sense as any student that misses out on something can go and find what they need relatively quickly. The material is readily available elsewhere, hence the relatively low price for so many lessons.
A series of resources that constitute a year 8 curriculum.