My second lesson. Here, I focus almost entirely on ACT 2 SCENE 1 and Iago's soliloquies therein. The notes element of the power point pulls a lot of thinking together from across a lot of sources - you'll need these notes to flesh out the tasks. I tie it up with an exam style question at the end focusing on what we can infer about attitudes to women. Quite pleased with how this looks and how it goes.
A reintroduction lesson that should be taught with the understanding that the students have read the text beforehand. Designed as an entry point into year 13; ideal for new teachers looking to get the measure of a new class (as in my case). I found this lesson particularly useful when combined with FAR marking the material surrounding the quotations. You should view this as a starting point - future lessons will get much more specific.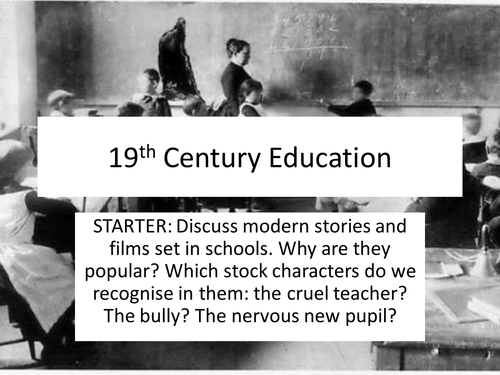 A bank of lessons and extracts that introduce Key Stage 3 to a variety of different 19th Century Literature texts. Designed with a top set year 8 class in mind. Draws heavily from the AQA material - look at this as either a time-saver or a starting point.
So my school got a-hold of some exams for purposes of our year 11s sitting mock exams. This is the lesson I am using to teach the little so-and-sos what went wrong and how to fix it. For this lesson to have relevance, you will needed to have had your students sit the actual exam. Saying that, you could probably get away with photocopying the extract and running it as a walking-talking mock (say that's not a bad idea...). This lesson is simple: it goes through each question in order and identifies some general common errors made in the students' answers, some paraphrased student responses are included as discussion points (just a quick one, when I say that the response comes from an answer that got X amount of marks, I am awarding that mark to a complete answers, not the section I have chosen to show) and finally some specific areas of focus. You have enough for about 4-5 lessons here, depending on how much you focus on the larger questions. Enjoy.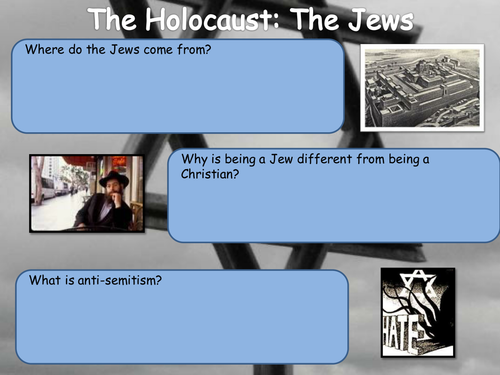 Designed for EBD children. Dyslexic friendly. These resources work well with showing extracts from "The Pianist". A selection of worksheets that establishes and develops knowledge of the Jews, Hitler and the Holocaust.
Structure is a tricky concept to teach sometimes - it's not as easy to hang your hat on a structural feature in the same way you can with a language feature. My year 9 class struggled with structure, so I built this lesson (well, it's more of a sequence of lessons really). I draw heavily from films and from the sorts of literature that appeal to year 9 students. I photocopied pages from the books I allude to, but I cannot (for copyright reasons) upload these to the site. I can, however, give you page references to go off. Images are often links to youtube videos. They worked when I uploaded them (honest). My lot found this useful. TEXTS USED: Harry Potter and the Philosopher's Stone: Pg 56 (The bit where Harry sees Diagon Alley for the first time) Maze Runner: Pg 120 (The bit where you are waiting for the Griever to turn up for the first time) George's Marvelous Medicine: Pg..oh pants you can't see it! The chapter is called "The Cook-up" and it's the bit where George is making the medicine. Northern Lights: Pg 1 (The bit where Lyra and Pan are sneaking about)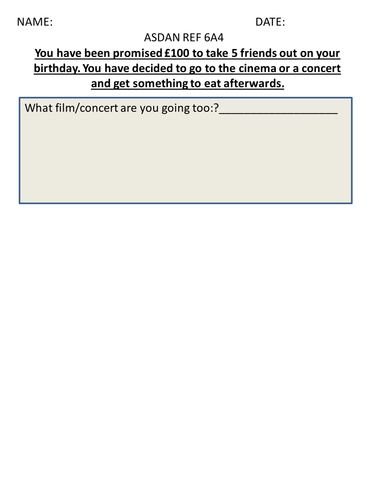 These are worksheets i used in an EBD's ASDAN lessons. The worksheets are geared around the 2008/09 ASDAN worksheet but can easily be changed to meet current ASDAN and COPE standards.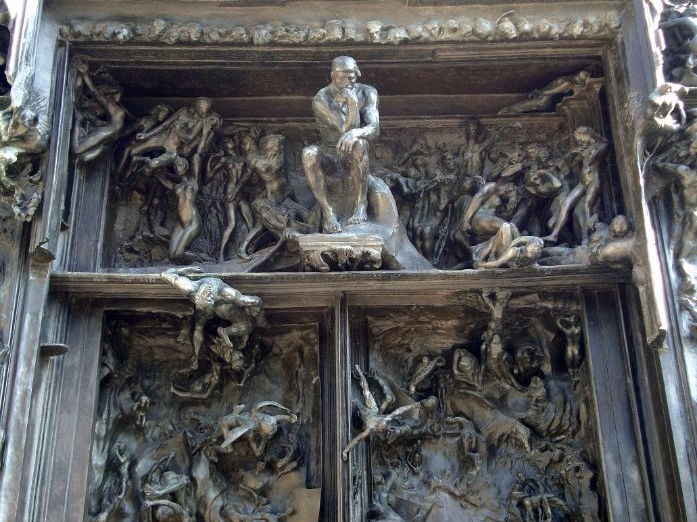 A series of lessons and resources designed to introduce year 9 students to the wonders of the AQA English Language Exam. In these lessons, I deconstruct the Assessment Objectives in relation to each question on English Language Paper 1 Section A. I use the old Sunlight on the Grass story "Anil" as the source text (strictly speaking, this falls outside of what the exam could focus on, but I figure in using these stories as I have all this knowledge about them that isn't being used!). I will add to this "pack"as I go - the intention being to use other stories from the old anthology to secure the skills. Happy hunting...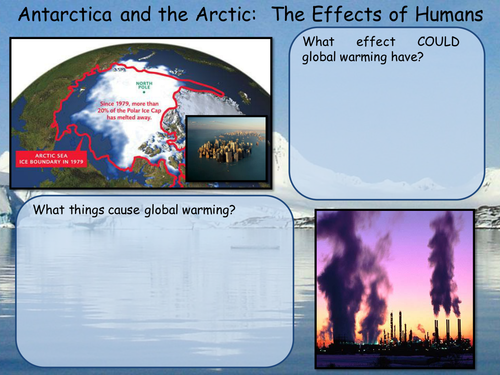 Three colourful worksheets looking at enviroments, adaption and man's role. One looking at the environments, one looking at the adaption of polar bears and penguims to the environments and another looking at the human impact on the environment.
A bare bones SoW that focuses on introducing the Literature aspect of study at KS3, but assesses the students on a piece of creative writing. The lessons assume you have a copy of the text for students to follow. Look at this as a starting point. Designed with a bottom set in mind.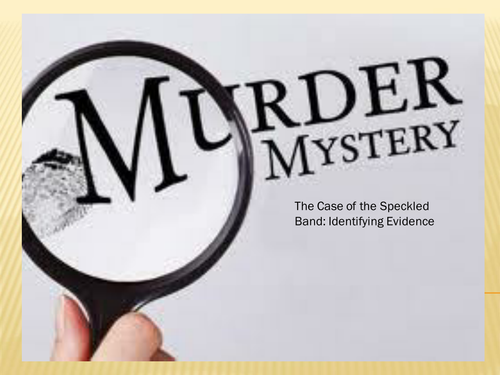 Lessons are designed to be read alongside Sherlock Holmes: The Speckled Band. Had some good success with this scheme as a way of getting students to improve their inferential skills.
FOUR lessons that go through each of the AQA English Language Paper 2 Section A questions. Lesson 1 is a 19th century text comprehension lesson, but each lesson after that develops skills surrounding EACH of the question types that come up on the exam. The way I've structured lessons 2 and 3 will allow you to give classes a few cracks at Q2 and Q3. Answers are included (or rather the evidence in the texts that will LEAD to good answers). The source documents are also included, but the pdf version of the 19th century article is a little ropey so here is the link to the actual source: http://www.maryceleste.net/doyle.htm I should also make it clear that I do not work for AQA and have no magical insight - this is just how I am approaching revision for this unit before all hell breaks loose next summer. PS - I found a couple of errors and have since been back to fix them - sorry!
A series of lessons that can easily be expanded out to around 12-13 lessons that do the following: Establish an understanding of the plot over 4 lessons Gets the students to act out the plot via story whooshes (you will need a summary of the play to do this - I use a copy of the play with summaries of each page and get the kids to read certain key parts of the dialogue out loud) Explore language and structure as methods Build on the ability to analyse extracts Develop a contextual understanding Rather pleased with these to be honest. Hopefully you guys will feel the same too. PS - I've chucked in a load more stuff too. Extract Analysis 3 was a lesson where I received "GOOD" for my observation. There is also a Creative Writing Lesson that may prove useful too.
So, this unseen poetry section is quite scary isn't it? This was my way of attacking it with my KS4 students. I used song lyrics to start with, but also looked at some trickier poetic forms . The songs and poems you'll need to independently download are embedded in the lessons .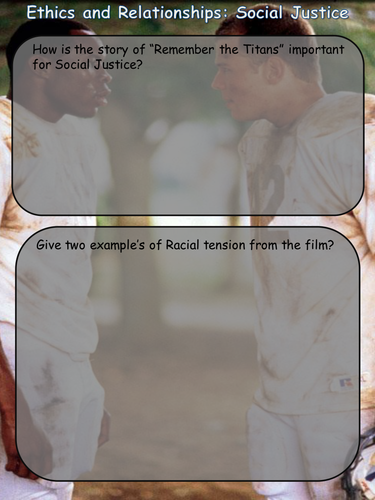 You will need to read the scheme to find out what worksheet correlates to what topic. It is the Ethics and Relationships file marked as a lesson plan. This covers a lot of ground from attitudes towards good and evil, to Baby P and Social Justice. Hopefully someone will find some of these resources useful.
A collection of lessons and extracts designed to teach this play to KS3 students. It'll need updating a little (I talk about Controlled Assessments), but it's a good starting point for someone looking for a way in to teach this play.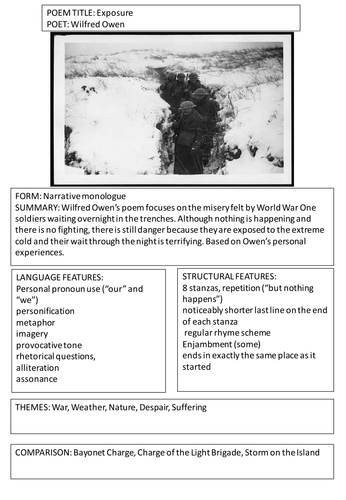 A collection of power points that I have had printed out A5 size on card. This bundle will get bigger as I create and re-teach the poems. As a point of honesty, I have embedded some of these top trumps in another resource - please check to see if you are purchasing a repeat product.
A single power point designed to be taught as a walking-talking mock examination. This can extend over several lessons - I predict you'll need at least three to do this justice. The source materials are included.
4 separate resource , all of which cover AQA English Language Paper 2. Also, I've added in a data collation resource that allows you to track the data.
These two resources cover both papers in detail, and provide you with a spreadsheet to collate your data.
Two powerpoints (both alike in dignity...); the larger of the two covers the deconstruction of an English Language Paper 2 Section A mock exam - we go through common mistakes, areas of concern and identify how to improve on what we've done. I've provided the sources too, so you could use this as the basis of a Section A walking-talking mock; the smaller powerpoint covers speech writing, an areas my lot particularly struggled with. Happy hunting...