The Little Shop of Horrors...
228Uploads
483k+Views
1082k+Downloads
A PowerPoint designed to be used after students have sat the Section A of the AQA English Language Paper 1 for June 2019. It wouldn't take much altering to be used as a mock exam itself. The slides are set up to show the model answers from the mark scheme so that students can peer/self assess and give actions and feedback.
A powerpoint lesson designed to be taught either AFTER a class has sat AQA English Language Specimen Paper 4, or to be used WHILST a class is sitting the same paper in the form of a mock exam where feedback is given immediately. In this powerpoint, I refer directly to the model material provided by AQA and provide some feedback that can be given to the students. The idea with the feedback is that the person marking (teacher or student) writes down the letter/number and, when the marked work is returned, the owner of the response can either write the target down in full or highlight it in a printed version.
This resource was designed to be used after a class or cohort have sat the 2019 English Language paper 2. It's set up to be used after a class has sat the exam and had their papers marked, but it wouldn't take much modification to be used as part of a scenario where the students get the material, execute a preparatory strategy, answer the question and then peer/self mark. The material from the AQA mark scheme has been integrated into the PowerPoint, so students can get a sense of what level their response is before fine marking. I've done a few in this style and the students value them as revision tools too.
I've done quite a few of these now, and I always try to improve on the last one. I think this is about as far as I can go with this format. Here's what you get: An individual breakdown of each of the exam questions. Each section contains the following: A breakdown of the AQA related material A walk-through for Q2, Q3 and Q4 Suggested targets and strategies 5 Case studies using real student responses (Except for Q1. You've got 10 for Q5 though) Real students planning processes laid out for discussion It's a big one - you've got 60+ slides to work through. In terms of teaching, this works best after you've sat the relevant exam. However, it wouldn't take much tweaking for a mock-style scenario. Also, this is designed to be given to the students so that they can engage with it at home.
14 or so lessons (though as you'll see they can be expanded/contracted as meets your need) surrounding the teaching of Phillip Pullman's Northern Lights (a quite awesome book) to a Key Stage 3 class. I taught this unit to a top and bottom set and got a lot out of it in terms of enjoyment and successful creative writing. I will be using it this year as a starting point for a reading assignment with very little modification. May your daemon guide you well.
A simple power-point designed to be used either AFTER a class has sat the AQA English Language Paper 2 Specimen Paper 2, or as part of a walking-mock style lesson where the students mark their work immediately afterwards. It's cheap because I've essentially deposited the contents of the mark criteria on to the power point in such a way that the students can use it it to peer or self-assess. The resource JUST contains the power point.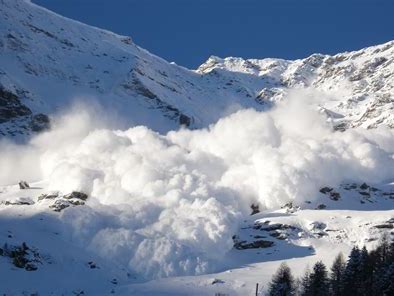 Similar to a number of other resources I've already posted. Designed to be used after the students have sat the associated AQA English Language Paper 1 GCSE Paper, though with a little tinkering, you could run this as a mock exam itself and then have the students peer/self-assess afterwards. The powerpoint goes through each of the five questions, placing a firm expectation on the students having a pre-established strategy for completing each task. The students are then encouraged to refine this strategy. Each of the sections contains a break down of the associated source, exploration of the stepped Model Responses provided by AQA, and then provides the students with up to FIVE Case Study responses written by students (containing mistakes and all). I've had a lot of success with these types of powerpoints and they are especially useful for students working in isolation, or as a revision tool. Hopefully this will be of use to you.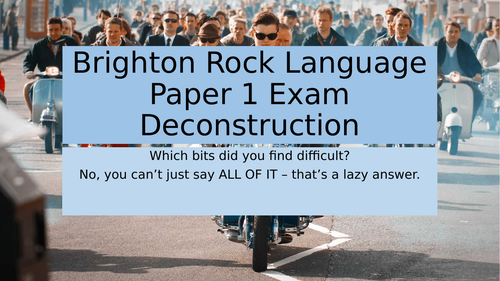 A deconstruction of the English Language Paper 1 examination that uses Brighton Rock as a source. I've lifted the model material from the mark schemes and there's FAR related targets included. Essentially, this is a lesson that can be taught either AFTER the students have sat the exam and you want them to peer/self assess, or you could change it so that that they answer a question and then mark their efforts. The Section B element is a bit of an experiment - peer marking creative writing is always a challenge. So I've given the students a series of yes/not/some related questions. The idea is that they "tick" the level next to the answer on a copy of the AO5 and AO6 mark schemes. Using that, they should be better able to work out where the creative writing fits. My peer marked creative writing has got much more accurate as a result of this.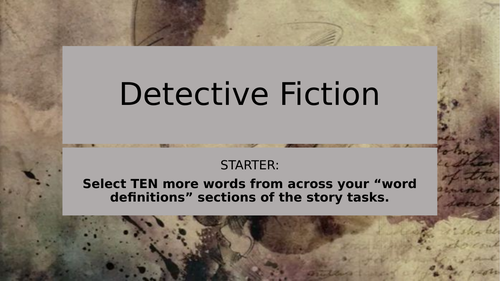 A thoroughly enjoyable unit of work. Built around a work booklet and designed for that awkward half-term at the end of the year where you don't want to give out new exercise books. The workbook contains a copy of The Norwood Builder, comprehension questions and vocabulary list, as well as a variety of activities that focus (primarily) upon creative writing skills with some language and structure based tasks. The lessons are designed to be used with the workbook. NOTE: I may upload a slightly different workbook in the future, but I will leave the original on here.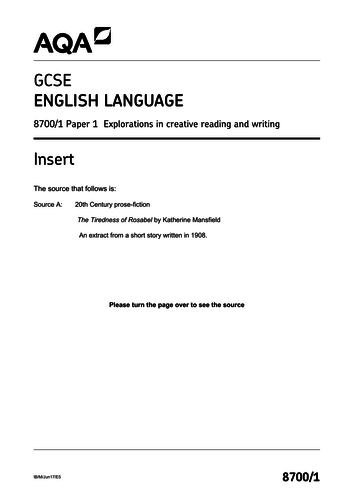 A lesson designed to be taught AFTER the class has sat a mock exam. However, with very little modifcation this can become a walking-walking mock exam, or a peer/self assessment based lesson. The powerpoint contains model material and an indicator as to the quality of the model material. My class found this lesson to be very useful. Additionally, the insert is available for free should you wish to download it for yourself. I include the link below: https://linwood.bournemouth.sch.uk/summerwood/files/2017/12/8700_1-INS-EnglishLanguage-G-6Jun17-AM.pdf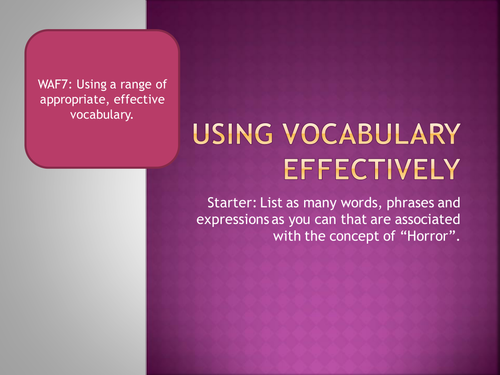 MASSIVE success with this scheme. Trouble is, what I can't get on here is the music files I downloaded and threaded into the lessons. If you want to do this, use a site like keepvid.com to download some sinister music - I used the little girls song from 'The Ring' and a series of songs from the original QUAKE video game soundtrack (one is literally just a whisper getting louder and louder). I played these sounds over the top of the creative writing assessment and got a decent response (true, one or two of the kids MAY have nightmares…). Best of luck!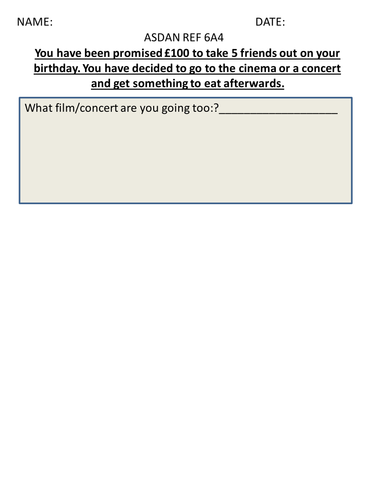 These are worksheets i used in an EBD's ASDAN lessons. The worksheets are geared around the 2008/09 ASDAN worksheet but can easily be changed to meet current ASDAN and COPE standards.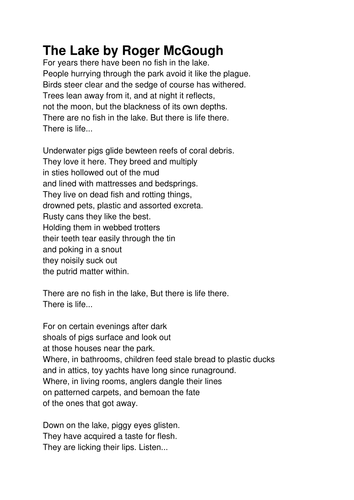 Need a quick lesson? Look no further. A whole lesson based around Roger McGough's "The Lake" - I know it can be found online elsewhere, but I include it here for convenience's sake. Perfect for when you need to fill that irritating cover lesson with something meaningful.
A complete scheme of work covering each of the chapters and all of the associated assessment objectives. Each of the chapter lessons identifies SOME of the archaic vocabulary and provides the definitions - though this tails off towards the end as there is an assumption that the students become more confident in defining these archaic terms. Contextual allusions and Thematic Devices are identified too. There are comprehension questions for each of the chapters and developmental tasks that cover language and structure. In addition to this, I've started to include English Language style questions (I intend to teach Paper 1 the other side of this unit). I've included the worksheets as part of the pack. Each of the chapter specific power points takes about two hours to work through so there is scope for a lot more, but it depends on how quickly you read through the text. Lastly, I include some WORDLES which I use as starting points and are interesting little differentiation tools - one for each chapter covered (except chapter 10 for some reason - it's buried on a hard drive somewhere). I will add to this as I complete each batch of lessons.
A thematic exploration of Violence within Othello - focusing specifically on Act 4. Also, the power point starts with a little revision of characters and quotations from across the play. I found this a fun lesson.
I've taught this to top set year 8 and year 9 - had more success with the year 9s to be honest, but I think this would work with year 8s further in to the year. This was a series of lessons taught over the enormous 8 week half term. Hope the resources are useful to you!
A collection of resources that can be used to either go through specific English Language papers, or set up the students for a mock exam.
My second lesson. Here, I focus almost entirely on ACT 2 SCENE 1 and Iago's soliloquies therein. The notes element of the power point pulls a lot of thinking together from across a lot of sources - you'll need these notes to flesh out the tasks. I tie it up with an exam style question at the end focusing on what we can infer about attitudes to women. Quite pleased with how this looks and how it goes.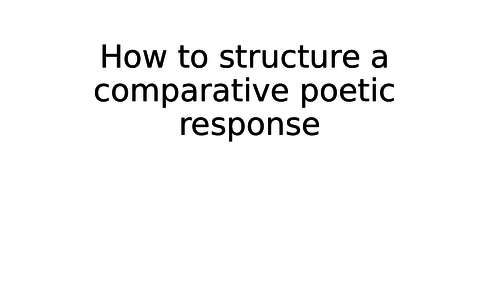 I used a similar approach with the Paris Anthology section and my class found it to be very useful. The issue they were having focused on incorporating enough AO1 terminology appropriately. This lesson is designed to talk them through an approach to an essay question, starting with the poetic voice, moving on to selecting relevant areas and then placing each level of language as a different starting point before exploring ideas across the language levels. It seemed to work… Hope others find this useful as a starting point.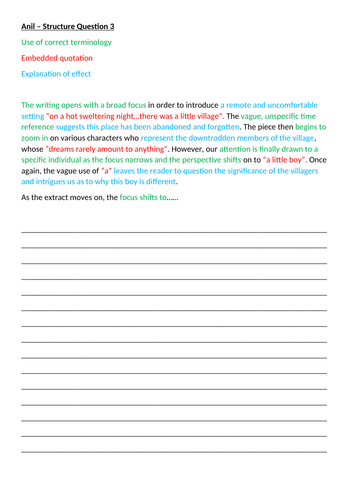 A variation on a selection of lessons that I sell elsewhere. Here, the center piece is a 26 page printable workbook that runs in tandem with the power-point lessons - ideal for a Summer Term 2 unit of work where you are reluctant to give the students a new work book, and working on paper is problematic. The text is Anil (from the old Sunlight on the Grass Anthology) and there is about 12 lessons worth of material here.