552Uploads
162k+Views
59k+Downloads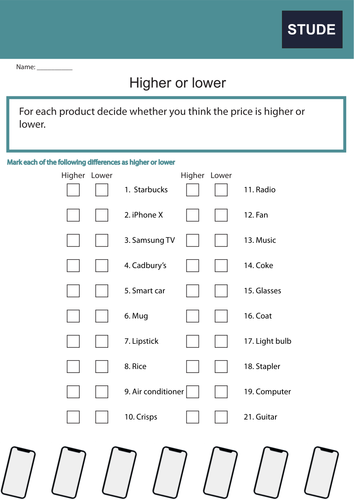 Created for Business Studies but also suitable as a game for tutor groups, Economics and citizenship. How much do things cost in the real world? Play this higher - lower game with the prices of the iPhone X and more.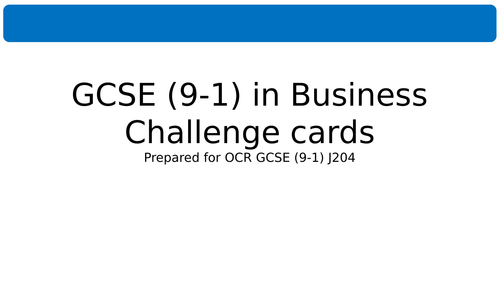 More than 150 business challenge cards that can be used to extend students, used as revision activities or given to students to answer at home. Mini tasks, questions, and statements to think about that can be used as starters, plenaries, flipped learning tasks or homework. Multiple questions one each of the following topics and sub-topics: Business activity 1.1 The role of business enterprise and entrepreneurship 1.2 Business planning 1.3 Business ownership 1.4 Business aims and objectives 1.5 Stakeholders in business 1.6 business growth Marketing 2.1 The role of marketing 2.2 Market research 2.3 Market segmentation 2.4 The marketing mix People 3.1 The role of human resources 3.2 Organisational structures and different ways of working 3.3 Communication in business 3.4 Recruitment and selection 3.5 Motivation and retention 3.6 Training and development 3.7 Employment law Operations 4.1 Production processes 4.2 Quality of goods and services 4.3 The sales process and customer service 4.4 Consumer law 4.5 Business location 4.6 Working with suppliers Finance 5.1 The role of the finance function 5.2 Sources of finance 5.3 Revenue, costs, profit and loss 5.4 Break-even 5.5 Cash and cash flow Influences on business 6.1 Ethical and environmental considerations 6.2 The economic climate 6.3 Globalisation

More than 100 A Level Business Studies multiple choice questions. One copy has no answers, one copy has the correct answer highlighted in bold.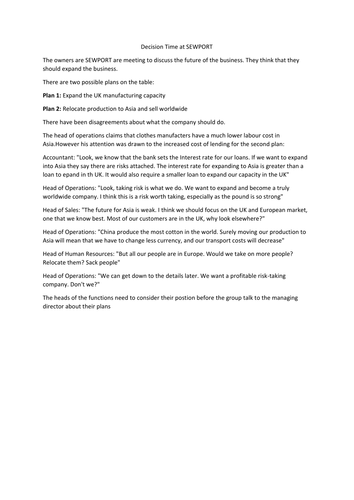 Students take a real company - SEWPORT LTD and consider whether they would be better to expand in the UK or move to Asia. Aligned with GCSE Business Studies for EDEXCEL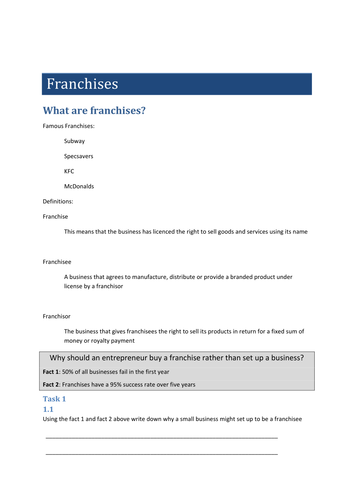 Franchises for GCSE Business Studies. A group activity and presentation for this type of business designed for GCSE business studies.

These starters are designed to take the effort out of planning for the 2017 Edexcel GCSE in Business Studies (1BS0). Designed for theme one, this represents over 50 different pictures. You can display the large image and ask the students their opinion about both the image and the topic in hand. The other slide is a cline around creating degrees of intensity - this is great for showing literacy in your lessons and enhancing the value of the time you have with your students. The idea is to provide you with a great start to your lesson with the least preparation time possible. Topics: 1.1 Enterprise and entrepreneurship 1.2 Spotting a business opportunity 1.3 Putting a business idea into practice 1.4 Making the business effective 1.5 Understanding external influences on business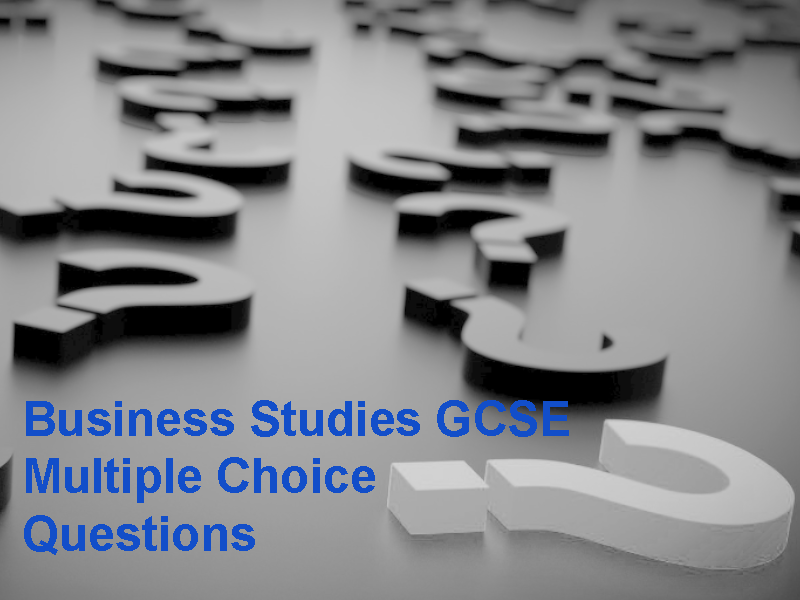 Over 100 multiple choice questions for EDEXCEL GCSE Business Studies (unit 1) Suitable for tests, games and lessons etc. Hours of preparation goes into these, and they are presented to save you that time. Also definitions for both unit 1 and unit 3 for EDEXCEL GCSE Business Studies.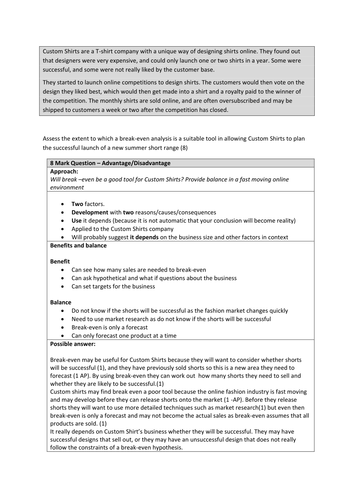 Full lesson for GCSE Business studies revision for the Finance unit (created for Edexcel but suitable for other boards). Contains presentation, student worksheet, presentation and eight mark question answer. A video accompanies this lesson. My revision video: https://youtu.be/NY4c-W7FbX8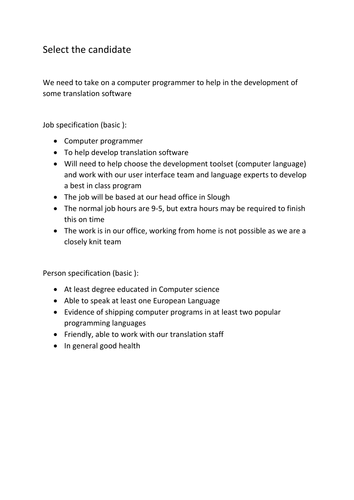 Activity where students select the candidate for GCSE Business Studies. They choose which candidate they think can best do the job stated. Great activity that can be used in groups or individually.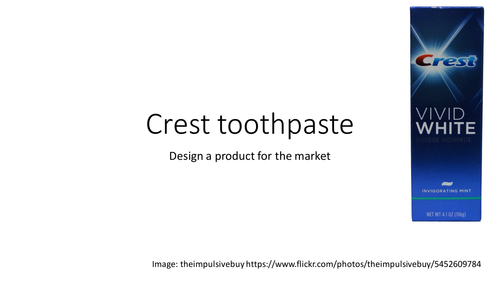 Group projects for a new Crest product. Students work in groups (3 or 4 per group) and develop a presentation for a new product. Included here is a case study for Crest, teacher presentation and evaluation sheet. You may choose the groups to evaluate each other.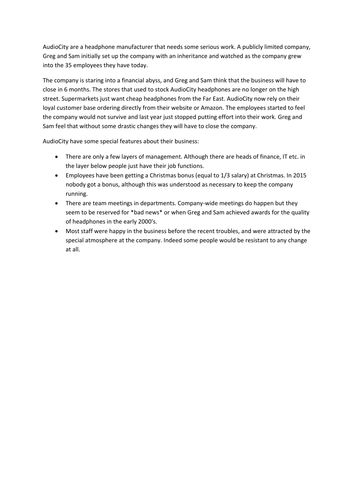 A set of 15 case studies for use in GCSE Business Studies. Ever struggled to think of a case study for use in a question or activity? Now that work has been done for you so use these pre-prepared case studies.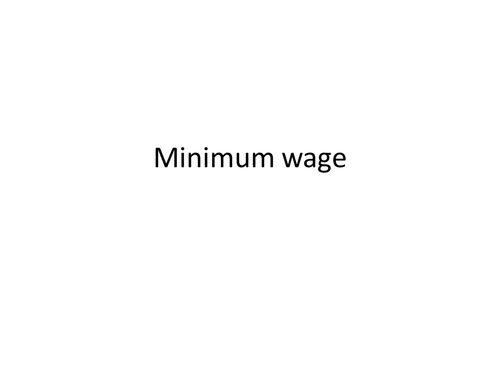 Material on the national minimum wage. Specification: GCSE Business for Edexcel (9-1) (1BS0) 1.5.3 Legislation and business Contains activities and presentation for your students.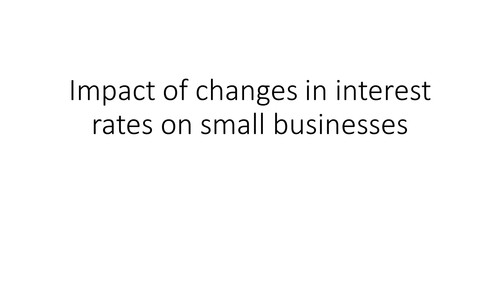 Material on Interest rates. Specification: GCSE Business for Edexcel (9-1) (1BS0) Part of section 1.5.4 The economy and business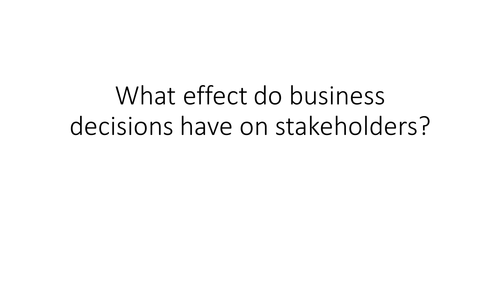 Material on the Stakeholders. Presentation with all the materials you need, ready to go. Specification: GCSE Business for Edexcel (9-1) (1BS0) Part of section 1.5.5 External influences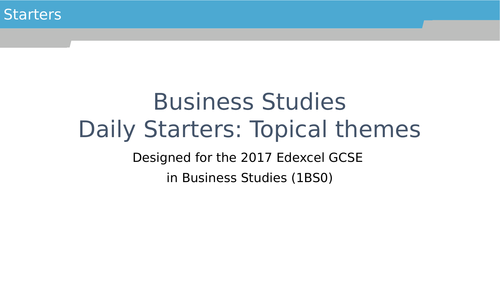 125 slides that give ideas for starters and ideas for events throughout the year. They are organised into the following topics: 1.1 Enterprise and entrepreneurship 1.2 Spotting a business opportunity 1.3 Putting a business idea into practice 1.4 Making the business effective 1.5 Understanding external influences on business Each subtopic has the reference to the syllabus.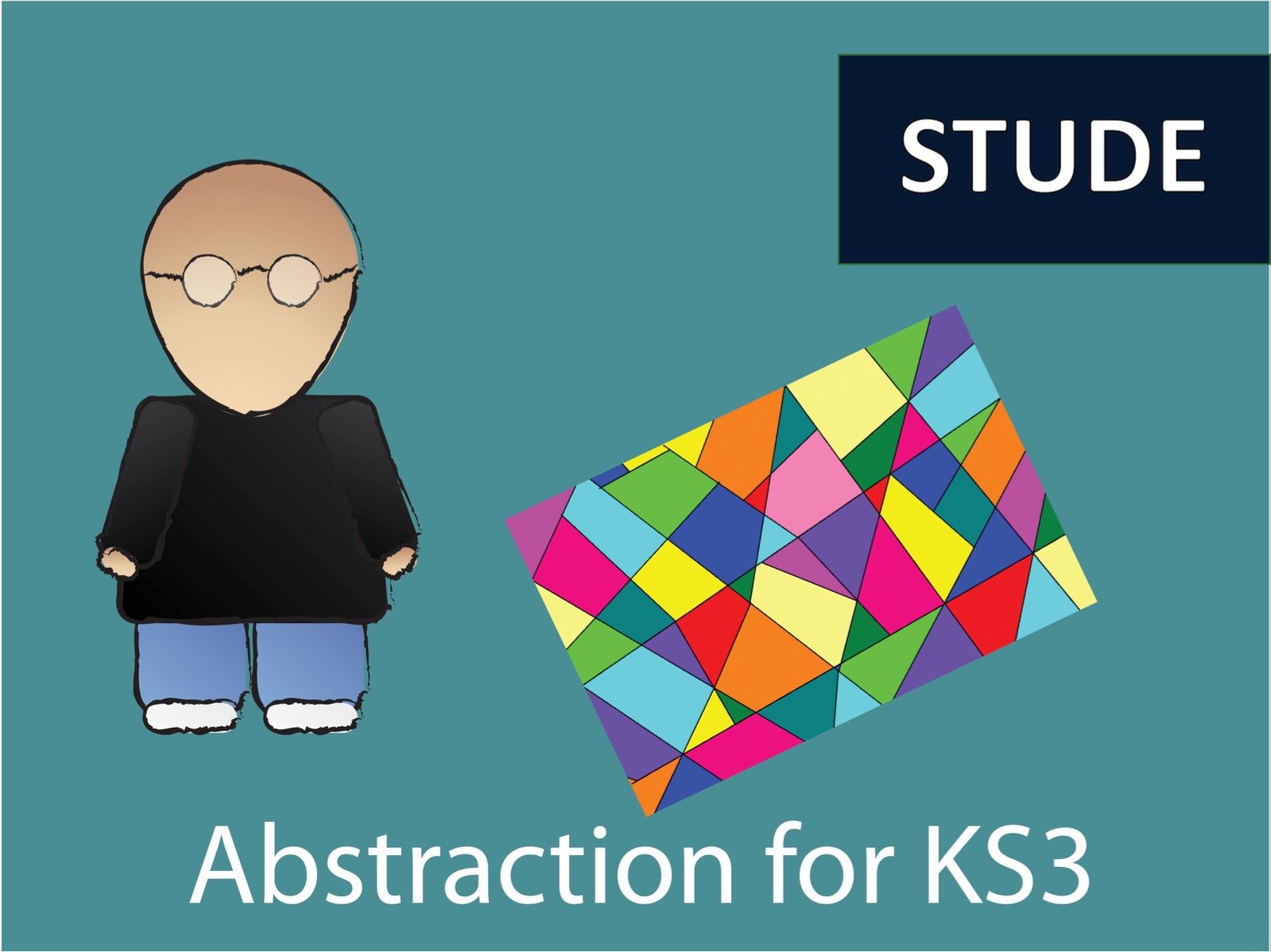 A fantastic set of resources. Abstraction is one of those topics where teachers may need a little extra help. Here are three resources that cut through what abstraction is and how students can really get to grips with this concept that is essential for computer science!

Designed for Edexcel. A unit with resources for all of the following; a) Introduction to Customer Needs b) Stock Control c) Design and R and D d) Quality e) Competitiveness f) Customer Service g) Consumer Protection Laws

A short presentation and homework about the most risky businesses. Class-tested resource to pick up a homework about the risks that Tesla face. Presentation covers the most risky businesses....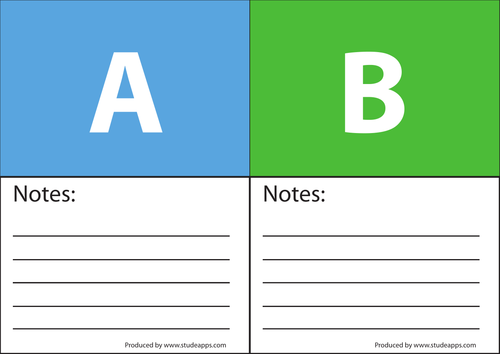 Used to vote for multiple choice questions (for example Edexcel Unit 1 Business Studies questions). Print in colour. Cut in half between the letters. Fold so notes page is on the other side to the letter. Laminate. Give to students with a whiteboard marker so they can explain their answers on the back.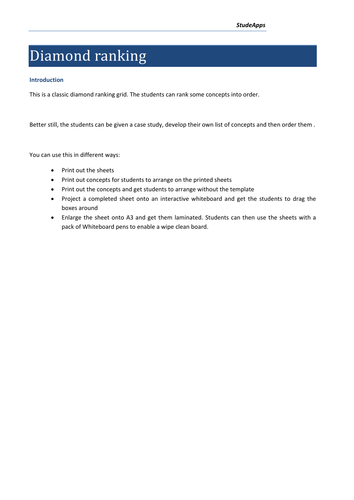 This is a classic diamond ranking grid. The students can rank some concepts into order. Better still, the students can be given a case study, develop their own list of concepts and then order them . You can use this in different ways: • Print out the sheets • Print out concepts for students to arrange on the printed sheets • Print out the concepts and get students to arrange without the template • Project a completed sheet onto an interactive whiteboard and get the students to drag the boxes around • Enlarge the sheet onto A3 and get them laminated. Students can then use the sheets with a pack of Whiteboard pens to enable a wipe clean board.