550Uploads
119k+Views
42k+Downloads

Fully resourced ice breaker games. Use these to help students introduce themselves to each other (and to you). There are 9 activities, some need no preparation, others need cards to be printed. You are free to pick and choose, but of course you can contact me for support if you need it. In order to use the App you would need to organise a set of iPad (or let student use or share iPhone or iPod as avaliable), but it is not essential to be used for the lesson.

A beautiful mindfulness presentation with 18 slides that is designed to be used for either an assembly or a session. Mindfulness is incredibly important in a busy school; but how can we educate our young people in such a skill? Perhaps stress levels have risen during tests and exams, and you have seen behaviour go downhill. Use this fantastic resource to raise awareness of mindfulness, and encourage your students to use the enclosed techniques to manage their stress levels and improve both their behaviour and wellbeing. New for 2019 - included a fun weekly log for students to practice mindfulness with.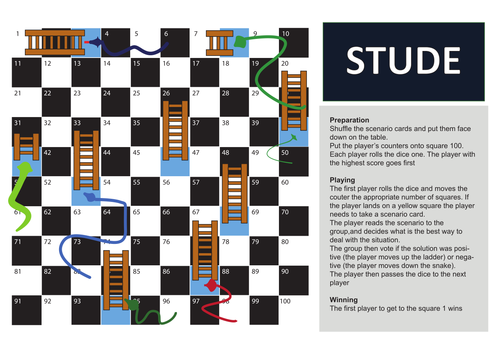 A game based around snakes and ladders. The perfect accompaniment to the respect assembly and worksheets by StudeApps. Simply use the respect scenario cards, print out the snakes and ladders game and you are ready to go!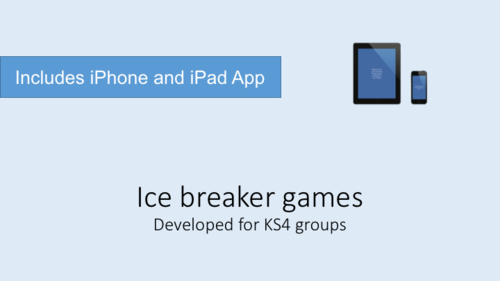 Fully resourced ice breaker games. Use these to help students introduce themselves to each other (and to you). There are 9 activities, some need no preparation, others need cards to be printed, and you would need to organise iPads (or iPhones) to use the App.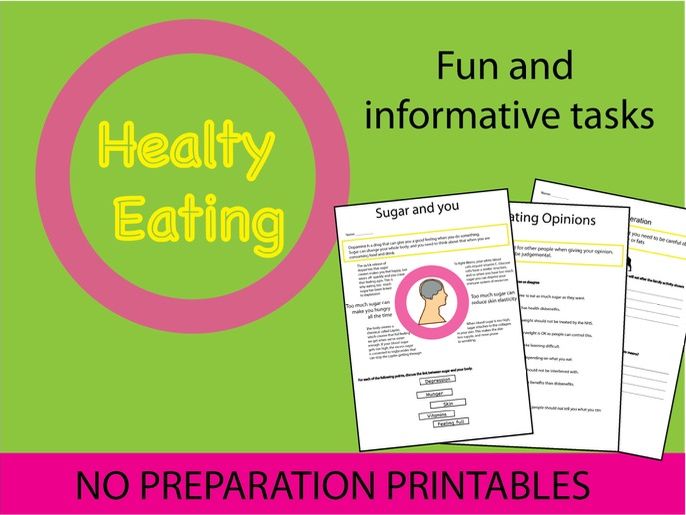 Help your students learn about Healty Eating! But let us take the planning out of it for you. A series of worksheets and exercises for your classes. Aimed at Key Stage 3 but can easily be adapted for other levels. Interactive activities, discussions, worksheets and more all stunningly presented and ready to go with no effort required from you! Keywords: Sugar, health, brain, hunger, elasticity, immune, resources, glucose, structure, excess, depression.

A note taking presentation for sixth-form students. Study based, and includes a video link for students to watch.

Heard of deep flakes? Face swapping of celebrities has become a thing online. But what does that mean for us? Do you students know about this? The KS3 resource stays away from the adult themes that are explored in the KS4 version, but do be aware that students may well be aware of the issues in swapping faces of celebrities online and may ask you about adult entertainment. Discretion is advised and you will know what your students are ready for and will be able to handle. Created to promote my ethical computing resources https://www.tes.com/teaching-resource/ethics-debates-for-aqa-gcse-computer-science-9-1-8520-11843144 and https://www.tes.com/teaching-resource/ethical-and-legal-debates-for-pearson-edexcel-gcse-in-computer-science-11834374. This resource is entirely free, but do look at my website www.studeapps.com if you have time, as any visits and feedback will help me to create other resources.

Designed for KS3 or high ability KS2 in Citizenship, English or Tutor groups. Contains worksheet, presentation, quiz, activities, poster and quiz all within this wonderful bundler. Schools have become extremely interested in Fake news since the the OECD announcement instructing schools to teach students how to identify fake news. These lesson resources do just that, and more!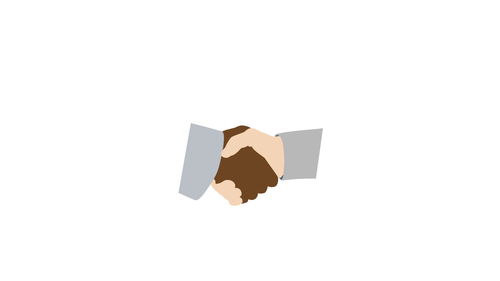 Designed for KS3 but easily modified to deliver to KS2 or KS4. After recent events, it is more important than ever for our students to respect both themselves and each other. This is more than just discipline and liking other people. This is about respecting difference and diversity in every context that we encounter. This assembly helps you to deliver just that.

Designed for KS3 but easily altered to deliver to KS2 or KS4. The OECD announced that schools should teach people how to identify fake news. This assembly resource does just that. Contains video resources, slides and a script. It is recommended that teachers check the content of the script and the videos before delivering this season.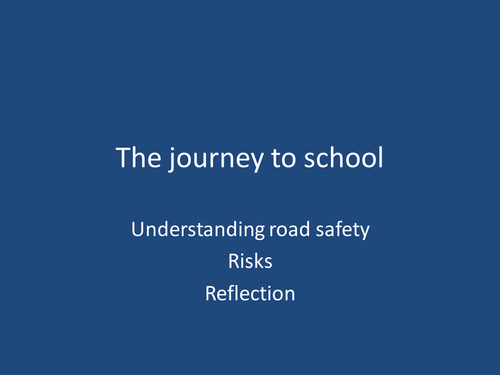 A lesson about road safety Presentation, lesson plan and activity worksheet. Suitable for both KS2 and KS3. Prepared for you, ready to teach!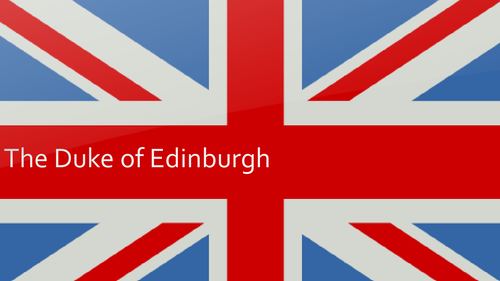 A presentation about the Duke of Edinburgh, with 30 slides that could be used for an assembly or a tutor time / information session.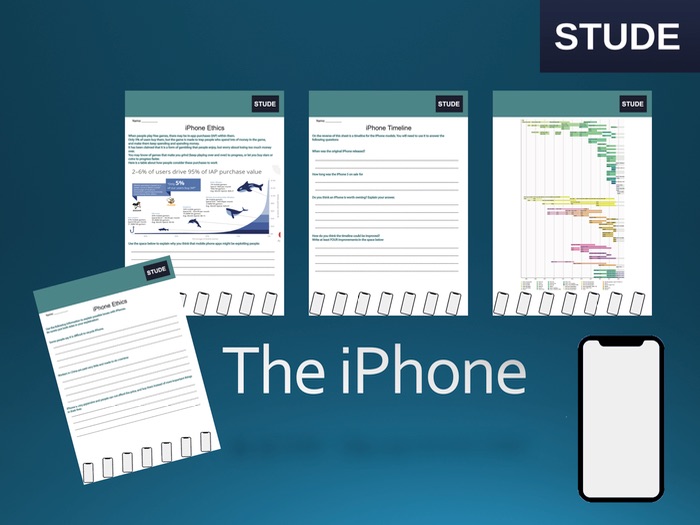 Today the iPhone 11 has been launched by Apple at an event in California. But what do our students think of the pressure that comes with needing to have a new phone each and every year? What are the ethics around purchasing a new phone? What about the way that you are tempted to make inapp purchases on your phone? This resource is designed to help you! A series of great resources around the iPhone. Presentations: iPhoneHistory Worksheets: Timeline Timeline2 Ethics Microtransactions Activities: iPhonehigherlower Can be used in Computing / ICT Citizenship Tutor time Assemblies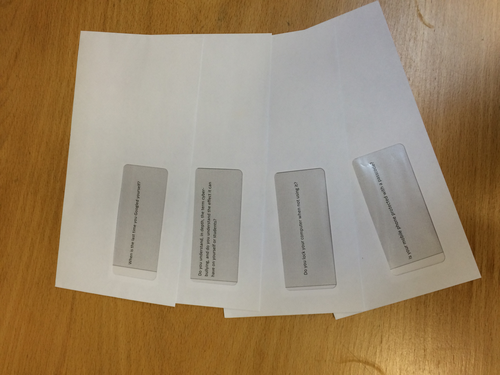 eSafety discussion task. Each comment has a surprising addition. To use this use envelopes with a clear window (as in the images Envelopes.jpg and Envelopessecond.jpg show). Students then follow the following instructions. We are going to order the questions in the envelopes from most to least important. Leave them in their envelopes for now 1. Do you think the question is relevant (in turn) 2. Why do you think that your question might be regarded as important (in turn) 3. Order 4. Remove from envelopes to see additional information. Does this change your mind?

Looking for a quick activity to do? Use this! Remember to follow StudeApps on Twitter or through tes for more free resources!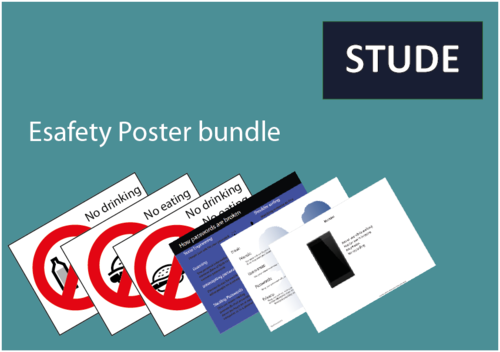 Poster pack for computer rooms

Create a Star of David out of paper! The declaration of independence for Israel was signed on May 14th, 1948. Celebrate with your students by creating a Star of David. Full instructions included and this is a fun activity for both you and your students!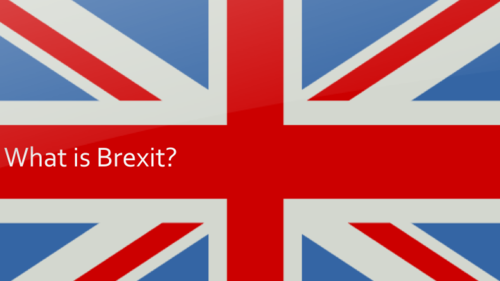 A 14 slide presentation on Brexit with accompanying lesson activities (one enclosed, one using the link below). Students need to know what Brexit is about, and also need to understand the British Values that need to be thought about during the Brexit negotiations. Best paired with the following free resource https://www.tes.com/teaching-resource/brexit-tutor-time-activity-11553910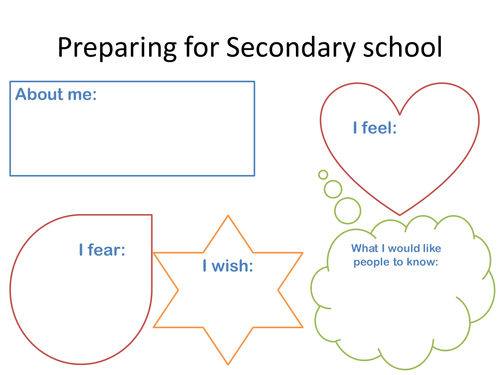 A session for students that supports and helps students understand how to manage the transition into secondary school. It gives them validation, and the opportunity to show their feelings in a safe environment. Preparing for secondary school could be used as a poster or a worksheet for the students to explore their feelings. https://www.youtube.com/watch?v=Q2udL7a4wsg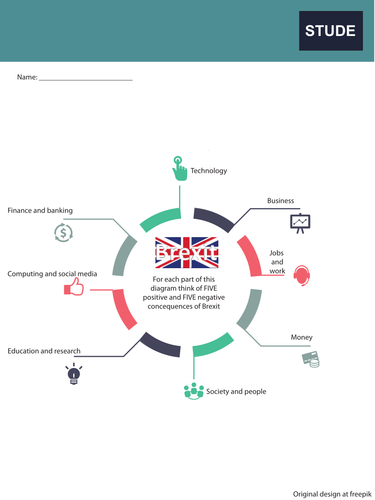 An activity for secondary schools. Fill out 5 advantages and 5 disadvantages for each part of the diagram. Can be used as part of a Brexit discussion.