44Uploads
4k+Views
1k+Downloads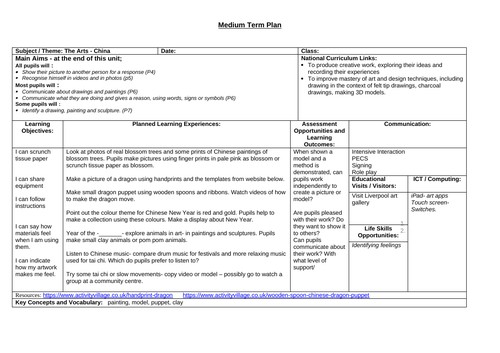 Medium term planning on the topic of China - includes Art, PSHE, Maths, Literacy, Science, Humanities. There is also a simple sentences powerpoint (colour coded like colourful semantics) for pupils to build sentences in Literacy.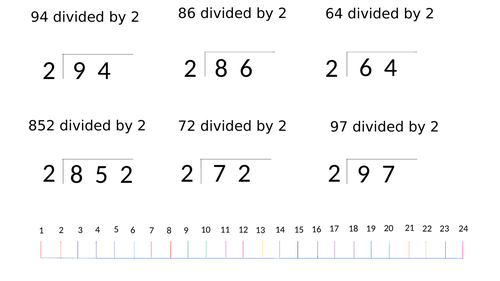 Short division (2, 3, 4 and 5) with coloured number lines (may be helpful for SEN students)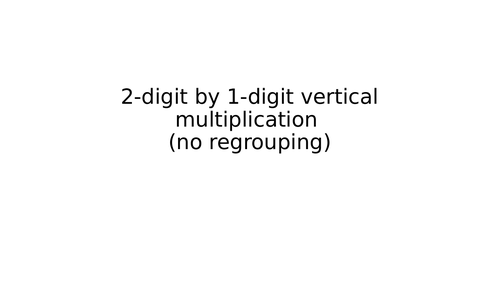 Colour coded example 2 digit by 1 digit vertical multiplication sums , useful for demonstrating multiplying the ones first and then the tens. Pupils use blue and red coloured pens to then solve some of their own. Useful for pupils in your class who need more support, SEN /ASD children as a more visual resource and those who have difficulty processing information.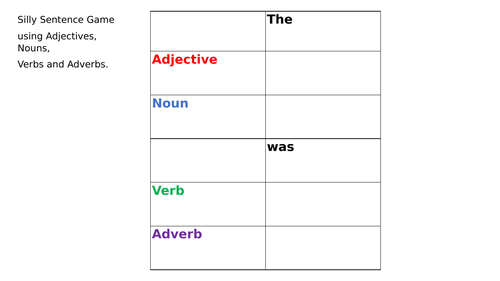 Print out the fortune tellers/cootie catchers. Pupils make them. There are you-tube videos to show you how. The fortune tellers/cootie catchers are coloured to represent nouns, adjectives, verbs and adverbs. The pupils work in pairs to play; they use the 'nouns' fortune teller/cootie catcher to find a noun and then fill this in on the corresponding worksheet. They then move on to adjective and so on…The end result is that they will build a silly sentence incorporating a noun, an adjective, a verb and an adverb. Good fun and practical learning activity!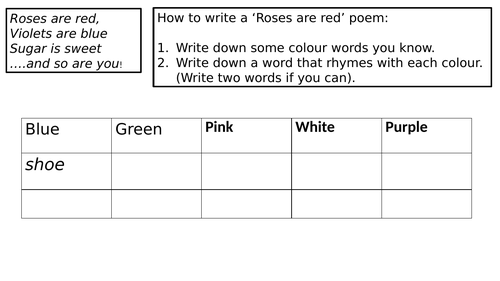 Selection of poetry worksheets and activities. Create a ''Roses are red…' rhyming poem (2 sheets) The Owl and the Pussycat. Order, identify nouns, verbs and adjectives and create new opening rhyme by changing some of the words worksheet (4 sheets) Selection of riddles for pupils to solve (1 sheet).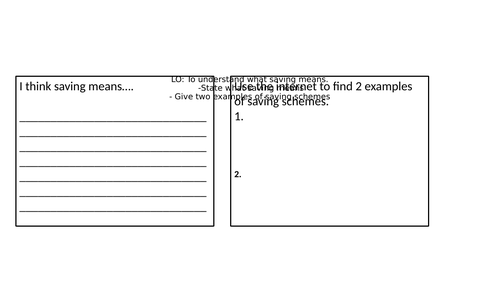 Worksheets and activities for functional skills budgeting: including Value for money Debit card versus credit card Saving and savings account Personal weekly budgeting activity Wage slip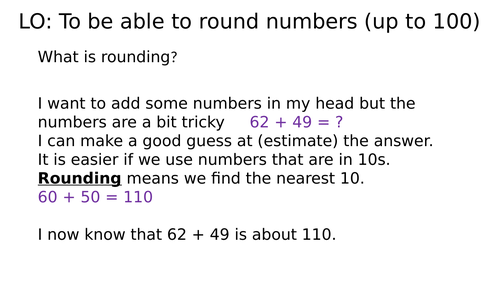 Powerpoint with number lines and answer sheet for pupils to record the number they would round up or down to.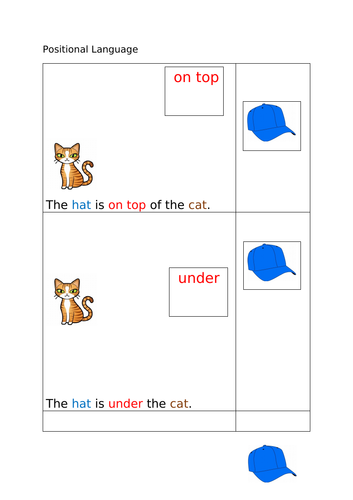 TEACCH approach positional language sheet with the following : on top, under, next to, above, below, beside. Could use to learn 'on top, under, next to' at an easier level, and 'above, below and beside' for a higher level. Laminate the sheets, cut and attach sticky velcro to the back of the cats and the positional boxes. Place the cat into the correct positional box to demonstrate position. Useful resources for TEACCH baskets and workstation trays. Can also be used in Literacy as part of a 'Reading Key Words' activity. This resource can be used for children who do not need a TEACCH approach activity / work-station activity by completing it as a simple cut and stick activity.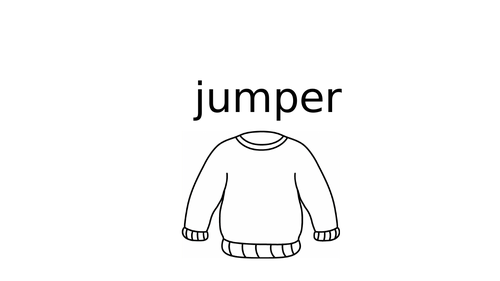 A4 clothes flashcards , can be coloured in, hung on washing line, put on floor to match to clothing items. Key words to buikd sentences: colour the key words and then use to build sentences, i.e this is a t shirt, these are trousers. Ordinal numbers to order clothes. Big, medium and small clothes to sort according to size, measure with cubes or a ruler.
An editable powerpoint to create a Year 6 leavers year book. Slides contain boxes to add class photo's, memories, messages to friends, future jobs, most likely to be and message from headteacher. You can add more slides as required and change page numbers on the bottom of the slides. You can present the powerpoint and/or print it out to make year books that can be put together with a binder for each pupil. Slides are landscape A4. 11 pages in total.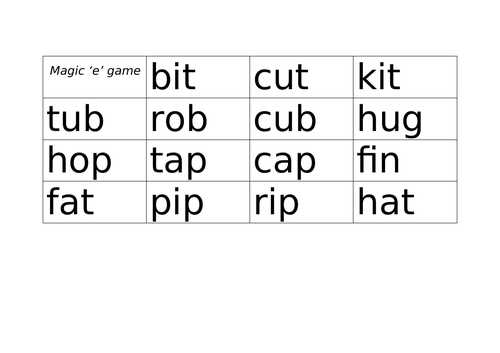 Read the CVC words. Cut out the 'e' and sad faces cards and place them face down on the table. Take turns to turn over a card. If you pick an 'e' put it next to one of the cvc words, read the new word and score a point. if you pick a sad face, it is the other player's turn. Read your new list of words using the magic e.
Bingo numbers to 50 in number and written form. 6 sheets. Each tens column is coloured in different colours to enable pupils to find the numbers with extra prompts if required, i…e 14, it's green.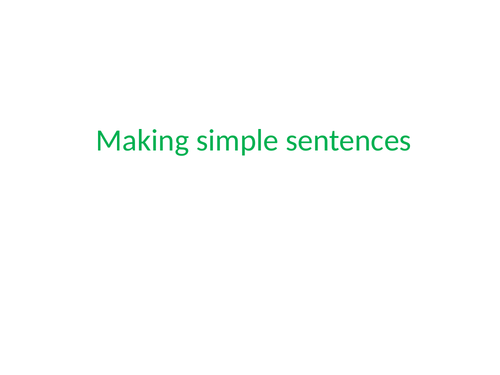 Colourful semantics sentence building activities with activities relating to China.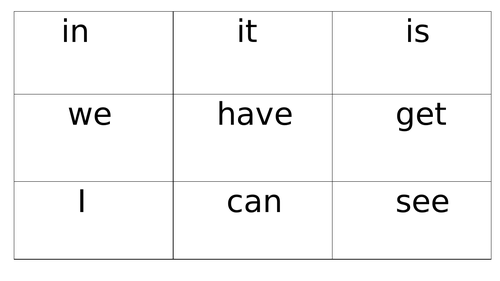 Key words - in, it, is, we, have, get, I, can, see. Simple powerpoint to print out or use on screen. Months of the year to order and colour the object in the picture according to simple instruction. Use the key words to read an write sentences, i.e. In January, we have snow. In February, I can see…it is…etc.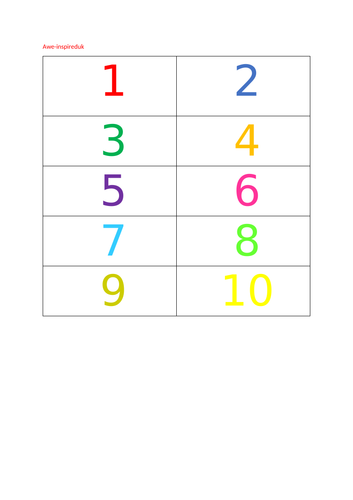 Empty-full. Laminate the resources. Cut the 'full' laminate into horizontal strips. Place onto 'empty' bottle using velcro to complete empty to full. Numbers 1-10. Laminate sheets. Add velcro. Match numbers - colour to colour. Dots to numbers. Progress to black and white inumbers and dots if colour achieved. Positional language. Laminate sheets. Colour coded to help demonstrate position. Alphabet. Laminate the sheets. Match colour to colour lower case to lower case and lower case to upper case. Progress to black and white for both lower case and upper case matching if colour is achieved. Tall and short. Laminate the sheets. Match colour to colour. Progress through the sheets which have less colour as visual prompting until matcthing black and white only. 2D shapes. Laminate the sheets. Add velco. Match colour to colour. Progress to black and white shape matching if colour is achieved.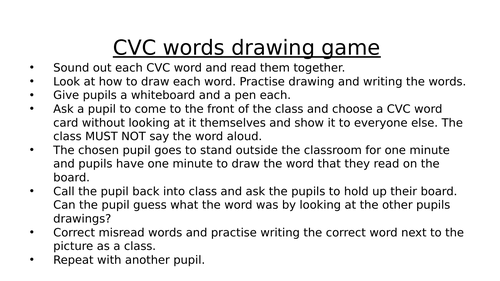 Pupils learn to read cvc words by drawing what they see. One person is asked to choose a cvc word and show it to the class without looking at it themself. This person then covers their eyes and the pupils have one minute to draw the word that they read on the card on their whiteboards. After one minute, hold up the whiteboards and the chosen pupil has to guess what the cvc word was by looking at the pictures his classmates have drawn. Teacher can check all pupils have read the cvc word correctly by looking at their matching picture on the whiteboard. (Sorry about my pictures - I tried to draw them how I thought children would !)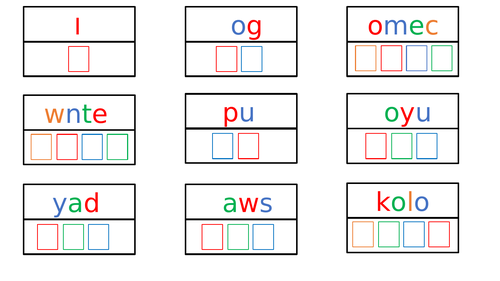 45 reception key words in anagram form. Could be used for SEN pupils who a re still working at writing/spelling these key words and need visual and structured resources to support their learning. Read the correct word from the key word list (on the back of these slides) and ask the pupils to spell the word. The boxes are colour coded so that they simply need to match the correct colour letter to the coloured box. As they become more able to spell some of the words, you can change the text to black and see if they can complete without the colour matching.