Every minute an educator spends on training should have an impact in the classroom. The Google for Education Training Center offers in-depth training for educators at every level. Courses are self-paced, guided, and designed to address real classroom needs.

Demonstrate your knowledge and ability to use Google tools in the Classroom by joining the ranks of Google educators around the world and completing a Google certification. Discover the Training Center below, or access it directly.
Become a Pioneer and inspire your students
Join TES, Blendspace by TES, and Google for Education in the exciting new Expeditions Pioneer Program. See the resources, Blendspace lessons, discussion questions, and expeditions that teachers are making for their classrooms (and yours!).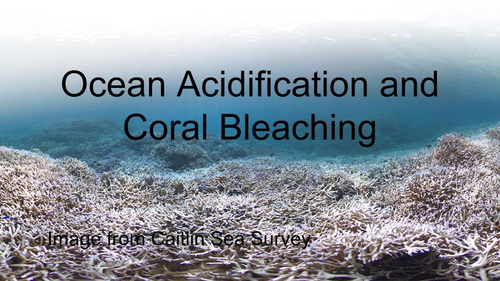 This expedition focuses on the two roles Carbon Dioxide has as a pollutant in the ocean. In the air Carbon Dioxide acts as a greenhouse gas, trapping heat and increasing atmospheric temperatures. This, in turn, increases ocean temperatures which is the leading cause of coral bleaching. Carbon Dioxide also dissolves in the water creating Carbonic Acid. This lowers the pH of the water, leading to ocean acidification.

This lesson includes class activities, demonstrations and expedition slides to showcase how the two roles of Carbon Dioxide are different, but both dangerous to biodiversity and ecosystem stability. A Google Doc lesson is attached in your download for easy use with Google Classroom.

What is a Google Expedition:
* Google Expeditions enable teachers to bring students on virtual trips to places — museums, underwater, outer space. Expeditions are collections of linked VR content and supporting materials that can be used alongside existing curriculum.

*These trips are collections of virtual reality panoramas — 360° panoramas and 3D images — annotated with details, points of interest, and questions that make them easy to integrate into curriculum already used in schools.


By
hbernasconi