Whole-school German resources: shapes
Keeping your class engaged with fun and unique teaching resources is vital in helping them reach their potential. On Tes Resources we have a range of tried and tested materials created by teachers for teachers, from pre-K through to high school.

Breathe new life into your lesson plans with our elementary, middle school and high school classroom resources. Whether you're looking for fun math worksheets or brand new guided reading activities, we have thousands of free and premium resources for you to download. From kindergarten to elementary you'll find K-5 resources, including phonics worksheets and numeracy games. From middle school through to high school we have everything from Spanish lessons to algebra activities, as well as Common Core-aligned lessons and revision guides for tests.
Read more
Set of 30 Bingo cards. Print on cardstock and laminate. Print call list on cardstock and cut into strips. Covers 6 basic shapes and 11 basic colors in German.
This is a card sort to help students learn words for 2D shapes (10 words in total). This would be a useful task with younger groups or low ability groups. There are three separate files, depending on how you want to present the task. - The 'teacher copy' shows a grid with all items already matched. - The 'student version' is a random layout, print this out and give to students. They can then cut out the items and match them, or stick them into their workbooks. - The 'quick cut' is designed so that you can produce 10 packs of cards quickly and easily using a guillotine. Each page has the same card 10 times over. This allows you to remove words that may not be suitable or needed. Alternatively you can print the same page twice double-sided to produce flash cards.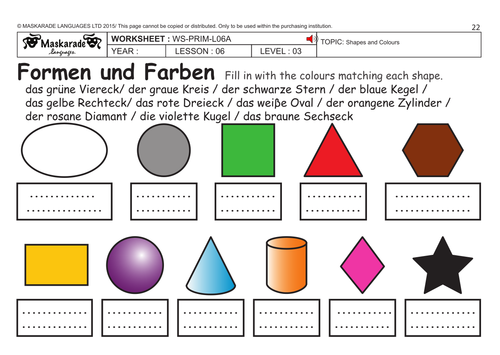 TOPIC: SHAPES AND COLOURS INCLUDES 6 printable activity worksheets to teach Key Stage 2 Key Stage 3 – and YEAR 7 students GERMAN about: • Geometric shapes • Adjectives • colours ACTIVITY Cut-out characters' masks for improvisations and role-plays TEACHER'S MATERIAL includes: • Clear lesson plan for students level 3 • Learning objectives • Key language • Learning expectations • Answers to all practical exercises (worksheets) • Game suggestions All PDF Activity worksheets are: • Usable on whiteboards • Include audio content To access audio use Adobe Reader and: Double click on RED sound icon to listen to the topic Also available in Spanish, French and English (ESL/ EFL). Cosmoville series