Whole-school areas of knowledge resources
Keeping your class engaged with new and interesting classroom resources is vital in helping them reach their potential. With Tes Resources you'll never be short of teaching ideas. We have a range of tried and tested materials created by teachers for teachers, from early years through to A level.

Breathe new life into your lesson plans with our primary and secondary classroom resources. Whether you're looking for fun maths worksheets or brand new guided reading activities, we have thousands of free and premium resources for you to download. From early years to primary, you'll find phonics worksheets and numeracy games and all you need to revise for Sats. From secondary to post-16, we have everything from French lessons to algebra activities, as well as GCSE revision guides and more.
Read more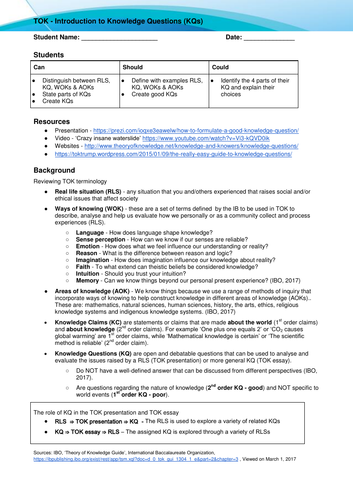 This is a student worksheet to help them distinguish between Knowledge Claims (KC) and Knowledge Questions (KQ). Further to distinguish between 1st and 2nd Order KCs and KQs. Links are provided to resources on the WWW specifically a presentation, video and webpages used to support the lesson. Lesson length: 45 to 60 minutes Document size: 3 pages Includes background information (page 1) and worksheet(page 2) for the student and an answer key (page 3) for the worksheet at the end of the document.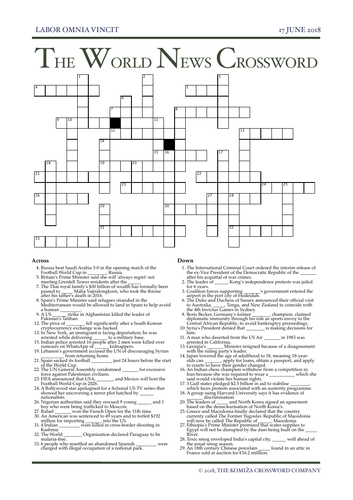 The World News Crossword - June 17th, 2018 is a 6 page PDF containing: A crossword based on last week's news events, A Search and Cloze puzzle that helps explain the Kashmir conflict, Another Search and Cloze puzzle that helps explain the Yemen War, and A crossword all about Yemen. (Did you know there are just 70 Arabian leopards alive in the wild? And they're all in Yemen.) So what happened last week? Raphael Nadal won the French Open for the 11th time. Boris Becker claimed diplomatic immunity in Central African Republic to avoid bankruptcy proceedings. About 700 immigrants were turned away from Italy but were allowed to land in Spain. An immigrant in New York was captured as he delivered pizza to a military base. FIFA announced the world cup will be hosted by USA, Canada, and Mexico (assuming they're all still friends then). Russia beat Saudi Arabia 5-0 in the world cup opening match. Saudi Arabia's military led a coalition of Arab countries in support of Yemen's government, attacking the Yemen port city. And an 18th century Chinese vase found in someone's attic sold for 16 million Euros.
Website for students and teachers with lots of videos, visual illustrations, worksheets, Prezis and PowerPoints on Theory of Knowledge issues, ways of knowing and areas of knowledge. It contains an ethics page, a philosophy page and a forum as well. Best to use with Richard van de Lagemaat's textbook, but this is not essential. It now includes the new ways of knowing, knowledge questions, knowledge frameworks and other references to the new specification.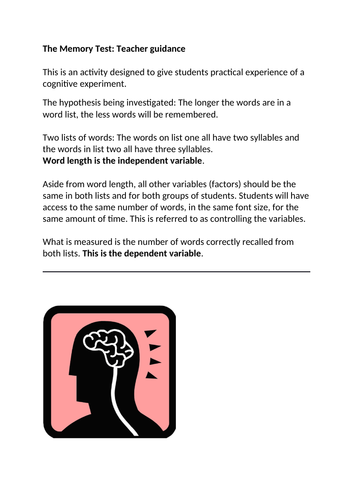 A memory test designed to give students a practical experience of the basic features of cognitive experiments - useful as starter/plenary activity or to foster discussion about the issues with this approach. Would also be useful for TOK teachers looking at memory as a WOK or at psychology as a human science.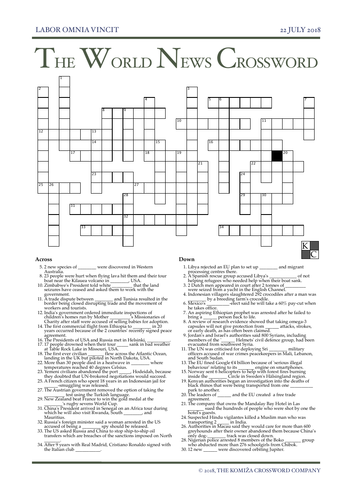 The World News Crossword - July 22nd, 2018 is a 6-page PDF document made up of 4 puzzles based on the events of last week's news. This resource, used on a weekly basis, is an excellent way to ensure your students' are** internationally minded** - a fundamental requirement of any of the IB's 4 programmes. What's in this week's document? (1) A crossword based on the events of last week's news, (2) A crossword all about Japan (which signed a free trade agreement with the EU and also experienced a devastating heatwave), (3) A crossword all about Libya (which closed its border with Tunisia and also did not approve the EU proposals to set up a refugee/migrant processing centre - did you know Libya has no permanent rivers?) and (3) A crossword all about Mother Teresa, whose orphanages in India were being inspected by authorities after accusations that staff had sold babies for adoption. (This puzzle is taken from our soon-to-be-released book, 'Women who changed the world'.) **What happened in last week's news? ** The EU fined Google for being very naughty and also signed a free trade agreement with Japan making trade easier. Libya closed its border with Tunisia, making trade impossible. Tourists were hurt by falling lava in Hawaii. Others drowned when their tour boat capsized in Missouri. China's President went to Africa and the first commercial flight between Eritrea and Ethiopia occurred. Two Dutch men were arrested when they were caught on a boat with 2 tonnes of cocaine in the English Channel and French man was released from an Indonesian prison after 18 years for drug-smuggling. It turns out that Omega-3 won't keep us safe from strokes and heart attacks, Cristiano Ronaldo is moving to Italy, and New Zealand beat France in the women's rugby sevens world cup final.
This is approximately a 2 hour research project for the IKS Area of Knowledge for the TOK course for the IB Diploma. Students should work in groups to complete the activities in the first two activity sheets, using the mind map template to help structure their arguments. They should then individually complete the personal reflection activity.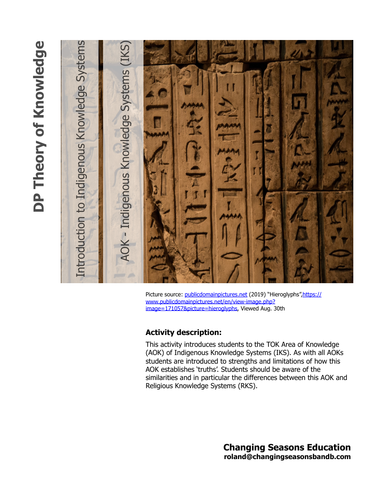 This activity introduces students to the Area of Knowledge (AOK) of Indigenous Knowledge Systems (IKS). Specifically, it helps students use aspects of the IKS specific knowledge framework (applying KCs, and WOKs to an IKS real life situation) to introduce students to the strengths and weaknesses of Indigenous Knowledge Systems. Understanding and using the strengths and limitations of this AOK is essential for students to effectively analyse and evaluate their knowledge questions (KQ) when preparing their TOK Essays and Presentations. Lesson length: 45 minutes to 1 hour Background information and link to video provided. A worksheet to help students apply the knowledge framework (pages 1 and 2) and answer key for the teacher are provided. The document is available as a PDF for printing and a Word document for editing.