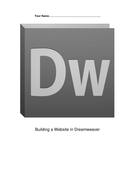 Introduction to Dreamweaver
I wrote these worksheets for a Year 11 Level Three course in Web Design using Dreamweaver CS and took it down to year 9, which worked just as well. It is designed to last around five sessions however you may like to break it down or use it as you wish.

it is for use with Dreamweaver CS.
Read more