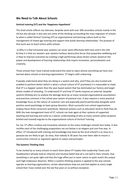 VT and Wellbeing (Updated Version)
This 3rd draft updates the existing copy on the TES site. It sets out to explain the connection between VT and wellbeing (happiness) and is another indictment of horizontal systems. It argues that learnng and teaching 'programmes' require a group learning support platform in place before or instead of programmes not after. It plots out how VT is all about wellbeing.
Read more
Report a problem
Creative Commons "NoDerivatives"