Whole-school Bengali resources: grammar
Keeping your class engaged with fun and unique teaching resources is vital in helping them reach their potential. On Tes Resources we have a range of tried and tested materials created by teachers for teachers, from pre-K through to high school.

Breathe new life into your lesson plans with our elementary, middle school and high school classroom resources. Whether you're looking for fun math worksheets or brand new guided reading activities, we have thousands of free and premium resources for you to download. From kindergarten to elementary you'll find K-5 resources, including phonics worksheets and numeracy games. From middle school through to high school we have everything from Spanish lessons to algebra activities, as well as Common Core-aligned lessons and revision guides for tests.
Read more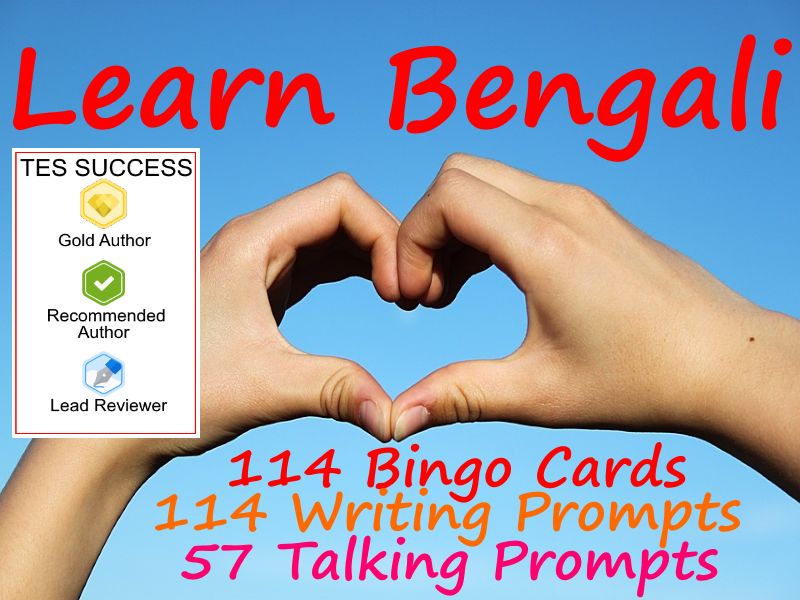 Are you learning Bengali? Are you looking for a fun way to learn Bengali? I have developed a way to learn different languages based on my experience as an ESL teacher. This pack has 57 different settings for students to talk about in Bengali. The worksheets themselves are in English and the students do need to translate the places and objects they see into Bengali. At the end of the session, the students can play a fun game of word bingo to show they have mastered that day's vocabulary. Try it, it is a lot of fun for everyone!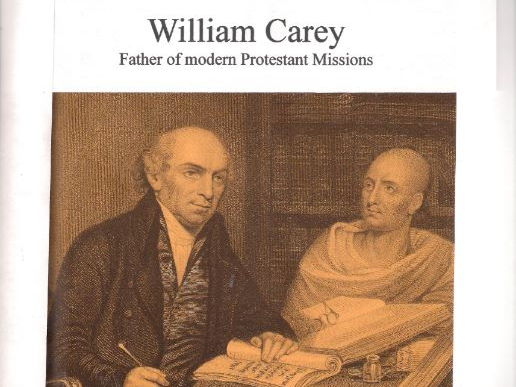 William Carey is regarded by many as the founder of the modern missionary movement and as one of the most important church missionaries in world history. He believed in going to the heathen not waiting for God to do it. 'Expect Great Things- Attempt Great Things.' He began life as a cobbler. After he was converted he taught himself New Testament Greek. He spent 50 years as a pastor/minister. He founded the Baptist Missionary Society. He spent 40 whole years in India, not having a furlough. He was responsible for the Bible being translated into all the major languages of the Indian subcontinent and many dialects and wrote a number of books. In 1818 William Carey and the Marshmans founded Scrampore college - today it offers theological and liberal arts education for some 2,500 students. The powerful, and now famous book , 'An Enquiry into the obligations of Christians to Use Means for the Conversion of Heathens' - along with many others, can be found, in full, on the internet. I have found several pieces of useful information. There is a chronology of his life, a short, readable, history of his life, plus a short crossword and word search. A 'typical day' reveals he must have used at least SIX different languages on that one day!! There is a vast amount of information about William Carey on the internet. God's extraordinary 'plodder' changed the course of history.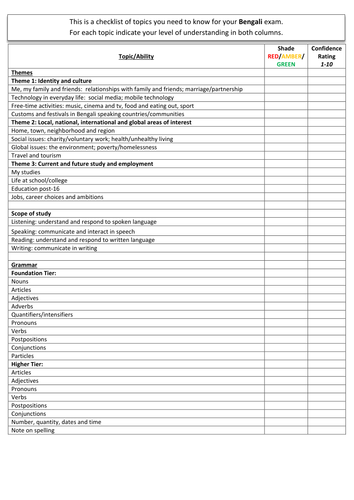 This download contains two Personal Learning Checklists (PLCs) designed for the AQA GCSE Bengali Specification. The first side is a PLC with two ways for the student to rate confidence and the second side features a key-word check as well as various DIRT tasks. This double-sided A4 worksheet is great for: -Revision lessons -AfL -Fostering teacher-student dialogue -Directed Individual Reflection Time (DIRT) -Exam preparation This is an ideal tool for your students to help them keep track of their learning, and help you monitor the classes strengths and weaknesses. It serves as a highly efficient form of self-assessment. On the reverse of the sheet are other useful measures that allow teachers to gauge a student's confidence and reflective abilities. The worksheet: -Allows the student to see clearly what they need to know for the exam. -Allows the student to communicate to their teacher how they can be best helped. -Gets the student to analyse their progress in relation to their target grade. -Encourages students to reflect in a structured manner on their necessary revision focusses. -Gets students to establish both a revision and an exam technique focus.