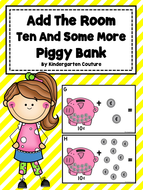 Add The Room To 20 -Piggy Bank
Add The Room To 20 -Piggy Bank
This Add The Room is a Counting On From 10 Add The Room. Students will write the equation represented on the task card which has a piggy bank with a 10 cents and single cents to count on. Small piggy bank counting by 10 to 100 cards are included for your use. See Thumbnails. This may be used at a math center, during small group time, or as an independent activity. This resource reinforces counting and cardinality skills, addition, including subitizing skills, place value skills, decomposing numbers into tens and ones, and numeral writing.
Read more
About this resource
Info
Created: Feb 5, 2017
Updated: Feb 22, 2018