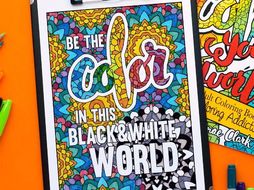 Adult Coloring Book | Color Your World: 20 Coloring pages about coloring - Printable coloring book
Calling all colorholics!

Are you addicted to adult coloring? This printable adult coloring book is full of funny, inspirational, silly and motivational quotes for every coloring enthusiast.

This printable PDF adult coloring book includes 20 quotes that will make you laugh or make you smile... or maybe they are things you've said to family or friends when you were challenged about your level of dedication to coloring that only a fellow colorist could understand.

Each coloring page in "Color Your World" has a unique quote and design that you can color in. It's digital PDF format means you can store it on your computer and print as many copies as you like for your own use, providing endless coloring possibilities and opportunities to experiment!

You can even just print your favourite pages and frame them as a gift for someone you know who loves to color, or for your craft room or coloring desk!

The quotes included in this coloring book include:
- "You can't color too much"
- "So many pages, so little time"
- "All the colors of the rainbow"
- "Don't ever tell me to stop coloring"
- "Sleep. Eat. Color. Repeat."
- "I'm a colorholics anonymous dropout"
- "To color or not to color?"
- "Color your world"
- "Coloring addict at work"
- "Color outside the lines"
- "Be the color in this black & white world"
- "Never stop coloring"
- "Color your way"
- "Color speaks louder than words"
- "Can't stop coloring"
- "I promise I'm almost done!"
- "Just one more page"
- "Life is made for coloring"
- "Put coloring at the top of your to do list today. At least you'll get one thing done!"
- "If anyone ever says 'You color too much' don't be their friend... you don't need that kind of negativity in your life"

Please check out the other printables and coloring books in my store.
Read more