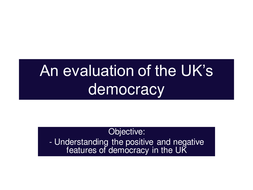 An evaluation of the UK's democracy
Positive features of democracy, negative features of democracy, rule of law, parliament
Read more
About this resource
Info
Created: Feb 24, 2012
Updated: Aug 19, 2015
This resource is designed for US teachers. View UK version .
Other resources by this author
Points of access, access points, the media, lobbying, direct action, parliament, civil servants, ministers, civil disobedience, boycotts, sit-ins, ...
Iceni_princess
Resources created to coincide with Black History Month in October 2017. The materials were designed for use with KS3 students. They can be adapted ...
Iceni_princess
Mobilisation, aggregation, education, monitoring, checks and balances.
Iceni_princess
Popular paid resources
Lesson on propaganda. The lesson looks at what propaganda is, different types of propaganda and then students create their own piece of propaganda ...
Geog2014
Lesson on political attack adverts and smear campaigns. The lesson identifies what an attack ad is, it's purpose and effect. Examples of attack ads...
Geog2014
for students studying edexcel government and politics includes essay plans on; war and terrorism, nuclear proliferation, the environment, poverty ...
norhanaziz
New resources
A picture tells a thousand words. The brain can remember images much easier than it can a large tract of text. Indeed when memory experts try and r...
IQResources
This lesson is at best an introduction to and at worse a reminder about a very useful revision technique. There are various different titles for us...
IQResources
This lesson gets the students to complete a range of tasks that will aid their revision but under the title of creating a news report. This lesson ...
IQResources
Updated resources
This collection of 17 lessons is for GCSE Religious Studies teachers who are teaching Christianity & Hinduism. It is for Theme B of the AQA Rel...
godwin86
This seven lesson unit is for teachers covering Hinduism as a comparative religion at GCSE level. It covers Theme B: 'Religion & Life' and focu...
godwin86
American Independence Day is on 4th July 2018. This resources consists of a quiz worksheet and 35 page PowerPoint presentation which includes: - im...
magicinkstand