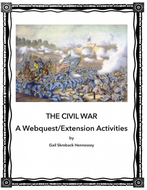 Civil War(Webquest/Extension Activities)
On April 12th, 1861 the Civil War began.The long and bloody war that ended in 1865, took the lives of over 600,000 soldiers leaving more than 1,100,000 soldiers injured. Learn about the Civil War with this webquest. Each of the 11 questions have lots of information.I've also included a number of extension activities and resource links.

PLEASE NOTE: 3/8/16- I check my web quests regularly. I see that History Place and Poc. Hill School links aren't working so I changed the links. Please download the most recent version.
Read more