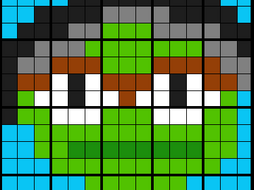 Colouring by Ratios and Equations - Oscar the Grouch, 30 Student Mosaic
Students each have a worksheet with 6 proportion problems and 6 multi-step linear equations. They use their answers to colour-by-number. Each worksheet represents a small section of the whole-class mosaic, which they collaboratively create by piecing their sheets together!

The end results looks great in your classroom. Encourage them to colour darkly, and to all use the same type of colouring medium.
Read more