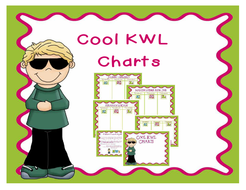 Cool KWL Charts - Planning and Assessment
K-W-L Charts track what a student knows (K), want to know (W), and has learned
(L) about a topic, and can be used before, during, and after research projects.

Using a K-W-L chart, students can prepare to research a topic and use it to track information gathered along the way. It will help students confirm what they know about a topic and encourage them to think about how they want to focus their research.

Ask students leading questions for each column of the chart, such as "what do you already know about this topic?" "What things do you want to learn about the topic so you can focus your research?" "What did you learn from doing your research?"

K-W-L charts are also a great tool for teachers to use at the end of a topic to assess how much the student has learned.

This resource includes a series of KWL charts for some of the more popular areas of the curriculum. It also includes a blank KWL charts for you to use for the topic of your choice.
By adding a School licence it allows you to share this resource with colleagues at your school. Without it, this resource is licensed for use only by you. Read licence details