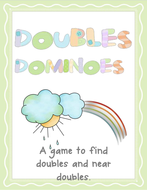 Doubles Dominoes - Doubles and Near Doubles
How to play

Sit children in a semicircle with the dominoes face up.
• Explain that the aim is to use doubling to work out the answers – adding the numbers on the dominoes.
• Model by picking a near double domino, e.g. 4/5.
Extract from the children:
How to work out the answer by doubling (known facts such as double four is eight, add on one makes nine)
If there are other way of using doubles (double five is ten take away one is nine)
• Children take turns to hold up a domino and explain how they worked out the answer.

Keep a brisk pace & turn over dominoes once answers have been given.
About this resource
Info
Created: Apr 15, 2017
Updated: Feb 22, 2018