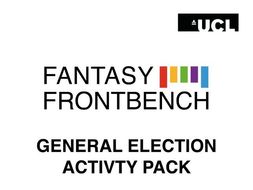 TES PICKS
Fantasy Frontbench General Election Activity Pack
The interactive activities and assembly included in this pack introduce students to the key principles of UK politics, promoting political engagement and citizen empowerment. They are suitable for use throughout the year but particularly at times of key elections and votes.

The activities have been designed to be as effective if run in part as in full and are suitable for use in tutorials and tutor time as well as in lessons.

What's included?

Activity 1 - The Frontbench
An activity to introduce students to the political spectrum, the difference between parliament and government, the process of cabinet and the first-past the-post system. Suitable for all levels.

Activity 2 - Policy Priorities
An activity to promote political engagement by guiding students to make the link between general
elections and decisions that affect them. It highlights important decisions made by different cabinet
posts and encourages students to reflect on their personal policy priorities. Suitable for all levels.

Glossary of terms
A glossary of political terms to support the activities included in this pack.

Assembly - Computer Says Vote: The role of technology in UK general elections
An assembly that charts the history of the way technology has been used in UK general elections and the impact it has had. It explores the area of 'digital democracy' and introduces some online tools that students may find useful when engaging with politics. Suitable for KS4 and KS5.

The resources in this pack have been developed by Fantasy Frontbench volunteers working in secondary and higher education. If you have any questions or feedback, please send this to info@fantasyfrontbench.com

Fantasy Frontbench is a not-for-profit organisation, which aims to present political information in a format that is engaging and accessible. University College London (UCL) Public Policy is the official academic partner for the project.
Read more