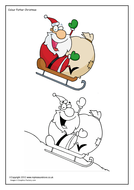 Father Christmas Coloring sheet
A coloring sheet for children with a Santa theme.
Read more
Other resources by this author
A powerpoint presentation introducing the London Olympics, mascots, motto, emblem and the events taking part within it.
lbrowne
A colourful animated powerpoint aimed at discussing transition with pupils who are moving on to new classes or schools.
lbrowne
A collection of pictures and discussion points around friends and relationships. Supporting Seal and PSHE + C lessons. Great for visual learners an...
lbrowne
Popular paid resources
10 fully resourced lessons to prepare students for the AQA English Language Paper 2, Section A exam: 'Writer's Viewpoints and Perspectives'. This r...
RojoResources
These 'Library Challenge' cards were made for my class library, but they could be used in a school library as well. The idea was just to get the ch...
sh2810
Children loved making pizzas at our Italian pizza class. Resources have been exported from an Activ-primary flip-chart. (Which also includes Italia...
jreadshaw
Updated resources
The Worksheet contains 2 banks of persuasive skills. Set 1: Basic Techniques for persuading your audience for hitting Grade 4-6 (new GCSE) and Set ...
chirpyandcheerful
PLEASE NOTE: this lesson can be bought and used in isolation or as part of a bundle for sale on my TES Author's Page. This lesson uses 'campaigns' ...
chirpyandcheerful
This bundles includes 9-11 lessons based on "Persuasive Writing". This pack includes whole lessons that have everything you need to teach the topic...
chirpyandcheerful
7 Resources

20% off

$13.31

$

10.65