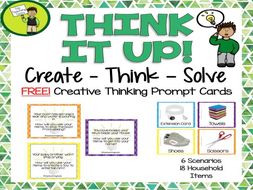 TES PICKS
FREE Create - Think - Solve Creative Thinking Prompt Cards
These FREE Create – Think – Solve Creative Thinking Task Cards were designed to provide many opportunities for creative thinking in your classroom! By working to solve the problem in each scenario, students are challenged to use 'out of the box' and imaginative ideas to communicate their solution to others. Use as a Creative Thinking Whole Class exercise, for Daily Writing Prompts, Explanation Writing, Impromptu Speeches, Class Debates – the possibilities are endless!

Check out this video for a demonstration of how this product works! - http://bit.ly/2emL76T

How could a watch, an umbrella and a wheelbarrow help rescue a cat stuck in a tree?
How could a basketball, a broom and a garden gnome help set a trap to catch a burglar?

Use our Create - Think - Solve Creative Thinking Prompt Cards to find out the answer (or should we say MANY possible creative answers!)

Creative thinking is important!

Creative thinking involves the use of the imagination, communication skills, problem solving, mathematics, scientific thinking, and interpreting information. Open-ended scenarios are a great way to get children's creative juices flowing. Choices, comparisons, entertaining new ideas, and formulating personal responses to these problems are all-important ingredients in creative thinking.

In this FREEBIE you will receive:

1. 18 household item cards.

2. Six scenario cards with creative problem solving scenarios.

3. Two Tips For Use pages with explanations of how you can use this resource in your classroom!
About this resource
Info
Created: Oct 30, 2016
Updated: Feb 22, 2018
Other resources by this author
This Super Sight Words Bundle features the 52 Kindergarten Dolch Sight Words AND 40 PreK (Primer and Pre-Primer) Dolch Sight Words in engaging supe...
topteachingtasks
This pack involves 154 Year One Sight Word Flash Cards based on the New Zealand (NZ) curriculum High Frequency Sight Words. Use these flash cards a...
topteachingtasks
This Maori Myths and Legends Reading Resource includes FOUR Year Five and Six, Literature texts with six engaging text dependent higher order think...
topteachingtasks
Popular paid resources
10 fully resourced lessons to prepare students for the AQA English Language Paper 2, Section A exam: 'Writer's Viewpoints and Perspectives'. This r...
RojoResources
These 'Library Challenge' cards were made for my class library, but they could be used in a school library as well. The idea was just to get the ch...
sh2810
Resources to introduce dystopian/post-apocalyptic literature conventions to AS students, but also suitable for GCSE or KS3 students. Designed to le...
archev
New resources
Three writing resources based around the truce in the trenches.
15step
Over 100 plenary ideas - make each lesson fun and varied with over 100 different ideas for plenaries, assessment activities and ways to sum up or e...
lordturner
Updated resources
Literature / Book Quiz This INTERACTIVE World Book Day quiz has 7 rounds consisting of a variety of activities and is perfect for Tutor Time or a f...
TeachElite
Our printable The Sabbath Activity Book is a wonderful way to help students learn about God's Appointed Times in a fun creative way. Includes 21 pr...
pip29
Need help teaching your students more about the Spring Feasts? Our printable First Fruits Activity Book is a wonderful way to help students learn a...
pip29