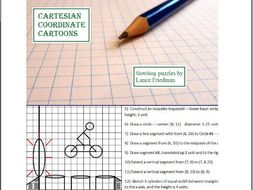 Geometry Cartesian Coordinate Cartoons
Introduce, learn, and review basic coordinate geometry concepts. (plotting points, line segments, slope, midpoint, and shapes are integrated into the 14 puzzles); If you'd like to see a sample or purchase a different format, contact us at mathplane.com.
Thanks for visiting. Proceeds support the TES and mathplane sites.
About this resource
Info
Created: May 17, 2017
Updated: Feb 22, 2018
Other resources by this author
This calculus packet includes detailed examples, plus a 6 question practice test containing related rates of change questions. Applications utilize...
mathplane
This 15-page introduction to Loci includes notes, examples, and 13 quiz questions (with detailed solutions). Geometry topics include compound locus...
mathplane
These 150 Geometry, Trigonometry, Algebra II, and Pre-Calculus questions help review for the SAT Subject Math Test (***LEVEL 2). Increase knowledge...
mathplane
Popular paid resources
A self-contained game to be played in pairs. Use to revise reading coordinates on a grid. Best played once coordinates have already been introduced...
Miss-Becky
Recommended by TES Panel. An investigation which allows the learners to find the rules for transformations plus some example questions. PLEASE REVI...
kmbheck
2018 VERSION NOW AVAILABLE HERE! (copy and paste link) https://www.tes.com/teaching-resource/new-2018-ks2-sats-revision-ultimate-3-in-1-maths-organ...
ambowers2
Updated resources
Differentiated RAG Exit tickets on changing the subject of a formula. Students were able to pick their own level of difficulty, and were required t...
missjhross
Ladder style worksheet on Changing the Subject - differentiated by outcome. Students begin at the bottom of the worksheet, and work their way towar...
missjhross
This activity gives students practice at expanding a bracketed expression which has been multiplied by a single-digit number. Click --> https://...
Maths4Everyone