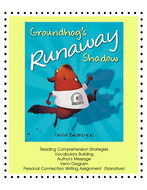 Groundhog's Runaway Shadow
As children, Phil the groundhog and his shadow were inseparable! They loved to play. When Phil became an adult, his life changed, and his shadow started to embarass Phil because his shadow was acting "offkey." When Phil tells his shadow to leave him, shadow uses this chance to travel and do what he wants without Phil. Phil misses his shadow. The shadow misses Phil. Will they reunite?

My Guided Reading packet includes reading comprehension strategies, vocabulary building, a Venn Diagram, an Author's Message, and a narrative writing assignment. What a fun way to spend Groundhog Day, or any day!
Read more
About this resource
Info
Created: Jan 16, 2017
Updated: Feb 22, 2018