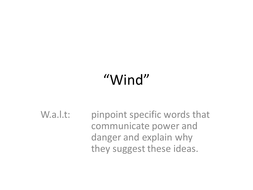 KS3, "Wind", Ted Hughes, Poetry, Analysis, PEE, Language, KS4, Unseen Poetry, English Literature
I made this lesson for my lower ability year 8 class. The aim of the lesson is to pinpoint specific words that communicate power and danger and explain why they suggest these ideas. The lesson is intended to enable them to tackle a demanding poem via a more accessible route. They're guided through an exploration of some of Hughes's language when describing the wind with a specific focus on 'flung' and 'wielded'. The pupils are asked to record their idea about the effect of the language in a table and are then asked to respond to this question: In "Wind", how does Ted Hughes present the wind to the reader? The success criteria for this task are given at the very start of the lesson and then again at the end of the lesson so that the pupils can complete some self-assessment either before handing in the work as a form of proof-reading or instead of teacher marking.
This lesson could also be used at KS4 with weaker students who are intimidated by the unseen poetry question for English Literature; it's a gentle way in which will make the students feel as though they have achieved some success.
Get this resource as part of a bundle and save up to 54%
Categories & Grades