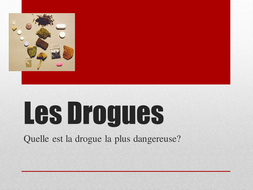 Les Drogues
Sentence building acitivity; students require knowledge of 3rd person singular and 3rd person plural
This resource is designed for US teachers. View UK version .
Categories & Grades
Other resources by this author
Simple instructions in French how to make a bunyy out of empty toilet roll or empty kitchen roll. Suitable for any KS
TTyler
Sentence building acitivity; students require knowledge of 3rd person singular and 3rd person plural
TTyler
Self-assessment or peer-assessment. I used a larger version as classroom display, so pupils could find the right person to help them with a particu...
TTyler
Popular paid resources
PowerPoint and accompanying workpack designed to encourage pupils to use a variety of complex structures in their spoken and written French. An ext...
maryjane1969
This is a lesson I produced for my Lower Sixth to introduce the subjunctive. There is a worksheet to accompany the presentation with a fairly compr...
maryjane1969
Print out the cards and laminate them. Pupils work in pairs or small groups and race against each other to form the perfect tense with the cards af...
maryjane1969
New resources
Quiz sur Noel : multiple choice exercise on the topic of Christmas
Zoe2007
Powerpoint slides and worksheets introducing and practising language to discuss helping marginalised people in society. There are links to five rel...
lucyday73
Quick printable to cut out, laminate and label: Rooms in a primary school Items in a classroom Raise the profile of French in your school by making...
naomifrench
Updated resources
I have collated all essay titles I have found for the new and old specification. I hope it can be of use.
Nanouche
KS4 French resource on the environment. A PPT to introduce this topic. A mindmap to practice writing/speaking about the environment and to revise. ...
audebie
This resource consists of two series of 20 phrases with 2 Common Grammar mistakes in each sentence. First part is a series of 20 Foundation phrases...
jeromsauvin