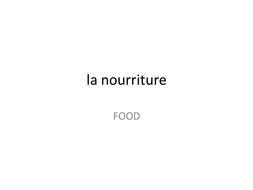 Meals
Introduction and practice of vocabulary
About this resource
Info
Created: Feb 29, 2012
Updated: Aug 19, 2015
This resource is designed for US teachers. View UK version .
Other resources by this author
PowerPoint to revise for GCSE Foundation Listening and Reading. Designed for a 2 hour revision slot with links to websites, some adapted materials ...
simoncox64
Designed for a 2 hour revision session - links to websites, other people's ideas sometimes adapted and a smattering of my own thoughts - updated si...
simoncox64
GCSE Vocabulary revision - designed for the former AQA spec but language is language! Multiple choice vocabulary test booklet.
simoncox64
Popular paid resources
PowerPoint and accompanying workpack designed to encourage pupils to use a variety of complex structures in their spoken and written French. An ext...
maryjane1969
This is a lesson I produced for my Lower Sixth to introduce the subjunctive. There is a worksheet to accompany the presentation with a fairly compr...
maryjane1969
Print out the cards and laminate them. Pupils work in pairs or small groups and race against each other to form the perfect tense with the cards af...
maryjane1969
New resources
Quiz sur Noel : multiple choice exercise on the topic of Christmas
Zoe2007
Powerpoint slides and worksheets introducing and practising language to discuss helping marginalised people in society. There are links to five rel...
lucyday73
Quick printable to cut out, laminate and label: Rooms in a primary school Items in a classroom Raise the profile of French in your school by making...
naomifrench
Updated resources
This is a powerpoint introducing pets in French. Once the vocabulary has been introduced play the happy families card game which is included. Simpl...
CrookedSteeple
Allez 2 Unit 1.2 - Quelques français célèbres The perfect bundle for a continuation lesson of 1.2 of Allez 2! All tasks are differentiated and scaf...
Monsieur_R
These resources explicitly looks at verbs using 'avoir'. Depending on the curriculum, students at Key Stage 3 level may have an early acquaintance ...
KRIS240680