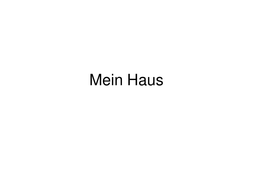 Mein Haus
<p>Powerpoint presentation on rooms in the house. Can be used with mini whiteboards.</p>
This resource is designed for US teachers. View UK version .
Other resources by this author
Gap fill exercise. Clues can be cut up and placed around the classroom - find the clues and complete the timetable.
melissabullock
Quick starter activity to review auxiliary verbs - press s to stop slides.
melissabullock
Tool for randomly selecting students in your class - this is one I use with names removed. Simply add the names of students in your class, play fro...
melissabullock
Popular paid resources
This worksheet requires knowledge of dates (see die Daten Schritt um Schritt 3C). This worksheet deals with how to describe and understand someone'...
vettyjames
This worksheet practises creating dates using numbers and months. There are 2 exercises (German to English and English to German) and all necessary...
vettyjames
this is an audit of the paper 2 topics and formats. An educated guess as to which topics and formats are on Paper 2 this year, May 2018. Based on t...
Juls2110
New resources
Quiz quiz trade cards for internet activities with gern and nicht gern and frequency phrases
nilex
This resource introduces 14 pets with a range of practice activities. It introduces the question 'Hast du ein Haustier?' and a range of possible an...
cgazzal
Reading and writing resources to support "in meinem Leben" and "Mein Vorbild". Easy to print and edit. Can be used as classwork...
rooney33
Updated resources
Two 1 hour lessons based on p102-103 of Stimmt 1 book. To be used with Pearson Learn online book, as there are listening activities involved. 1st l...
chloeb1995
A selection of worksheets in workbook format, ideal for developing understanding of, and competence in, conjugating regular and irregular GERMAN ve...
LivelyLearningClassroom
Board game using reflexive verbs to describe your daily routine. Times have also been added, so as to revise 'À Quel heure?' Please see worksheet f...
labellaroma