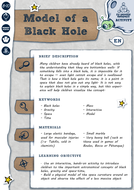 Model of a Black Hole
Many children have already heard of black holes, with the understanding that they are bottomless wells. If something falls into a black hole, it is impossible for it to escape — even light cannot escape and is swallowed. That is how a black hole gets its name; it is a point in space that does not give out any light. It is not easy to explain black holes in a simple way, but this experi- ence will help children visualize the concept. Black holes, Gravity, Space, Time
Other resources by this author
Many children have already heard of black holes, with the understanding that they are bottomless wells. If something falls into a black hole, it is...
unawe
Review the environmental factors that make Earth habitable and compare them to another world within our Solar System. Use creative thinking to desi...
unawe
An understanding of optics begins with exploring and enjoying the fun and tricks of light. In this activity, make a simple periscope that will let ...
unawe
Popular paid resources
This is a PowerPoint all about spring. It's in two parts: the first part is fifteen pages and includes new plant life, young animals and insects th...
Teachersgem
*This resource has been recommended by the TES Resource Team* *UPDATED JANUARY 2017* Added a crossword puzzle with answers. This resource pack incl...
sciencecorner
A selection of activities to support students literacy and increase their engagement in science. To be used in class, as homework or during tutor t...
sophiemunday
New resources
Planet Table Names. Full A4 Images. These were created to hang above tables from the classroom roof. You can, of course, use them however you like....
ashleyclayton90
September's Topical Science Update features Extreme Weather, Wasps, Cassini and the Solar Eclipse.
paultyler
Bookmark with key vocabulary for Year 5 Earth and Space unit
leprechaun1992
Updated resources
Volcanoes are a favorite topic of young children. This file gives examples of a variety of words we encounter when exploring the topic. 16 subject ...
MaryCarr51
This resource contains a 25-slide PowerPoint slideshow on Earth Day. It is a preview of a more detailed, 75-slide assembly / lesson presentation. S...
Krazikas
There are two Earth Days. The United Nations celebrates Earth Day each year on the March equinox. Another Earth Day is celebrated each year on 22nd...
Krazikas