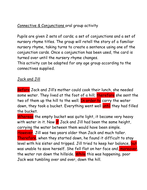 Oral connectives and conjunctions
Teachers will need a small number of nursery rhyme titles which are familiar to their class and which have narrative structure.
About this resource
Info
Created: Aug 7, 2011
Updated: Aug 19, 2015
This resource is designed for US teachers. View UK version .
Other resources by this author
Examples of common, proper, collective and abstract nouns to identify and sort.
chris1940
A collection of words, suitable for identifying unstressed vowels, with sorting columns.Can be used as a worksheet or individual words and board ma...
chris1940
Four spelling tests covering most of the spelling objectives for Year 4.The words are embedded in simple sentences
chris1940
Popular paid resources
10 fully resourced lessons to prepare students for the AQA English Language Paper 2, Section A exam: 'Writer's Viewpoints and Perspectives'. This r...
RojoResources
Children loved making pizzas at our Italian pizza class. Resources have been exported from an Activ-primary flip-chart. (Which also includes Italia...
jreadshaw
This detailed, differentiated and fully resourced lesson explores the themes of fate and free will in Act 1 Scene 5 from Romeo and Juliet, Shakespe...
Lead_Practitioner
Updated resources
A Grade GCSE English Literature Essay on the poem 'next to god of course america i' by E.E. Cummings. The essay is around 1600 words.
biggles1230
In this lesson we explore Romeo's use of language as he meets Juliet for the first time and how she responds to his use of religious imagery. Using...
Lead_Practitioner
Ideal for both KS3 and KS4 students, this fully resourced and differentiated lessons looks at the way Dickens presents Scrooge as an outsider and s...
Lead_Practitioner