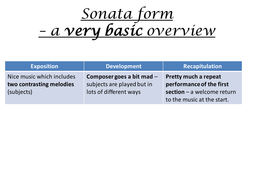 Resources on sonata form
Here are some PowerPoint slides and two starters covering sonata form. For another lesson I chopped up colored paper and labeled each piece as a different section, to match up with the PowerPoint diagrams. students then had to put the sections together i
About this resource
Info
Created: Apr 24, 2011
Updated: Aug 19, 2015
This resource is designed for US teachers. View UK version .
Other resources by this author
Powerpoint and accompanying worksheet for a 5 week module on African Drumming. The first lesson covers basics about music from Africa and involves ...
cfirman
Here is an examples sheet and a worksheet to help pupils practise dictation from the set works. Apologies - the PDF has inserted blank pages after ...
cfirman
A worksheet for pupils to complete when they first listen to the set work by Capercaillie. I've made it available in Publisher as well as PDF forma...
cfirman
Popular paid resources
AO1: Western Classical Music 1650-1910 deyails student work book/SOW for the current AQA GCSE music curriculum.
hindlebank
A complete work covering the following: AQA- AO2: Traditional Music Blues 1920 – 1950 African and Caribbean music Latin American music Folk music o...
hindlebank
A detailed and comprehensive workbook covering all aspects of AQA A02 Popular music.
hindlebank
New resources
An Overview and Summary of the Section A questions. This document consists of two pages.
sparkhallo
This document brings together what we know about the Section B essay question. It consists of four pages. It contains specification extracts, the t...
sparkhallo
Exam paper with mark scheme and audio files, including timings which replicate real GCSE.
katyofford
Updated resources
OCR GCSE Music 9-1 - Area of Study 3 - Rhythms of the World "Bhangra Music" This resource takes the pupils through all that they need to know about...
benwhite1986
This clear and easy to use powerpoint covers: Understanding rhyme and structure in Billie Holiday's Fine and Mellow Step by step tasks and visual a...
MusicTeacher18
This powerpoint is suitable for a cover lesson. Students watch a video then create a mind map on what they can see and hear in the video. They then...
MusicTeacher18