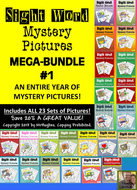 Sight Word Mystery Pictures MEGA BUNDLE #1
Sight Word Mystery Pictures Are Here- BUNDLED! WAHOO!

**BUY THIS BUNDLE AND SAVE 20%**

**If you already own this resource, remember to download the update in the My Purchases section.**

FINALLY! ALL the sets of my POPULAR SIGHT WORD MYSTERY PICTURES in ONE HUGE BUNDLE!
These Fry Word based pictures have words from the First 100 words on a 10 by 10 grid. When colored according the key, the students reveal a mystery picture!

No more worrying if you have all the sets! ALL 23 ARE INCLUDED!

In the 276 page MEGA BUNDLE you will get:

-August Set 1 (First 25 words)
-September Set 1 (First 25 words)
-October Sets 1 & 2 (First 25 words)
-November Sets 1 & 2 (Second 25 words)
-December Sets 1, 2, 3, & 4 (Sets 1 and 2- Review of First 25, Sets 3 and 4- Third 25)
-January Sets 1 & 2 (Fourth 25 words)
-February Sets 1 & 2 (Review of all 100 words mixed)
-March Sets 1 & 2 (Review of all 100 words mixed)
-April Sets 1 & 2 (Review of all 100 words mixed)
-May Sets 1 & 2 (Review of all 100 words mixed)
-June Sets 1 & 2 (Review of all 100 words mixed)
-July Set 1 (Review of all 100 words)

That is pages of student pages, answer keys, teacher directions, suggestions, and tips!

Not to mention an entire year of centers, homework, and/or extension activities for your students! WAHOO!

The master folder has each set as an individual labeled file making it easier than ever to find the month/set you want to use.

**PLEASE NOTE- THIS IS FOR A SINGLE CLASSROOM LICENSE ONLY! **

Please contact me if you are interested in further licensing options.

Thanks for stopping by!

Happy Coloring and Sight Word Reading!
-Mr. Hughes


Keywords: Mystery Pictures, mega bundle, October, November, December, January, February, March, April, May, June, July, August, September

© Created by MrHughes. Use for a single classroom and/or teacher. Additional copies must be purchased if you plan to share with other teachers. No part of this resource maybe posted on a blog (personal or commercial), webpage/site, server, or other location that is accessible by multiple people. Violations of this notice are subject to the penalties of the Digital Millennium Copyright Act (DMCA).
Read more