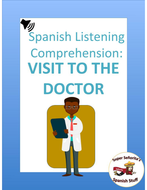 Spanish Listening Comprehension: Doctor and Health
Use the embedded links for students to practice their listening comprehension skills. You may either print the page and play the recordings for a whole class activity, or provide them with the links so they may work independently at a differentiated rate. This is a great activity for stations, homework, or sub plans if your students have access to their own devices. Includes 6 activities all related to minor illnesses and a visit to the doctor. I typically assign one at a time for homework or classwork.

This pairs well with Así se dice Ch. 6.
Read more