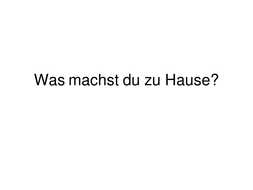 Was machst du zu Hause?
PowerPoint presentation about what you do in different rooms in the house - aimed as introduction for 6th Grade. Can be used with mini whiteboards - multiple choice answers.
About this resource
Info
Created: Feb 10, 2008
Updated: Aug 19, 2015
This resource is designed for US teachers. View UK version .
Other resources by this author
Gap fill exercise. Clues can be cut up and placed around the classroom - find the clues and complete the timetable.
melissabullock
Quick starter activity to review auxiliary verbs - press s to stop slides.
melissabullock
Tool for randomly selecting students in your class - this is one I use with names removed. Simply add the names of students in your class, play fro...
melissabullock
Popular paid resources
Sudoku game using 9 musical instruments. 5 versions included.
jer520
7 products to learn and practice the names of musical instruments.
jer520
7 products to learn and practice the names of musical instruments.
jer520
New resources
Quiz quiz trade cards for internet activities with gern and nicht gern and frequency phrases
nilex
This resource introduces 14 pets with a range of practice activities. It introduces the question 'Hast du ein Haustier?' and a range of possible an...
cgazzal
Reading and writing resources to support "in meinem Leben" and "Mein Vorbild". Easy to print and edit. Can be used as classwork...
rooney33
Updated resources
To be able to understand and give higher level opinions Context: Screentime
marylinedotk
Learn the 12 months of the year in German Ask and answer the question "When is your birthday?" in German
marylinedotk
This is a spelling and vocabulary review game generator. it works with any words, so use it to review your weekly spelling lists in game form. A ve...
Tigerlearn