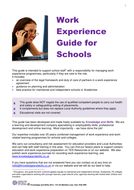 Work Experience Guide for Schools
This guide is for school staff who have a responsiblity for organising Key Stage 4 work experience. It includes an overview of key issues and a suggested annual cycle for administrative processes. It will be particularly useful for staff who are new to this role. Whilst many details are a matter of local agreement, this guide constitutes a sound basis of best practice on which to build your own school manual for managing work experience.
Read more
Report a problem
Creative Commons "NoDerivatives"